Innovative Winston Dual Monitor Sit-Stand Workstation
For optimal performance, select the model that will support the total weight of your monitors and all items that will be placed on the Winston work surface. This will include your keyboard and mouse. The typical weight of keyboard and mouse is between 2-4 lbs. Please note, the monitor and the worksurface move in tandem, and not independent of each other.
5
out of 5 (based on
1
review
)
Highlights
Mounts 2 monitors 30" wide 
Freestanding base with black cross bar, no drilling required 
Great for glass desktops 
Weight Capacity: 10 - 26 lbs 
Height adjustment: 17" 
Encourages standing 
Large work surface: 30" x 18.3" 
Compact work surface for desks less than 24" deep
Looking for a triple monitor workstation?
Looking for an electric workstation?
Winston double monitor stand can mount two 30" monitors on a freestanding base. With no drilling required, this adjustable workstation is ideal for glass desktops. Easily move 10-26 lbs up to 17" by simply pulling on the workstation with your hands to find your ideal working height sitting or standing.
Winston sit-stand workstations encourage a healthier lifestyle. Standing at work for even three hours a day can offer the same health benefits as running 10 marathons a year, and even extend your life by two years. Additionally, tabletop standing desktops can help counter several health concerns caused by a sedentary lifestyle including obesity, type 2 diabetes, cardiovascular disease, and cancer.
The large but compact 30" x 18.3" work surface of this adjustable monitor stand make it perfect for desks less than 24" deep. Include your keyboard, mouse, phone, writing materials, and other necessary items right on this dual workstation desk which was designed for stability to eliminate a wobbly desk.
With a sleek, professional design Innovative's multi-monitor stand will fit into several work environments and industries, including security, IT, maintenance, gaming, programming, and designing.
Related Products
| | |
| --- | --- |
| Part Number | Description |
| WNST-2-104 | Winston Dual Freestanding Sit-Stand in Black, supports 10 - 26 lbs   |
| WNST-2-124 | Winston Dual Freestanding Sit-Stand in Silver, supports 10 - 26 lbs  |
| WNST-2-248 | Winston Dual Freestanding Sit-Stand in White, supports 10 - 26 lbs  |
| | |
Technical Drawing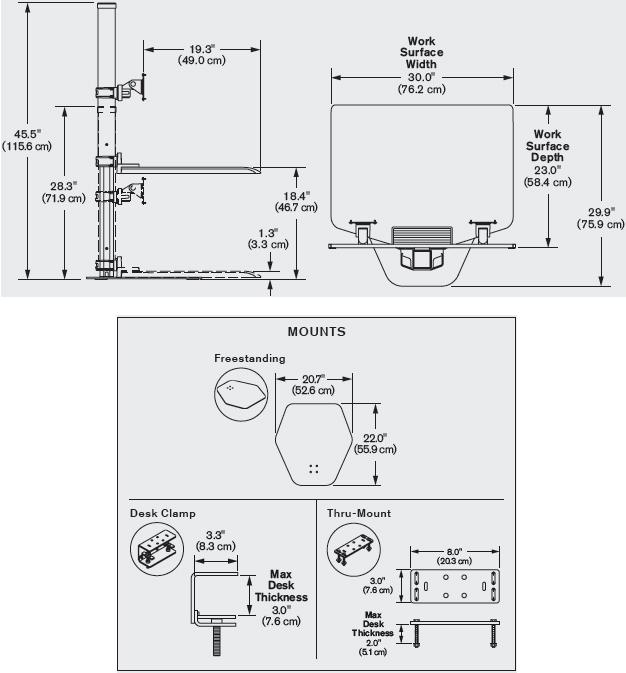 Technical Specifications
| | |
| --- | --- |
| Vertical Height Adjustment | 17" (43.2 cm) |
| Monitor Tilt | 200 degree |
| Monitor Pivot | Landscape to portrait |
| Monitor Compatibility | VESA 75mm and 100mm |
| Cable Management | Cables are clipped to column |
Features
Quick, easy monitor install. Take the work out of adjusting and replacing monitors. Simply attach, adjust, and remove all at the face of the beam. No need to slide monitors to remove.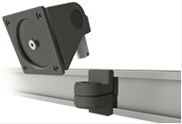 Engineered for stability. Designed to accommodate standing work without the distraction of unwanted movement.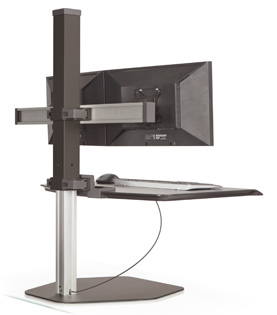 Expansive work space. Large natural wood surface and convenient storage tray allow you to bring all necessities with you when you stand.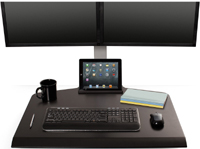 Upgrade your space. Retrofit your existing desk into a healthy workspace with two easy mounting options: freestanding or desk clamp.

Seamless height adjustment. Features a 17" range of vertical height adjustment and a locking cylinder to keep the workstation in place. No manual adjustment needed.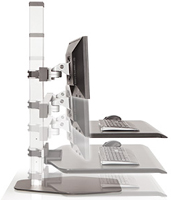 Cable management. Cable clips in the column and beam keep the cables organized and out of the way.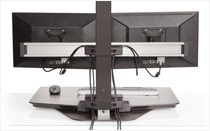 Ethical manufacturing. Winston is assembled in the USA using components created through a green manufacturing process.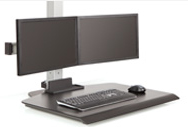 Frequently Asked Questions
Question: What is the difference between WNST-2-CM-H Winston Workstation Dual (25-44 lbs) and the WNST-2-FS-H Winston Workstation Dual (25-44 lbs)? Also, with respect to mounting options.. "freestanding" seems self-explanatory, what is the difference between "desk clamp" and "thru clamp"?
Answer: The WNST-2-CM-H refers to the desk clamp option, in which the Winston attaches to the edge of the desk. The "thru mount" also attaches the Winston to the desk but by drilling a hole in the desk.
Question: During assembly, will I be able to decide how far apart my monitor and keyboard tray will be? Can I screw the monitor bar in wherever I want, or are there pre-drilled holes/locations where they will be? I'm worried that I won't be able to get the right distance between the keyboard tray and the monitor. I noticed a lot of the images, people appear to be looking down at the monitors because of where the keyboard tray needs to be, and I want to be sure I am looking straight ahead.
Answer: This workstation has multiple mounting options (please see option 3 on page). A Freestanding base is included. There is also an option for a clamp mount and thru mount if you would like to use Grommet. The Freestanding base could be moved around wherever there is adequate desk space to accommodate the base, the clamp could of course only be clamped to edges of desk, and the thru-mount requires a grommet hole. The height between the monitor and keyboard tray is adjustable. The clamp around the column that is holding the horizontal beam the monitors rest on would need to be unscrewed. Once it is loosened, the clamp can be raised or lowered along the column to change the distance between the keyboard tray and the monitor.
| | |
| --- | --- |
| Model | WNST-2-124, WNSt-2-104, WNST-2-248 |
| Manufacturer | Innovative LCD Arms |
| Part Number | WNST-2-124, WNST-2-104, WNST-2-248 |
| | |
| --- | --- |
| Color | 104 - Vista Black, 124 - Silver, 232 - Linen White |
| Height Adjustment | Vertical 17" (43.2 cm) |
| Tilt | 200 degree |
| Mounting Pattern | VESA 75mm and 100mm |
| Monitor Weight | 4 - 44 lbs (depending upon the model) |
| Suspended Keyboard | No |
| Worksurface Dimensions | 30" W x 18.3" D (Keyboard tray & worksurface combined) |
| Desk Type | Desk Mount |
| Price | $700 - $799 |
Working as advertised
, Mar 6, 2017
by
Laurence V
, Dallas, Texas
The unit is very stable and well designed. It is working just as I had hoped it would work.
2 of 2 voted this review as helpful
Was this review helpful to you?