Office Master AF524 Affirm Mid-Back Executive Chair
Please note: This chair is custom-made and non-returnable. All fabric colors shown on your computer screen are approximate, based on the resolution of your monitor and subject to variation from the actual color on physical chairs. For more accurate ideas of color tones, etc. please contact customerservice@ergodirect.com or call 888-456-ERGO to obtain a sample or fabric swatch.
Highlights
5 stages of lockout; enables the user to lock the back seat in 5 different positions
Side-mounted tension knob
NOTE: The above video demonstrates general adjustment capabilities of a chair/arm similar to yours. The actual functions & appearance of your chair/arm may differ significantly from the video & illustration shown above.
Description
Office Master AF524 is an executive Mid-Back shown in Night Fall Black Mesh, JR-69 arms, optional polished aluminum package, and dual color soft casters (additional charges may apply).

Affirm's modern, sleek, frameless mesh design evinces the confidence to fit in to any workspace - whether a tech start-up, a healthcare environment, an educational facility, an architectural firm or a more traditional office place it's the perfect combination of class and comfort.
Specifications
| | |
| --- | --- |
| Overall Width | 27" |
| Overall Height | 38.25" - 45.75" |
| Back | 19.75" W x 20.5" H |
| Seat | 20.5" W x 17.5-20" D |
| Seat Height | 17" - 22" |
| COM | 1 yard |
| Carton Weight | 57 pounds |
| UPS Weight | 101 pounds |
| Arms | Groups AR, 1 and 4 |
| Weight Capacity | 300 lbs |
| Warranty | 12 years Limited |
Features
Executive mid-back
Pneumatic lift
Easy back height adjustment
5-stage locking tilt
Synchronous seat/back tilt
"Frameless" mesh back design
Seat depth adjustment
Dual-tone oversized soft casters
Independent back tilt
Side-mounted tension knob
Nightfall black mesh is default
Option 1: Fabric Color
Option 2: Back Upholstery Fabric Color
Affirm Mesh Jacket (Back Only)
| | |
| --- | --- |
| Content | 88% polyester, 12% polypropylene |
| Width | Manufactured to dimension specifications |
| Abrasion | Exceeds 95,000 Double Rubs |
| Breaking Strength | 150 lbf. min. |
| Lightfastness | Grade 4 min. at 40 hr. |
| Colorfastness To Water | AATCC-107: Class 3 min. for staining; Class 4 min. for color change |
| Colorfastness To Crocking | AATCC 8: Grade 4 min. Dry; Grade 3 min. Wet |
| Flammability | Passes California TB 117-2013; UFAC/NFPA 260 Class I |
| Cleaning Code | WS |
Option 3: Mesh Back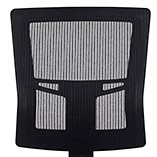 Night Fall Black (standard)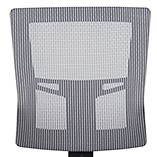 Starlight Silver
Option 5: Seat Height - Cylinders
Standard 5" Cylinder in Black - Seat Height (17" - 22")

5" Cylinder in Chrome - Seat Height (17" - 22")

4" Cylinder in Black Only - Seat Height (15.5" - 19.5")

6" Cylinder in Black Only - Seat Height (19.5" - 26")
Option 6: Base Type
Black Nylon Base with Black Cylinder

Polished Aluminum Base & 5" Chrome Cylinder Package
Option 7: Casters - Wheels
Option 8: Memory Foam
UPHCFT - Memory Foam (sub-layer below standard cushion)
Option 9: Coccyx Foam
UPHCYX-CC Visible cutout to relieve tailbone (Coccyx) pressure - Grade 2 Softsit and Grade 5 only

UPHCYX - Concealed cutout filled with ultra soft foam to relieve tailbone (Coccyx) pressure - Grade 2 Softsit and Grade 5 only
Office Master Affirm Executive Synchrotilt Chair Comparison Chart
| | This item: Affirm AF524 Mid-Back Executive Chair | | |
| --- | --- | --- | --- |
| Back | 19.75"w x 20.5"h | 21"w x 24"h | 21"w x 24"h |
| Seat | 20.5"w x 17.5 - 20"d | 20.5"w x 17.5 - 20"d | 20.5"w x 17.5 - 20"d |
| Seat Height | 17 - 22" | 17 - 22" | 17 - 22" |
| Overall Width | 27" | 27" | 27" |
| Overall Height | 38.25 - 45.75" | 41.5 - 49" | 47 - 58" |
| | | Details | Details |
| | |
| --- | --- |
| Model | AF524 |
| Manufacturer | Office Master Chairs |
| Part Number | AF524 |
| | |
| --- | --- |
| Overall Width | 27" |
| Overall Height | 38.25 - 45.75" |
| Back | 19.75"w x 20.5"h |
| Seat | 20.5"w x 17.5 - 20"d |
| Seat Height | 17 - 22" |
| COM | 1 yard |
| Arms | Groups AR, 1, and 4 |
| Warranty | 12 years limited |
| Carton Weight | 57 lbs |
| UPS Weight | 101 lbs |
| Weight Capacity | 300 lbs |
Be the first to review this product