Education with Display Mounts and Mobility Products

Create Engaging Learning Spaces. The integration of a 21st-century "Smart" campus relies on the infusion of useful, relevant technologies to meet the demands of the instructor and their multimedia, multi-linked mobile students.

Ergotron's broad portfolio of display mount and mobility products can be an essential part of the technology platform supporting dynamic learning environments.
Overview
Ergodirect.com can help you create and build engaging learning spaces, from computer labs, data centers, classrooms, lecture halls, and laboratories, to cafeterias, security centers, and dorm rooms. With the addition of secure and stable monitor mounts to mobile carts and stands, we can assist you in finding the perfect ergonomic solution and to create a healthy, safe, secure, and engaging educational space
There are multiple key parts to creating an excellent ergonomic multi-media space. You can display multiple monitors, of all sizes, with the use of monitor wall mounts, mobile stands, and monitor ceiling mounts. These secure and stable monitor mounting systems allow you to display your monitors in key positions to maximize exposure and to ensure the safety of the monitor in high-traffic areas.
We offer mobile media ergonomic solutions, as well. Audio visual mobile carts and stands allow flexibility in configuring any educational space. From monitor stands, to laptop and notebook carts and stands you can find the right mobile product to create a dynamic learning center that can be configured to meet multiple demands and host multiple users.
Designing an ergonomic educational space will help remove clusters of cables, and canopen up spaces by the removal of CPUs, monitors, and keyboards from the workspace surface. Ergonomic educational workspaces can increase the collaboration between instructor and students, while being dependable, durable, and secure.
You will find major ergonomic manufacturers, like: Peerless, Ergotron, Humanscale, and Innovative. Ergodirect.com features high-quality wall mount systems, desk mount arms, ceiling mounts, and secure carts. You will find ergonomic monitor mounts that provide safety and security in monitor mounting solutions. Many monitor mounting arm systems, are designed for ease of installation for many types of materials.
Ergotron delivers:
Flexibility - Adapting technology to varying skill sets and teaching styles; promoting configurable, adjustable products that fit a diverse demographic in virtually any learning environment.

Collaboration - Technology that promotes interaction, enhancing the connection between teachers, students, colleagues and peers. In, around and beyond the campus.

Productivity - Versatile solutions that transform virtually any space into a learning environment, providing faster and easier access to applications and real-time information.

Dependability - Rigorous testing ensures durable products that promote safer, healthier workspaces now and for years to come.


Audio/Visual Mounting Solutions for Education:
Safety: Virtually all of Peerless' mounting solutions are UL listed. This means our mounts are tested to four times the maximum load capacity to ensure safety. We also offer mounts that are OSPHD approved.
Security: Peerless mounts include discreet security features that make them highly tamper resistant. When your audio/visual electronics are in a public or semi-public area, you know the products are securely mounted.
Ease of Installation: Most Peerless mounts come pre-assembled and contain a complete fastener set for easy and fast installation. We offer more mounting accessories than anyone else to meet virtually any installation requirement.
Versatality and Functionality: Peerless mounts provide a complete package of safety, security, ease of installation, functionality and a competitive price.
Education Mounting Solutions:
Educational institutions continue to embrace technology in the classroom, auditorium and gymnasium as a means of improving academic achievement. Chief mounting solutions for education are designed around the educator and IT installer so that they enhance the overall learning experience through various technologies, from projectors and televisions to computers and smart boards. Whether it's a classroom or a gym that requires a projector mount or you need a mobile cart to accommodate many classrooms, Chief offers strong, functional and easy-to-install solutions.

Collaborate, Interact and Capture: Transform existing classroom whiteboards and walls into interactive teaching spaces with with Chief's award-winning interactive short throw projector mount.
Take Control of Your Classroom: Chief's CoPilot is a complete AV networked solution that is easy to use and beneficial to installers, administrators, teachers, presenters and students. Use it to control TVs, projectors and audio throughout your educational facility.
Mobile Classroom Solutions: Carts & stands from Chief make it easy to move your technology between classrooms and keep it all in one easy-to-use installation.
Computer Products for Educational Environments:
At your school, space is tight, and you need a durable, easy-to-use, effective solution for supporting monitors. Innovative can offer that solution.
Products such as the 7000 LCD Arm provide an ergonomic, space-saving solution ideal for computer rooms, libraries and individual desks. Or consider space saving solutions such as the 9120 dual-monitor pole. Consult with Innovative to configure your space for maximum effectiveness.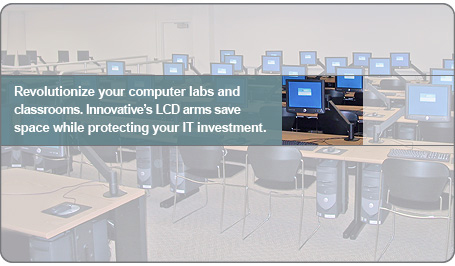 Concerned about security? Inquire about Innovative's integrated security solutions which inhibit and prevent theft of IT equipment.
Features Includes:
Intuitive to use - no training required for users. Perfect for public installations.
Save space - arms enable smaller workspaces, leading to smaller workstation footprints. Save space in your computer rooms and libraries.
Durable product and fast installation eases burden for facilities managers. Will stand up to daily use (and abuse).
Optional security features protect your IT investment.
Education Space Ergonomic Tips:
Transform a classroom to stimulate collaboration, increase student interaction and to capture the imagination. The configuration of monitors, laptops, CPUs, television monitors, and projectors is important in the delivery of information, and crucial in providing a safe, secure, and engaging learning environment.
Take control of the classroom by managing the security of your monitors and equipment. The secure mounting of monitors to proper desk mount, wall mount, and ceiling mount systems goes a long way in freeing up valuable desk and floor space. You can rest knowing that monitor mount systems are designed to securely support the weight of multiple monitors, as well as jumbo flat-screen monitors.
User interaction with laptops, computers, tablets, and mobile devices is increasing with exponential rates. It is time to consider how the user interacts with technology in a healthy way. Ergodirect.com can help in understanding how to create a healthy, productive, and inspiring educational space.