Goldtouch GTS-0077 Smart Card Secure SC2.0 Ergonomic Keyboard
A traditional keyboard may cause you to bend your wrists sideways to reach all the keys.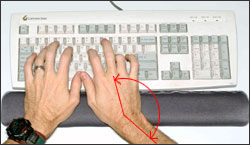 Side bending of the wrist
Goldtouch GTS 0077 Smart Card SC2.0 Adjustable Secure  Ergonomic Keyboard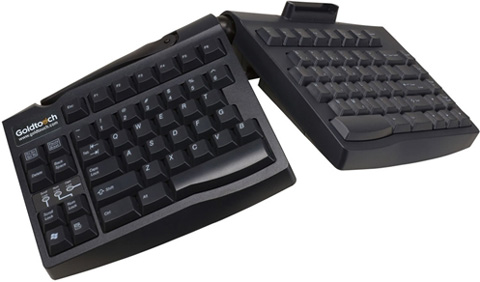 Size: 15" Wide in closed position ( not split) and 7 " High
Description of Goldtouch GTS0077:
Goldtouch, the leader in ergonomic computer peripherals, introduces the ErgoSecure SC2.0 adjustable keyboard. By integrating smart card technology for positive verification of user identity, ErgoSecure combines proven ergonomic design with a high level of access, communication and transaction security.
The patented, segmented Goldtouch keyboard is the most advanced device of its kind. Simple to adjust, it permits the user to change the configuration both horizontally and vertically, reducing discomfort for the user.
ErgoSecure SC2.0 from Goldtouch. A user-friendly, security solution that's easy to use, easy to implement and provides the enterprise with two levels of protection.
Goldtouch ErgoSecure SC2.0 utilizes the SCM STC II chip Smart Card reader. This technology is compliant with many crucial existing and emerging banking and IT standards and supports a wide range of e-commerce, authentication, PKI, and network security based applications.
With today's ever growing need for improved security and identity verification in both the government and private sector (banking, healthcare, transportation, etc.), Goldtouch has combined our patented and proven ergonomic split-keyboard design with Smart Card-reading technology to create the only ergonomic keyboard with an embedded card-reader - the ErgoSecure SC2.0.
As one of only three keyboards and the only ergonomic keyboard  to pass the demanding FIPS-201 standards set forth by the National Institute of Standards & Technology for HSPD-12 (the large Federal Identity Management program), the ErgoSecure keyboard is now utilized by all branches of the military, various Federal Assistive Technology programs (i.e. USDA's TARGET, GSA's CITA, DOD's CAP, etc.), and numerous Federal agencies.
Many state/local governments and businesses are now adopting these very NIST standards so as to streamline implementation of their own Identity Management programs. In so doing, IT and Security will be looking for proven authentification hardware that can reliably verify one's identity and authorized level of logical access. Not only does the ErgoSecure meet such requirements, but it also:
Addresses the Federal Section 504/508 needs of the physically impaired and repetitive motion injured

Reduces and eliminates awkward and uncomfortable typing postures - often a precursor to repetitive motion injuries, Workers' Comp claims and Lost Work Days

Eliminates the cost of stand-alone card readers and their required IT support

Increases desktop space by eliminating stand-alone readers

Increases Smart Card "front & center" visibility, thus decreasing the incidence of accidental "card leave-behind" from out-of-the-way card reader placement
Specifications:
Utilizing SCM's advanced STC II chip, the ErgoSecure keyboard is compliant with numerous crucial existing and emerging banking and IT standards and supports a wide range of E-commerce, authentication, PKI, and network security-based applications
Technical Data of the SC2.0 ErgoSecure Keyboard:
    1.  Systems: Microsoft Windows 2000, XP and Vista
    2.  Full size, full travel, tactile feedback keys with soft end-stop (50 g key activation force)
    3.  Continuously variable adjustment for wrist pronation as well as wrist splay in 0°-30° vertical tenting as well as 0°-30° horizontal splay
    4.  ISO/IEC 15411 Compliant
    5. ROHS Compliant
    6.  FIPS-201 Compliant
SCM STC II Smart Card Chip:
Compliant to ISO7816,1,2,3,4 T=0 and T=1 protocols

Synchronous and Asynchronous mode

Frequency adjustable clock to speed up transaction

Adjustable transaction speed with Smart Card, up to 1000Kb/s for fast Crypto data exchange

3V and 5V selectable

Integrated into the Goldtouch keyboard: it's ready to pass the following certification: Microsoft WHQL, EMVco Level 1, Mondex, American Express, Entrust and FIPS-201

Compatible with Windows 2000, XP and Vista
Literature (Please open the following documents for more technical information)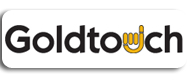 Privacy Notice:
ErgoDirect.com fully respects and protects your privacy. With the exception of arranging for delivery of the products ordered, we do not sell, share or rent any personal information to other parties for any reason; nor do we contact you by telephone or e-mail to solicit additional products or services.
Credit Card Security:
We use SSL security to protect all transactions so your credit card information is completely safe.
| | |
| --- | --- |
| Model | GTS-0077 |
| Manufacturer | GoldTouch |
| Part Number | GTS-0077 |
| UPC | 183238000155 |
| | |
| --- | --- |
| Connection Type | Wired USB |
Be the first to review this product