Peerless PLA50-UNL Universal Articulating Wall Arm PLA50-UNL-S
Accessories for PLA50-UNL Articulating Wall Arm for 32"-50" Screen
Peerless PLA50-UNL Articulating Wall Arm for 32"-50" LCD LED Screens
General Information
Peerless PLA50-UNL Articulating Wall Arm for 32"-50" LCD LED Screens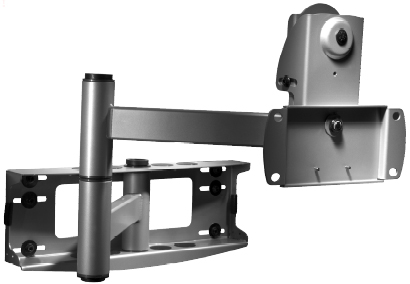 Dimensional Diagram for PLA50-UNL Articulating Wall Arm for 32"-50"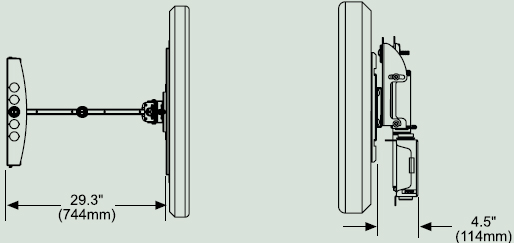 Peerless Articulating Wall Mount Description:
Offer the best view in the room with ability to swing, tilt or articulate the most popular sizes of plasma and LCD screens. Self-lubricating bushings enable the arms to smoothly extend, while adjustable tilt and pivot position the screen to the optimal viewing angle. The PLA50 offers versatility for the most popular sizes of screen in a wide range of installations in lobbies, hotel rooms, boardrooms, public displays or home theaters.
Features:
For 32" to 50" plasma and LCD LED screens

New look and functionality

Roll feature allows for easy screen leveling

Flods flat against the wall

Cord management keeps cords organized and out of sight

Comes in black or silver
Product Information:
Model Numbers

PLA50, PLA50-S (base models)

PLA50-UNL, PLA50-UNL-S (universal security models)

PLA50-UNLP, PLA50-UNLP-S (universal standard models)

PLA50-UNLP-GB, PLA50-UNLP-GS (universal standard models)

Product Specifications

Features

+10°/-5° tilt

Up to 180° pivot

+/-7° roll to level screen horizontally at any position

Extends out to 29.3", retracts to 4.5"

(plus thickness of required adapter plate)

Includes mesh cord sheath and cable ties to neatly manage cords

Mounts to two wood studs or concrete (accessory required)

Universal models adapt to screens with up to 28.7" wide x 17" high mounting inserts

Load Capacity

150 lb (68 kg)

Dimensions (W x H x D)

                   Closed

Extended

 

PLA50-UNL(P)

 

PLAV50-UNLP-GB

 

PLA50-UNL(P)

 

PLAV50-UNLP-GB

Product Weight

PLA50:  24.3 lb (11 kg)

PLA50-UNL(P):  36.8 lb (16.7 kg)

PLA50-UNLP-GB(-GS): 36.8 lb (16.7 kg)

Finish

Scratch resistant fused epoxy

Construction

All Steel

Available Colors

Black: PLA50, PLA50-UNL(P)

Silver: PLA50-S, PLA50-UNL(P)-S

High gloss piano black: PLA50-UNLP-GB

Accessories

Multi-channel speaker mount (MSA-101)

Wire management channel (ACC924/ACC926)

PLP model adapter plates

Concrete fasteners (2 x ACC204)

Package Specifications

Package Contents

PLA50:  Articulating arm, wall plate, mesh cord sheath, cable ties and mounting hardware

PLA50-UNL(P): Articulating arm, wall plate, mesh cord sheath, cable ties, universal adapter plate, mounting and screen attachment hardware

PLA50-UNLP-GB: Articulating arm, wall plate, mesh cord sheath, cable ties, universal adapter plate, mounting and screen attachment hardware

Package Size ( L x W x H )

PLA50:  23.1" x 17.1" x 7.4" (58.7 x 43.4 x 18.8 cm)

PLA50-UNL(P):  31.5" x 17.1" x 9.1" (80 x 43.4 x 23.1 cm)

PLA50-UNLP-GB(-GS): 31.5" x 17.1" x 9.1" (80 x 43.4 x 23.1 cm)

Package Ship Weight

PLA50:  29.1 lb (13.2 kg)

PLA50-UNL(P): 42.9 lb (19.5 kg)

PLA50-UNLP-GB(-GS): 42.9 lb (19.5 kg)

Package UPC Code

PLA50: 735029243229

PLA50-S: 735029244790

PLA50-UNL : 735029243236

PLA50-UNL -S: 735029243243

PLA50-UNLP: 735029243250

PLA50-UNLP-S: 735029243267

Warranty

Limited 5-year
| | |
| --- | --- |
| Model | PLA50-UNL or PLA50-UNL-S |
| Manufacturer | Peerless Mounts |
| Part Number | PLA50-UNL or PLA50-UNL-S |
| UPC | 735029243236 |
Be the first to review this product