Peerless PLAV60-UNL Articulating Wall Arm with Vertical Adjustment 37-60" LCD PLAV60-UNL-S PLAV60-UNLP
Accessories for PLAV60-UNL Articulating Wall Arm for 37"-60" Screen
Peerless PLAV60-UNL Articulating Wall Mount Arm for 37"-60" LCD LED Screen
General Information
Peerless PLAV60-UNL Articulating Wall Mount Arm for 37"-60" LCD LED Flat Panel Screens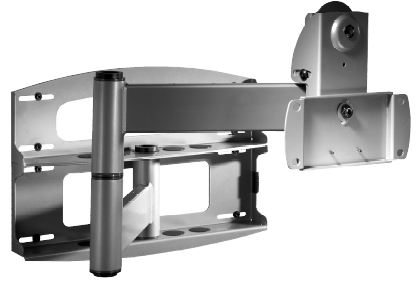 Dimensional Diagram for PLAV60-UNL Articulating Wall Arm for 37"-60"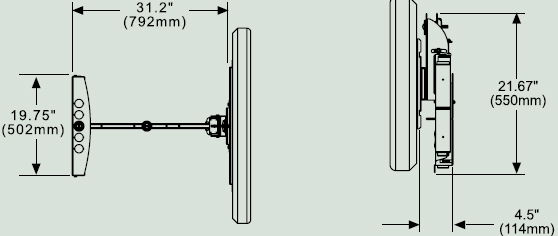 Peerless Articulating Wall Arm Description:
Designed for easy installation even in hard to access areas like custom frames and recessed cubby holes, the PLAV60 includes a vertical adjustment feature located within reach behind the screen that enables you to adjust the screen position up to an inch up or down for perfect placement. Swing, tilt and extend your plasma or LCD screen with ease thanks to self-lubricating bushings at every pivot joint. The PLAV60 adjustable tilt and pivot allow you to position your screen for the optimal viewing angle, making it a great articulating arm, as well as ideal installation tool.
Features:
For 37" to 60" plasma and LCD LED screens

New look and functionality

Roll feature allows for easy screen leveling

Flods flat against the wall

Cord management keeps cords organized and out of sight

Comes in black or silver
Product Information:
Model Numbers

PLAV60, PLAV60-S (base models)

PLAV60-UNL, PLAV60-UNL-S (universal security models)

PLAV60-UNLP, PLAV60-UNLP-S (universal standard models)

PLAV60-UNLP-GB, PLAV60-UNLP-GS (universal standard models)

Product Specifications

Features

+/-1 degree vertical adjustment located within reach behind screen

+10 degree/-5 degree tilt

Up to 180 degree pivot

+/-7 degree roll to level screen horizontally at any position

Extends out to 31.2", retracts to 4.5"

(plus thickness of required adapter plate)

Universal models extend out to 32.3", retracts to 5.6"

Mounts to two wood studs or concrete (accessory required)

Universal models adapt to screens with up to 28.7" wide x 17" high mounting inserts

Load Capacity

175 lb (79.4 kg)

Dimensions (W x H x D)

 Closed 

 Extended

PLAV60:

24.6" x 21.7" x 4.5" (62.5 x 55 x 11.4 cm)

 

PLAV60-UNL(P):

30.75" x 21.7" x 5.6" (78 x 55 x 14.2 cm)

 

PLAV60-UNLP-GB(-GS):

PLAV60:

20.3" x 21.7" x 31.2" (51.6 x 55 x 79.2 cm)

 

PLAV60-UNL(P):

30.75" x 21.7" x 32.4" (78.1 x 55 x 77.5 cm)

 

PLAV60-UNLP-GB(-GS):

Product Weight

PLAV60: 32.1 lb (14.6 kg)

PLAV60-UNL(P): 44.7 lb (20.3 kg)

PLAV60-UNLP-GB(-GS): 44.7 lb (20.3 kg)

Finish

Scratch resistant fused epoxy

Construction

All Steel

Available Colors

Black: PLAV60, PLAV60-UNL(P)

Silver: PLAV60-S, PLAV60-UNL(P)-S

High gloss piano black: PLAV60-UNLP-GB

Accessories

Multi-channel speaker mount (MSA-101)

Wire management channel (ACC924/ACC926)

PLP model adapter plates

Concrete fasteners (2 x ACC204)

Patent

Patent Pending

Package Specifications

Package Contents

PLAV60: Articulating arm, wall plate, mesh cord sheath, cable ties and mounting hardware

PLAV60-UNL(P): Articulating arm, wall plate, mesh cord sheath, cable ties, universal adapter plate, mounting and screen attachment hardware

PLAV60-UNLP-GB(-GS): Articulating arm, wall plate, mesh cord sheath, cable ties, universal adapter plate, mounting and screen attachment hardware

Package Size ( L x W x H )

PLAV60:  23.1" x 17.1" x 7.4" (58.9 x 43.4 x 18.8 cm)

PLAV60-UNL(P):  31.5" x 17.1" x 9.1" (80 x 43.4 x 23.1 cm)

PLAV60-UNLP-GB(-GS): 31.5" x 17.1" x 9.1" (80 x 43.4 x 23.1 cm)

Package Ship Weight

PLAV60(-S):  36.4 lb (16.5 kg)

PLAV60-UNL(P)(-S):  50.6 lb (23 kg)

PLAV60-UNLP-GB(-GS): 50.6 lb (23 kg)

Package UPC Code

PLAV60: 735029243212

PLAV60-S: 735029244776

PLAV60-UNL: 735029243311

PLAV60-UNL-S: 735029243328

PLAV60-UNLP: 735029243335

PLAV60-UNLP-S: 735029243342
| | |
| --- | --- |
| Model | PLAV60-UNL or PLAV60-UNL-S or PLAV60-UNLP or PLAV60-UNLP-S |
| Manufacturer | Peerless Mounts |
| Part Number | PLAV60-UNL or PLAV60-UNL-S or PLAV60-UNLP or PLAV60-UNLP-S |
| UPC | 735029243311 |
Be the first to review this product