The below item has been discontinued.
Peerless PRS-EXC Adjustable Projector up to 25 lbs Ceiling Mount Only PRSEXC
Important Note: All projectors with M8 mounting screws require ACC-M8RI inserts for compatibility with any Peerless projector mount
Peerless PRS-EXC Adjustable Projector Ceiling Mount Only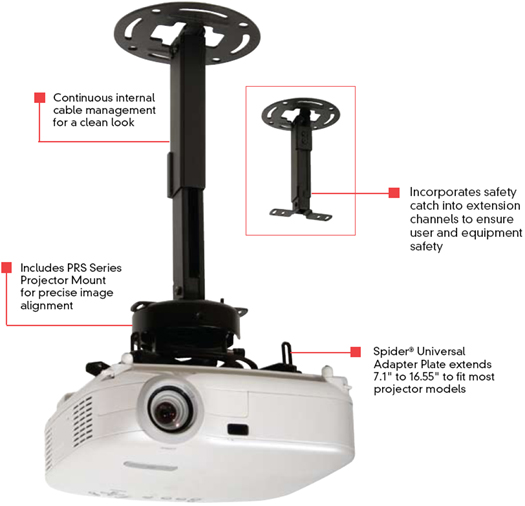 Dimensional Diagram for Peerless PRS-EXC Projector Ceiling Mount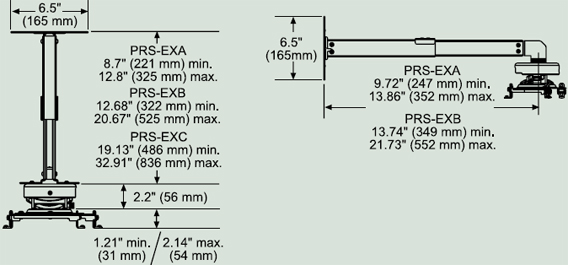 Projector Ceiling Mount:
Peerless has packaged flexibility and ease together in one box with these ceiling mounting kits, which enable the installation of a projector from the ceiling. Each kit includes a PRS Series Projector Mount and an adjustable length extension column that provides ideal height positioning for the perfect projector installation. The extension column provides cable-management that organizes signal and power cables for a clean, clutter-free appearance. This complete projector mounting kit supplies everything needed for an easy projector installation in one convenient package.
PRS-EXC Description:
This kit combines the precision adjustment and low profile design of the PRS-series projector mount line with a convenient variable-adjustable square column extension kit. Each kit includes the ceiling/mount, extension column and mounting hardware for ceiling applications. You also get color-coordinated wire slot covers for neat and clean installations.
Features:
Continuous channel design for uninterrupted drop length or wall extension adjustments

Three adjustable extension lengths:

PRS-EXA models: 8.7"-12.8" (ceiling), 9.72" - 13.86" (wall),

PRS-EXB models: 12.68"-20.67" (ceiling), 13.74"-21.73" (wall),

PRS-EXC models: 19.13"-32.91" (ceiling only)

Safety catch designed into extension to ensure user and equipment safety

Internal cable management channels for clean, clutter-free appearance

Mounts to ceiling or wall with included wall mount interface (PRS-EXA and PRS-EXB models only. PRS-EXC is not wall mountable due to its extensive reach)

Includes PRS Series projector mount for precise image alignment: Tilt: +20/-5° Swivel: 360° Roll: ±10°

Works with standard 4" loops for use with round, square, rectangular or I-Beam truss up to 3" wide x 3 1/2" wide
Product Information:
Model Number

PRS-EXC(-S)(-W) -- (Security Version)

Projector Adapter

Includes Spider universal adapter plate to accommodate projector mounting holes from 7.1 inch to 16.5 inch

Product Specifications

Tilt

+20/-5°

Swivel

360º

Roll

±10º

Dimension (W x H x D)

PRS-EXC(-S)(-W): 6.5" - 16.55" x 19.13" - 32.91" x 6.5" - 16.55"

                           (16.5 - 42 x 48.6 - 83.6 x 16.5 - 42 cm) ceiling only

Load Capacity

25 lb (11.3 kg)

Product Weight

PRS-EXC(-S)(-W): 7.48 lb (3.39 kg)

Finish

Scratch-resistant fused epoxy

Available Colors

PRS-EXC: Black

PRS-EXC-S: Silver

PRS-EXC-W: White

Package Specifications

Package Contents

Wall/ceiling plate, adjustable extension channels, PRS Series Projector Mount, Spider Universal Adapter Plate, mounting and screen attachment hardware, wall mount interface

Units in Package

1

Package Size (W x H x D)

PRS-EXC-S)(-W): 10" x 4.38" x 19.38" (25.4 x 11.1 x 49.2 cm)

Package Ship Weight

PRS-EXC(-S)(-W): 8.81 lb (3.99 kg)

UPC Code

PRS-EXC:     735029258445

PRS-EXC-S:  735029258452

PRS-EXC-W: 735029258469
Product Options/Accessories

ACC-M8RI Threaded Insert
$24.56
$18.94
California residents, click here for Proposition 65 Warnings.
| | |
| --- | --- |
| Model | PRS-EXC |
| Manufacturer | Peerless Mounts |
| Part Number | PRS-EXC |
| UPC | 735029258445 |
Be the first to review this product