Ergotron 60-595-062 StyleView VL Enclosure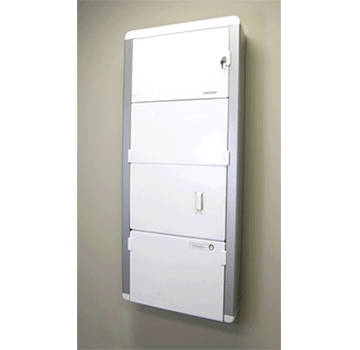 Description
Ergotron 60-595-062 is a secure, complete, compact workstation. Perfect for space-constrained patient rooms, the low profile vertical lift provides 9" (23 cm) of smooth height adjustment and folds into a slim, compact unit when not in use. Its keyless locking mechanism protects patient data for compliance with privacy requirements.
The slide-out, negative-tilt keyboard tray enhances user comfort, and the panning capability of the monitor and keyboard promotes patient-caregiver interaction. A unique cable management system conceals and organizes cords, making cleaning a snap.
Technical Drawing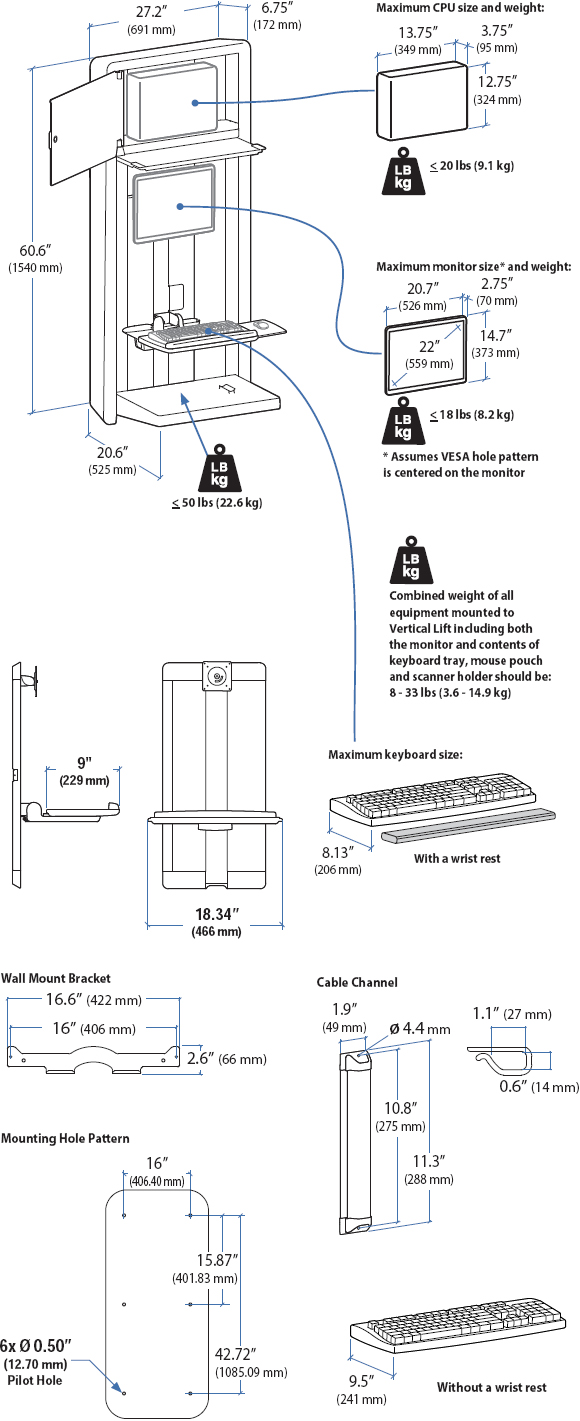 Technical Specifications
Screen

Capacity

Lift

Tilt

Pan

Rotation

VESA

Up to 22"
8-33 lbs

3.6-14.9 kg

9"

22.9 cm

-
10°
-
MIS-D
Product Information
Part Number

60-595-062

Description

StyleView VL Enclosure (white and aluminum)

Includes

Wall plate
Mounting template
Enclosure
Vertical lift
Slide-out keyboard tray
Wrist rest
Mouse pouch
Scanner holder
Internal cable management
Batteries
Monitor mounting hardware
Wall mounting hardware
Keys

Easy 4 Step Installation

1. Attach wall plate using template; 2. Hang enclosure; 3. Install computer; 4. Set keyless security code.

Weight Capacity

Listed weight capacity represents total load on Vertical Lift engine, including the monitor and contents of keyboard tray, mouse pouch and scanner holder. Maximum load capacity: monitor pivot = 18 lbs (8.2 kg); CPU compartment = 20 lbs ( 9.1 kg); door/worksurface = 50 lbs (22.6 kg).

Monitor Pans

Left/right ±5° (based on typical 17" monitor; will vary with monitor size)

Vertical Adjustment

Nine inches (229 mm) of vertical adjustment ergonomically accommodates user heights ranging from the 5% female height to the average male height.

Mouse Tray

Slide-out mouse tray includes built-in pad surface.

Keyboard Tray

Negative-tilt keyboard tray is adjustable 0° to -10°; folds up flat when stored.
Keyboard tray pans left/right up to 120°.

Mouse and Scanner Holders

Integrated mouse and scanner holders.

Cable Access Openings

Allow cables to pass through top and bottom of enclosure.

CPU Compartment

Is top-vented for maximum CPU heat dissipation

Open Back Design

Allows wall outlets and other ports to be contained within boundary of enclosure.

Accommodates

Most small form factor and ultra small form factor CPUs

CPU Dimensions

Maximum CPU physical dimensions: 13.75" W x 12.75" H x 3.75" D (34.9 x 32.4 x 9.5 cm)

Monitor Dimensions

Maximum monitor physical dimensions: 20.7" W x 14.7" H x 2.75" D (52.6 x 37.3 x 7.0 cm)

Mounting Standards

VESA FDMI, MIS-D, 100/75, C (hole pattern: 100 x 100 mm & 75 x 75 mm). VESA hole pattern should be on center on back of monitor

Plastic/Polycarbonate Components

Are compliant with the surface flame spread and smoke development requirements from the NFPA 101 Life Safety Code interior wall finish requirements.

Actual Product Dimensions

27.2" W x 60.6 H x 6.75" D (closed) or 20.6" D (open) (69 H x 154 H x 17 D or 53 D cm)

Shipping Dimensions

65" x 31" x 11.5" (1651 x 787 x 292 mm)

Shipping Weight

97 lbs (44.1 kg)

Warranty

Five (5) years; One (1)-year warranty on all electronic components (excludes AA batteries)
Benefits
Secure Equipment and Patient Data
Keyless locking mechanism protects patient data and aids in the compliance with privacy requirements like HIPAA.

Separate locking storage for CPU.
Premium Ergonomics
Nine-inch (229 mm) vertical adjustment of monitor and keyboard in tandem enhances ergonomics for multiple users

Slide-out keyboard tray extends an extra 5" (125 mm) and pans for comfortable data entry

Ergonomic negative-tilt keyboard tray with left or right mouse tray ensures wrists remain in a neutral position during data entry.

Patented counterbalance system provides smooth adjustment while maintaining touch-screen stability.
Low profile - only 6.75" (17.2 cm) deep and narrow width make it perfect for space-constrained areas.

Easy to use: Quick, simple 4-step installation and effortless operation.

Advanced open-architecture design supports future hardware upgrades.

Cable management system conceals and organizes wires and cords.

Extremely easy to clean; promotes infection control.

Attractive design; hides clutter associated with computer equipment.
| | |
| --- | --- |
| Model | 60-595-062 |
| Manufacturer | Ergotron |
| Part Number | 60-595-062 |
| UPC | 698833009651 |
| | |
| --- | --- |
| Color | White and aluminum |
| Monitor Size | Up to 22" |
| Weight Capacity | 8-33 lbs (3.6-14.9 kg). Listed weight capacity represents total load on VL engine, including monitor and contents of keyboard tray, mouse pouch and scanner holder. Maxi load capacity: monitor pivot=18 lbs; CPU compartment=20 lbs; door/worksurface=50 lbs. |
| Lift | (22.9 cm) 9 in |
| Pan | 10 degree |
| Mounting Pattern | VESA FDMI, MIS-D, 100/75, C (hole pattern: 100 x 100 mm & 75 x 75 mm) |
| CPU Dimension | Maximum CPU physical dimensions: 13.75" W x 12.75" H x 3.75" D (34.9 x 32.4 x 9.5 cm) |
| Monitor Dimensions | Maximum monitor physical dimensions: 20.7" W x 14.7" H x 2.75" D (52.6 x 37.3 x 7.0 cm) |
| Dimensions | 27.2" W x 60.6 H x 6.75" D (closed) or 20.6" D (open) (69 H x 154 H x 17 D or 53 D cm) |
| Shipping Dimensions | 65" x 31" x 11.5" (1651 x 787 x 292 mm) |
| Shipping Weight | 97 lbs (44.1 kg) |
| Warranty | Five (5) years; One (1)-year warranty on all electronic components (excludes AA batteries) |
Be the first to review this product