Innovative 8138 Left or Right Handed Keyboard Platform
Highlights
Keyboard tray with wrist rest and space for mouse
27.5" wide, 11" deep
Move mouse pad for left hand users, right hand users
8131 keyboard adapter required to be added to any monitor arm
Rotate, pivot monitor and keyboard tray independent of each other 
Looking for a keyboard tray, monitor arm combo?
Innovative 8138 Left or Right-Handed Keyboard Platform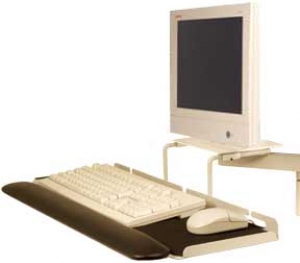 Features of Innovative 8138 Keyboard Platform:
    1.  8138 is 27.5" wide, has a mouse pad and a wrist rest. Shipping Dimension: 31" x 19" x 8".
    2.  Independent rotation & pivot between monitor and keyboard tray.
    3.  Requires 8131 Keyboard Adapter (included with 9140 data entry arm).
    4.  Combination mouse tray adapts for left or right-handed users.
    5.  You can retrofit it into any arm, however it requires the 8131-52-10- back adapter.
Description of Innovative 8138:
Sturdy large keyboard platform with room for keyboard and mouse. Adaptable for left- or right-handed users. Requires 8131 Keyboard Adapter.
| | |
| --- | --- |
| Model | 8138 |
| Manufacturer | Innovative LCD Arms |
| Part Number | 8138 |
Be the first to review this product