Innovative 8171-75-6 - 6" Extender Arm Tube
This Extender Tube matches Model 7500 Arm...outside diameter (2 1/4"). Only 8171-75-6 is available and 8171-75-2 is discontinued.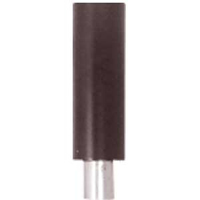 click image to enlarge
8171-75-2 is DISCONTINUED and only 8171-75-6 is available.
Innovative 8171-75-6 - 6 inch Extender Tube
General Information
Innovative 8171-75-6 Extender Arm Tube

8171-75-6 - 6 Inch Extender Tube
Features of Innovative 8171 Extender Tube:
1. Raise the height of your arm by 2".
2. Raise the height of your arm by 6".
3. Does not impede 360 degree rotation.
4. Outside diameter is 2 1/4"
Technical Diagram for Innovative 8171-75-6 Extender Tube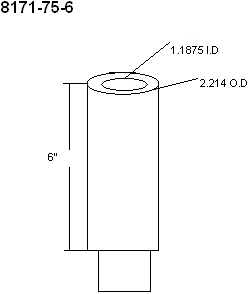 Description of Innovative 8171-75 Extender Tube:
Boost your LCD arm by 6" or 2". This tube inserts between the mount and arm. Compatible with 8251 Flexmount and 8032 through-desk mount. Sturdy aluminum construction.

Innovative Returns Policy
All returns must be labeled with a valid Return Authorization (R/A) number, which can be obtain by contacting Ergodirect.com, on the outside of packaging. Restocking fee of 20% will be applied on all returns. Products must be in brand new, saleable condtion, and never installed. Defective items may be returned within limits of the Warranty. Non-defective Custom-configured Items are not returnable. All return must be made within 30 days of receipt
Privacy Notice:
ErgoDirect.com fully respects and protects your privacy. With the exception of arranging for delivery of the products ordered, we do not sell, share or rent any personal information (including your name, address, telephone number or e-mail address) to other parties for any reason; nor do we contact you by telephone or e-mail to solicit additional products or services.
Credit Card Security:
We use SSL security to protect all transactions so your credit card information is completely safe.
| | |
| --- | --- |
| Model | 8171-75-6 |
| Manufacturer | Innovative LCD Arms |
| Part Number | 8171-75-6 |