Innovative 9112-D-28 Articulating Dual Monitor Mount - 28" Pole
Pole diameter is 1-3/16". The useable Pole length is 28" but 29.6" is before mount.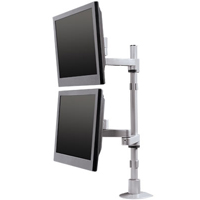 click image to enlarge
Accessories for Innovative 9112-D-FM Dual LCD Pole Mount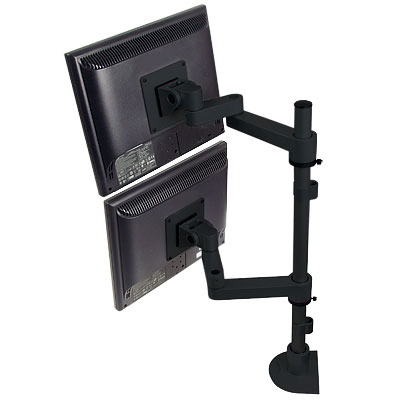 VESA monitor compatible
General Information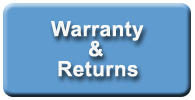 Innovative 9112-D-28-FM Articulating Dual LCD Pole Mount
with 28" Standard Pole and Horizontal Range (14 inch)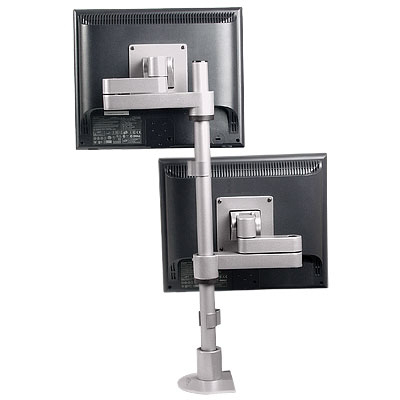 Features of innovative 9112D28FM Pole Mount:
1. 28" standard pole, call for custom size options.
2. Arms rotates 360 degrees at three joints.
3. Monitor tilter mechanism can tilt over 200 degrees.
4. Adjustable tension at joints - ideal for touch-screen applications
5. Accessory products are available for holding keyboards or notebook computers.
6. Ideal for slatwall mounting, can be combined with all Innovative mount options (sold separately)
7. VESA-monitor compatible - 75mm & 100mm VESA adapters included. Please call for non-
VESA options.
8. Optional upgrade to quick install/release monitor bracket. Consult your sales rep for details.
Technical Drawing for Innovative 9112-D-28-FM Articulating Dual LCD Pole Mount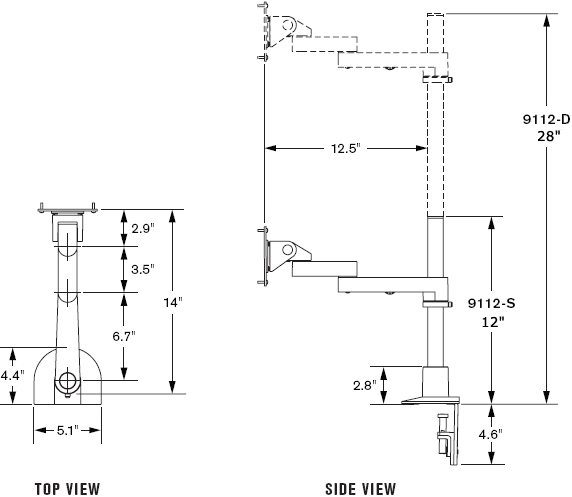 Description of Innovative 9112DFM LCD Dual Pole Mount:
Mount 2 flat panels, one over another. Each monitor may be positioned independent of the other. Foldable arms adjust vertically up and down the 28" pole. The arms can fold up to fit in about 3" of space and extend out 14".
Various pole lengths and extensions are available or can be designed to fit any application you may be looking for. Unique cable management allows cables to tucked under the forearm extensions.
Specifications:

Horizontal Range:

14" from back of pole

Pole Size:

Useable Pole length is 28" but 29.6" is before mount

Monitor Tilt:

200 degrees

Monitor Pivot:

Landscape to portrait

Monitor Compatibility:

VESA 75mm and 100mm

Mounting Options:

FLEXmount, Slatwall, Wall, Thru-Desk

Monitor Weight:

Up to 40 lbs per monitor
Mounting Options:
Model 8325 - Wall Mount

This heavy-duty wall mount will provide rock-solid security for your arm and monitor. Mounts vertically to your wall surface. Not recommended for dry wall, sheet rock or plaster surfaces

Model 8312 - Through Desk Mount

Bolt through your desk. Requires a 3/8" hole

Model 8246 - Slatwall Mount

Conserve desk space by mounting your monitor arm directly to your slatwall. The Innovative Slatwall Mount features secure attachment as well as fast installation. Cables can be routed between the mount and slatwall, helping to keep them neat and out of the way

Model 8111 - FLEXmount

The ideal mounting solution. It's Innovative! Choose from six different configurations in 1 kit:

Desk Edge Clamp Mount

Panel System Rear Edge

Grommet Hole Clamp Mount

Thru-Desk Mount

Wall Mount

Reverse Wall Mount
Literature (Please open the following documents for more technical information)

Innovative Returns Policy:
All returns must be labeled with a valid Return Authorization (R/A) number, which can be obtained by contacting Ergodirect.com, on the outside of packaging. Restocking fee of 20% will be applied on all returns. Products must be in brand new, saleable condition, and never installed. Defective items may be returned within limits of the Warranty. Non-defective Custom-configured Items are not returnable. All return must be made within 30 days of receipt.
| | |
| --- | --- |
| Model | 9112-D-28-NM |
| Manufacturer | Innovative LCD Arms |
| Part Number | 9112-D-28FM or 9112-D-28-FM-104 or 9112-D-28-FM-124 or 9112-D-28-FM-232 |
| | |
| --- | --- |
| Mounting Options | Desk Mounts |
| Mounting Options | Wall Mounts |
| Mounting Options | Slatwall Mounts |
| Mounting Options | All-in-one Mounts |
| Monitor Arm Types | Dual Monitor Arms |