Ergotron 60-600-009 SIM90 Signage Integration Mount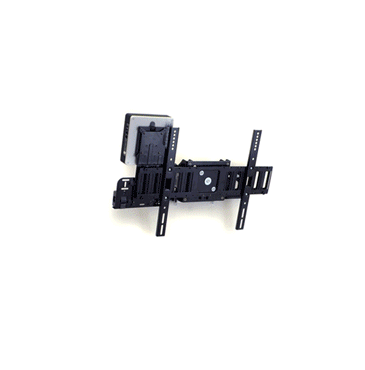 Description
Ergotron 60-600-009 is a fully integrated, all-in-one wall mounting system that includes all components for installing large display digital signage solutions; one box, one part number - everything you need including VESA-compliant thin client CPU holder, portrait-to-landscape pivot and fasteners.
Technical Drawing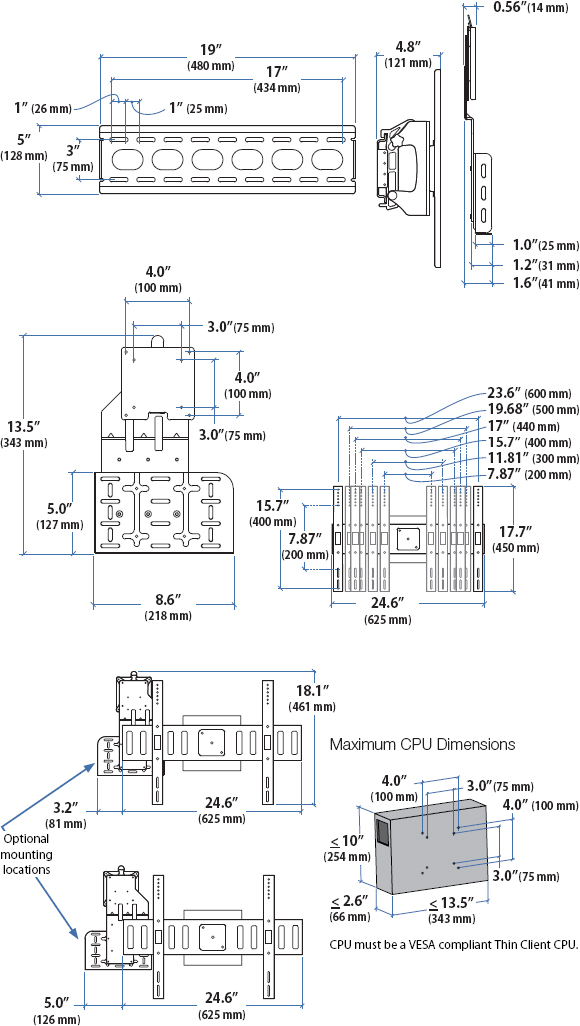 Technical Specifications
LCD Size

Capacity

Lift

Tilt

Pan

Rotation

VESA

≥ 32"
Up to 105 lbs

47.6 kg

-
15°
 
90°
MIS-F
Product Information
Part Number:

60-600-009

Description:

SIM90 Digital Signage Integration Mount (black)

Includes:

Wall and display brackets
Quick-release VESA-CPU mount/power brick bracket
Hardware fastener kit
Screws to secure display for theft deterrence

Ideal for:

32" and larger displays up to 105 lbs (47.6 kg). Total weight capacity is 115 lbs (52.2 kg): 105 lbs (47.6 kg) for display, 7 lbs (3.2 kg) for CPU, 3 lbs (1.4 kg) for cables and power brick.

Tilt:

Smooth continuous display tilt range from 0° to 15° forward; Tilt range may be restricted when displays are in portrait mode.

Rotation:

Easily rotate display to either a portrait or landscape orientation without removing the display.

Mounting Hole Patterns:

Horizontal measurement = 200 mm, 300 mm, 400 mm, 440 mm, 500 mm or 600 mm. Vertical measurement = 200 mm or 225 mm–400 mm. With optional 800 mm Accessory Kit (97-489, ordered separately), horizontal measurement can be expanded to 800 mm or 660 mm.

Orientation:

Portrait or landscape orientation may be dependant on content software or graphic card capabilities.

Wall Mount Solution:

Complete wall mount solution for digital signage applications

CPU VESA:

Easily attaches VESA-compliant (75/100 mm) thin client CPU: CPU must have either 75 x 75 mm or 100 x 100 mm mounting holes on one side.

Maxi CPU Size (W x H x D):

13.5" x 10" x 2.6" (34.3 x 25.4 x 6.6 cm), up to 7 lbs (3.2 kg). Power brick maximum weight = 3 lbs (1.4 kg)

Mounting Options:

Includes hardware for mounting to wood studs (16" centered studs) or concrete wall surfaces.

Display:

Display can be positioned at different points on the wall bracket; this lateral shift of the display's position relative to the wall studs can be as much as 5.7" (14.5 cm).

Profile off the Wall:

4.8" (12 cm)

Note:

Portrait orientation is not recommended for some plasma displays. Contact display manufacturer if you have questions regarding your plasma's portrait-mode capability (this is not an issue with LCD technology).

Shipping Dimensions:

13.25"W x 12"H x 28.5"D (33.7 x 30.5 x 72.4 cm)

Shipping Weight:

24 lbs (11 kg)

Warranty:

Five (5) years
Benefits
Complete, fully integrated, all-in-one mounting system includes all components for installing large display digital signage solutions.
Simplifies digital signage installation with preassembled components; no need for additional equipment.
Flexible deployment options to accommodate your digital signage messaging and space requirements; portrait-to-landscape orientation, scalable for future hardware refreshes.
Easy, do-it-yourself portrait or landscape adjustment - no need to reinstall display; knobs are available for locking tilt orientation in place.
Security fasteners deter theft to protect your investment.
Conveniently attaches VESA-compliant (75 x 75 or 100 x 100 mm) thin client CPU to the back of the display.
Single SKU design fits most screens from 32" and larger up to 105 lbs (47.6 kg).
Cable management system conceals and organize cables.
| | |
| --- | --- |
| Model | 60-600-009 |
| Manufacturer | Ergotron |
| Part Number | 60-600-009 |
| UPC | 698833011203 |
| | |
| --- | --- |
| Color | Black |
| Monitor Size | From 32" and larger |
| Weight Capacity | Total weight capacity is 115 lbs (52.2 kg): 105 lbs (47.6 kg) for display, 7 lbs (3.2 kg) for CPU, 3 lbs (1.4 kg) for cables and power brick |
| Tilt | 15 degree |
| Rotation | 90 degree |
| Mounting Pattern | Horizontal measurement = 200 mm, 300 mm, 400 mm, 440 mm, 500 mm or 600 mm. Vertical measurement = 200 mm or 225 mm–400 mm. With optional 800 mm Accessory Kit (97-489, ordered separately), horizontal measurement can be expanded to 800 mm or 660 mm |
| CPU Dimension | Maximum CPU size (W x H x D) = 13.5" x 10" x 2.6" (34.3 x 25.4 x 6.6 cm), up to 7 lbs (3.2 kg). Power brick maximum weight = 3 lbs (1.4 kg) |
| Mounting Options | Wall Mounts |
| Profile off the Wall | 4.8" (12 cm) |
| Shipping Dimensions | 13.25"W x 12"H x 28.5"D (33.7 x 30.5 x 72.4 cm) |
| Shipping Weight | 24 lbs (11 kg) |
| Warranty | Five (5) years |