Similar Products:
---
The below item has been discontinued. See above for similar products that we offer instead. We apologize for this inconvenience.
Adesso AKB-220 Compact Waterpoof Flexible Keyboard
Keyboard Dimensions: 15" x 5.3" x 0.5" (LxWxH)
Adesso Flexible Compact Waterproof Keyboard (Black)
Adesso is proud to introduce its New and Improved, Flexible Full Sized Keyboard. This revolutionary keyboard is water resistant, flexible, and dust and contaminant proof. The keyboard is great for use in industrial environments, hospitals, libraries, and marine and boating applications. In fact, almost anywhere dust and liquids are present! The silicon based material is impervious to almost anything! The washable, roll-able keyboard has been called "the best thing to happen to typing since the backspace key."
Features:
The flat, comfortable design offers easy typing which eliminates negative-angle stress to your wrists. Its improved raised keys provide better tactile feedback than previous flexible designs.

We've put this keyboard through rigorous testing and could not destroy it. We've tried to rip, tear, pull and yank the keyboard but it held up. We even took it to an extreme and ran it over with automobiles and machinery and guess what, it still worked!!! So while we do not recommend that you try to destroy it, you can see that it should be able to handle any environment where you need a portable, waterproof, flexible keyboard.
Waterproof
With its water-proof silicone material, you don't have to worry about damaging the keyboard because you can't! You could spill a beverage on it and all you have to do is simply wipe or clean it off and continue to use it, good as new!
Washable
The keyboard is completely sealed preventing germs from entering anywhere inside the keyboard. Great for medical facilities since the keyboard surface can be washed and disinfected at any time to avoid the spread of infectious disease.
Portable
The keyboard is lightweight, ultra-slim and very compact. It would be a perfect companion for travel, school, and many industrial or medical environments. It fits easily in your briefcase, backpack or notebook carrying case and you don't have to worry about any sharp edges.
Dirt & Dustproof
The keyboard can be used safely in highly dusty environments. Perfect for factories, industrial warehouses, retail facilities or anywhere where dust may be a present.
Specification:
Compatible with Windows 7,Vista, XP, 2000, ME, 98SE

USB with a PS/2 adapter included
LED lights for Caps Lock and Num Lock
Key Layout: 105 Keys
Dimensions: 15" x 5.3" x 0.5" (LxWxH)
Weight: 0.8 lb
Temperature Range: 32°F to 175°F
Easy connection to USB or PS/2 port.
One Year Warranty
Package Contents:
Keyboard

User's Guide

USB to PS/2 Adapter
| Model # | Connection | UPC Code | Pkg Dimensions | Pkg Wt. |
| --- | --- | --- | --- | --- |
| AKB-220 | USB & PS/2 | 783750003391 | 15.5" x 6" x 1.5" | 0.9 lb |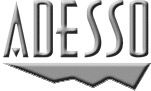 | | |
| --- | --- |
| Model | AKB-220 |
| Manufacturer | Adesso |
| Part Number | AKB-220 |
| UPC | 783750003391 |
| | |
| --- | --- |
| Connection Type | USB |
| Connection Type | PS/2 |
Be the first to review this product