Ergotron 24-191-085 Neo-Flex Mobile MediaCenter VHD
LCD Size 37-65". Weight Capacity 50-90 lbs (23-41 kg)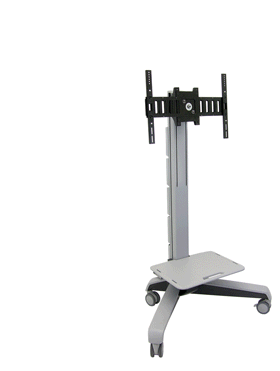 Description
Ergotron 24-191-085 stretches your investment by serving a variety of projection needs. Features include portrait-to-landscape rotation, 20" (51 cm) effortless height adjustment and 20° independent display tilt. Handles displays weighing 50–90 lbs (23–41 kg). Get optimal positioning for both seated and standing audiences, in any application, in any part of your facility.
Technical Drawing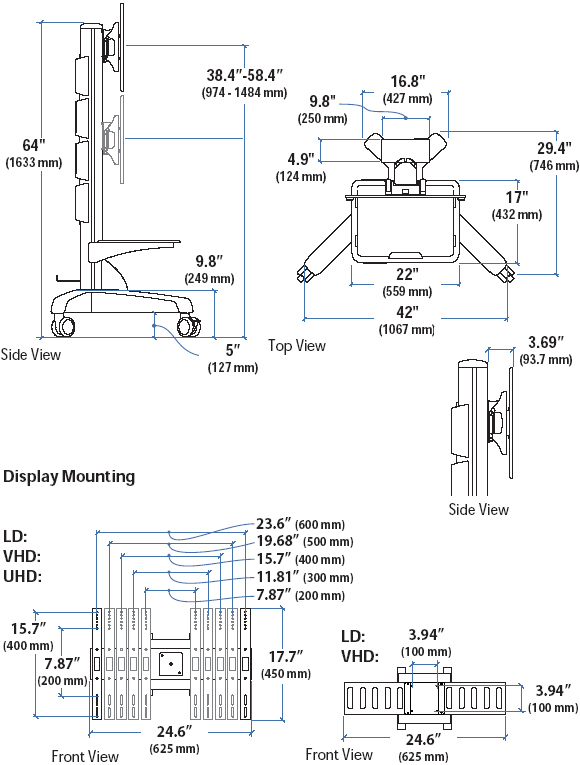 Technical Specifications
LCD Size

Capacity

Lift

Tilt

Pan

Rotation

VESA

37"-65"
50-90 lbs

23-41 kg

20"

51 cm

20°
-
90° P/L
MIS-D/F
Product Information
Part Number:

24-191-085

Description:

Neo-Flex Mobile MediaCenter VHD, Very Heavy Duty (black)

Includes:

Cart
Display and pan assembly
Lower main shelf
4-inch (100 mm) casters (two locking)
Rear cable shelf
Cable channel kit

Complies:

with UL Tip Standards 1667 and 1678.

Shelf:

Rugged plastic-composite shelf conveniently attaches to cart at any height.

Cable System:

Modular cable channel system is adaptable for various wiring configurations.

MMC Camera Shelf:

Add the MMC Camera Shelf Kit to place adjustable camera shelf above the display (ordered separately).

CPUs:

Attach safely to rear of cart with Universal CPU Holder accessory (ordered separately). Compatible with CPU sizes from 12" H x 3" D to 18" H x 8.5" D (300 x 80 mm to 460 x 220 mm).

Screen Size:

Listed screen size represents typical size of display used with this cart. However, weight of display and its VESA hole pattern - not its screen size - are the determining factors for compatibility.

Weight Capacity:

Main shelf = 30 lbs (13.6 kg); cable shelf = 5 lbs (2.2 kg); if MMC Video-Conferencing Kit is added, display weight capacity is diminished by 3 lbs (1.4 kg); if 800 mm Accessory Kit is added, display weight capacity is diminished by 5 lbs (2.3 kg).

Mounting Hole Patterns:

Horizontal measurement = 200 mm, 300 mm, 400 mm, 500 mm or 600 mm. Vertical measurement = 200 mm or 225 mm to 400 mm. Also accommodates MIS-D 100 x 100 mm hole pattern. With optional 800 mm Accessory Kit (97-489, ordered separately), horizontal measurement can be expanded to 800 mm or 660 mm.

Note:

Portrait orientation is not recommended for some plasma displays. Contact display manufacturer if you have questions regarding your plasma's portrait-mode capability (this is not an issue with LCD technology).

Shipping Dimensions:

66"L x 20"H x 14"D (1680 x 503 x 335 mm)

Shipping Weight:

101 lbs (46 kg)

Warranty:

Three (3) years
Benefits
Move digital content to where you need it.
Rotate your display to portrait or landscape orientation - no need to reinstall display.
Optional camera shelf accessory converts any space into a videoconference center.
Easily roll cart through standard-size doorways and over thresholds.
Narrow footprint allows presenter to move closer to the display; easily tucks into corners or nests with other carts for space-saving storage.
Constant Force CF technology enables smooth, effortless portrait-to-landscape rotation, tilt and height adjustment. Adjusts with just a touch - no knobs or levers.
Modular cable management channels conceal and organize cables.
Maximize your technology investment by sharing a large display over multiple rooms.
Second-generation design and 47 separate quality tests ensure reliability and optimum performance.
Speedy assembly and installation.
Save time and money utilizing a network of certified professionals to deploy Neo-Flex carts in your facility with an Ergotron Service Program (not available in all areas).
| | |
| --- | --- |
| Model | 24-191-085 |
| Manufacturer | Ergotron |
| Part Number | 24-191-085 |
| UPC | 698833016147 |
| | |
| --- | --- |
| Color | Black |
| Monitor Size | 37"–65" |
| Weight Capacity | 50–90 lbs (23–41 kg). Main shelf=30 lbs (13.6 kg); cable shelf = 5 lbs (2.2 kg); if MMC Video-Conferencing Kit is added, display weight capacity is diminished by 3 lbs (1.4 kg); if 800 mm Accessory Kit is added, display weight capacity is diminished by 5 |
| Lift | (51 cm) 20 in |
| Tilt | 20 degree |
| Rotation | (P/L) 90 degree |
| Mounting Pattern | Horizontal measurement = 200 mm, 300 mm, 400 mm, 500 mm or 600 mm. Vertical measurement = 200 mm or 225 mm to 400 mm. Also accommodates MIS-D 100 x 100 mm hole pattern. With optional 800 mm Accessory Kit (97-489, ordered separately), horizontal measuremen |
| CPU Dimension | Compatible with CPU sizes from 12" H x 3" D to 18" H x 8.5" D (300 x 80 mm to 460 x 220 mm) |
| Shipping Dimensions | 66"L x 20"H x 14"D (1680 x 503 x 335 mm) |
| Shipping Weight | 101 lbs (46 kg) |
| Warranty | Three (3) years |
| Screen Size | 31-45" in |
| Product Type | TV |
| Screen Size | 46-60" in |
| Screen Size | 61" and larger in |
Be the first to review this product