Humanscale Element 790 Task Light
Description
Humanscale Element 790 task light is Humanscale's response to the need for intelligent workspace lighting. Intuitive and flexible, the Element 790 combines high performance ergonomic design with 360 degrees of adjustability and unprecedented functionality in LED task lamps. A revolutionary task light, the Element 790 delivers the equivalent of light from a 90W incandescent using less than 7W of power.

Featuring advanced MCX LED Technology, the Element 790 light provides exceptional performance in a classic, award winning design. The Element 790's innovative ergonomic design and high-performance illumination with a seven-level dimmer for enhanced user control and energy savings.

Design Story - The Humanscale Design Studio developed the Element 790 as a revolutionary task light for the modern work environment. The first task light series to employ groundbreaking MCX LED Technology, the team sought to build advanced lighting solutions with beautiful, heat-dispersing designs for a unique, modern aesthetic.
Technical Drawing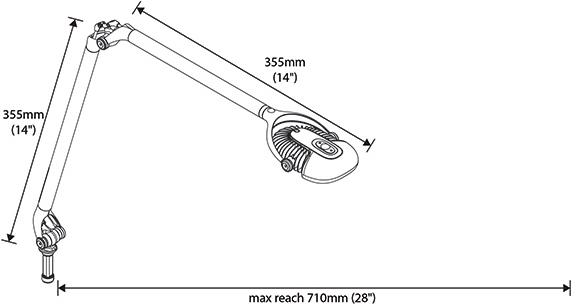 Features
Focused Illumination - Providing high performance in an adjustable LED task light, the Element 790 uses a single light source that casts just one shadow. Through the use of MCX LED Technology, the the light produces a large footprint of neutral light (3500K) and superb color quality (CRI 85).
Innovative Efficiency - Element 790 feature a unique, heat sink design to maximize light output and increase the light's usable life. An internal counterbalance provides effortless, one-touch positioning for comfort and complete ease of use.
Endless Adjustability - Element 790 comes in a variety of finishes, with 20 mounting options available to tailor it to any work environment. Element 790 is also dimmable to allow for optimal light settings. A universal power supply and interchangeable plug options accommodate global power outlets.
Specifications
LED

Lifespan - 50,000 hours (L70)
Efficiency - 50 lm/w
Correlated Color Temperature - Neutral White 3500 Kelvin
LED Driver Board; constant current driver (CCD) at 85% efficiency
Color Rendering Index - 85
Lumens - 250

Functionality

Maximum reach - 28 inches
Maximum height - 28 inches
Working height - 18 inches
90° head rotation (side-to-side)
135° head tilt (front-to-back)
360° swivel from base
Runs on 100- to 240-Volt power
CE/RoHS/WEEE compliant and worldwide certification

Warranty Information

5-years, 24/7 - including light source functionality
Sustainability
The performance of the Element Classic and Element 790 is unmatched in terms of environmental efficiency, lifespan and overall impact. Both task lights consume just six watts of power to produce incandescent lighting levels. The upgraded Element 790 uses as little as 0.5 watts at its dimmer's lowest light setting.

Recycled & Recyclable Content - The Element desk lights are constructed primarily from environmentally friendly recycled aluminum and recyclable plastic. Both are made of up to 81% recycled content, are 99% recyclable and are shipped in 70% recycled packaging.

Earn LEED Credits - By using The Element series as your lighting solution, you can contribute to a number of LEED-CI, -NC and -EB credits.
Humanscale's Element and Element 790 each contain 68% LEED recycled content.
LEED For

Commercial Interiors,/p>

New Construction

Existing Buildings: Operations and Maintenance

Energy & Atmosphere

Credit 1.1
Optimize Energy Performance,
Lighting Power

Materials & Resources

Credit 3.3
Resource Reuse, 30%
Furniture & Furnishings
Credit 4.1
Recycled Content, 10%
Credit 4.2
Recycled Content, 20%

Credit 3.1
Materials Reuse, 5%
Credit 3.2
Materials Reuse, 10%
Credit 4.1
Recycled Content, 10%
Credit 4.2
Recycled Content, 20%

Indoor Environment Quality

Credit 6.1
Controllability of Systems,
Lighting

Credit 6.1
Controllability of Systems,
Lighting

Credit 2.2
Occupant Comfort:
Occupant-Controlled Lighting
Option 1: Color
Element 790 is available in Arctic White (high-gloss), Silver (semi-matte) and Jet Black (semi-matte).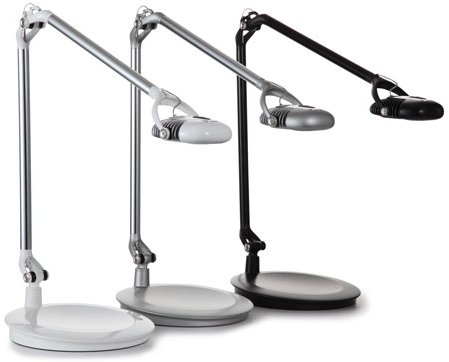 Option 2: Mount Style
| | | | |
| --- | --- | --- | --- |
| C Clamp - For grommet or edge mount. Fits surfaces up to 2" thick and grommet holes 2" or more in diameter | G Clamp with Grommet Cover - For grommet holes 2"-3.25" in diameter | K 2-Piece Clamp - Requires minimum 1/4" clearance between desk and wall or panel | B Element Desktop Base - 8" diameter |
Humanscale LED Task Light Comparison
Element 790

Element Vision

Element Disc

Horizon

Light Output (Lumens)

250

215

315

320

Light Quality (CRI)

85

88

83

80

Energy Consumption (Watts)

5

7

7

9

Efficiency (Lumens/Watt)

50

31

45

36

Color Temperature

3500K

3000K

3000K

3000K

Dimming

Yes

Yes

Yes

Yes

PIR Motion Detector

No

Yes

Yes

No

Colors

S, B, W

S, B, W

S, W

S, B, W

Mount Options

20

20

20

Preliminary Data

Base Only
| | |
| --- | --- |
| Model | Element 790 |
| Manufacturer | Humanscale |
| Part Number | Element 790 ED |
| | |
| --- | --- |
| Mounting Options | Desk Mounts |
Be the first to review this product