Innovative 8326-13 Vertical 13" Wall Track System, 7000 LCD Arm
It comes with 8326-13 vertical wall mounting track 13", 7000-1000 LCD monitor arm with 8328 track mount, 7019-NM keyboard arm with 8328 track mount and 8339-100 large keyboard tray and 8335-SM small CPU holder
Innovative 8326-13 Vertical 13" Track + 7000 LCD Arm + 7019-NM Keyboard Arm + 8335-SM CPU Holder
It comes with 8326-13 vertical wall mounting track 13", 7000-1000 LCD monitor arm with 8328 track mount, 7019-NM keyboard arm with 8328 track mount, 8339 large keyboard tray and 8335-SM small CPU holder
Description
Innovative 8326 Vertical Mounting Track provides an extremely space-efficient method of elevating your entire computer system. This configurable solution can be customized to meet your needs - incorporate flexible LCD arms, keyboard arms, even a CPU holder. Cables are routed through track, and hidden behind a cable channel.
Options
1) Comes with 8326-13 vertical wall mounting 13" track
2) 7000-1000 LCD arm with 8328 vertical track mount.
3) 7019-NM keyboard arm with 8328 vertical track mount and 8339 large keyboard tray
4) 8335-SM small CPU Holder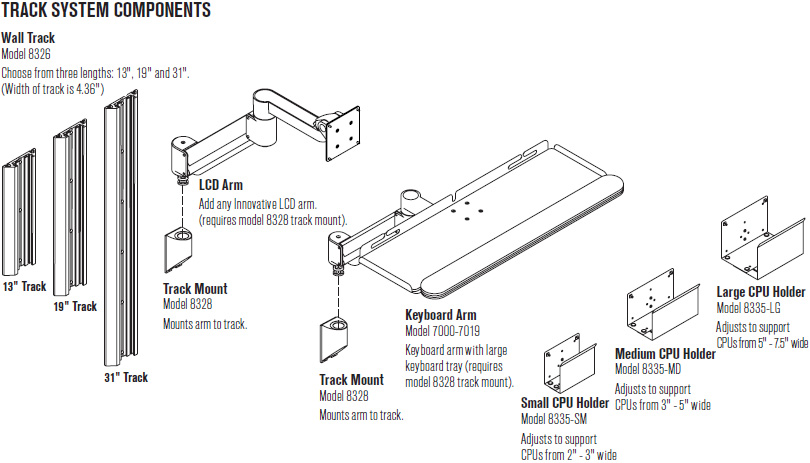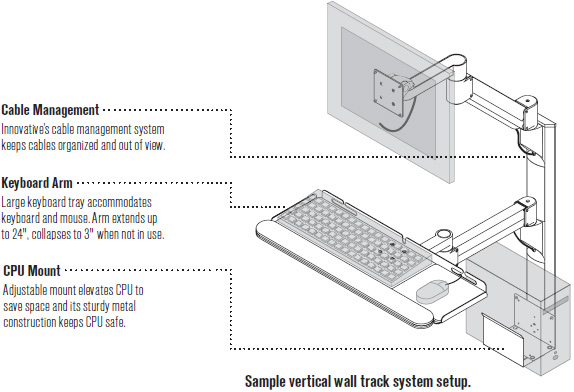 Features
Available in standard length of 13"
Configure with 7000-1000 LCD arm, 7019-NM keyboard arm and 8335-SM CPU holder
Contributes to a clean and neat work area
Prevents accidents and trip hazards which may damage equipment or harm staff
Integrated cable management keeps cables organized and out of view
| | |
| --- | --- |
| Model | 8326-13+7000-1000+7019-NM+8335t-SM |
| Manufacturer | Innovative LCD Arms |
| Part Number | 8326-13+7000-1000+7019-NM+8335-SM |
| | |
| --- | --- |
| Number of Monitors | 1 Monitor |
Be the first to review this product