Humanscale EV Element Vision 7 Watt Hi-Output MCX LED Light
Element Vision EV: 7-Watt Hi-Output MCX LED with Dimmer and Occupancy Sensor
Description
With cutting edge advancements like MCX LED technology, the Element Vision task light offers a generous foot-print of glare free illumination in a single light source - not commonly found in LED computer lamps. Element Vision provides the same effortless functionality found in all Humanscale task lights, moving fluidly without the need for knobs, switches or springs.

Where other LED computer lamps struggle to offer the warm light that prevents eye straining and offers ergonomic comfort, Element Vision is able to provide a high color rendering index (CRI) of 89 while also delivering 3000K illumination. With effortless adjustment and innovative heat management, Element Vision is one of the most advanced and intuitive LED task lights available.

Design Story - The Element Vision LED Light was created by the Humanscale Design Studio to tackle several ergonomic lighting problems seemingly at odds with each other: provide more light, but deliver greater efficiency in an adjustable, aesthetically pleasing design. The product of intense discussion and refinement between ergonomists, designers and engineers is Element Vision: a stunning LED task light.

Introducing a revolution in LED task lighting. Using cutting-edge advancements in MCX LED Technology, Element Vision produces a broad footprint of true-color, glare-free illumination - perfect for exceptional ergonomic lighting in any environment.
Beyond using just seven watts of power, Vision's energy-saving features include an intuitive dimmer control for adjustable light intensity and a passive infrared (PIR) occupancy sensor that turns the unit off when the user leaves the area.
Technical Drawing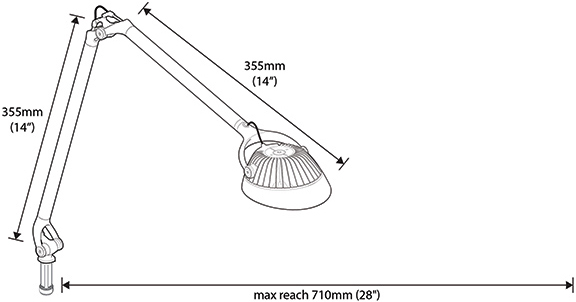 Features
New Technology - Advanced MCX LED Technology provides a large footprint of ergonomic light from a single light source, producing an even plane of illumination creating a glare-free, single shadow work environment.

Intelligent Efficiency - Element Vision's custom dimming capability allows for seven settings of light intensity. A motion sensor not only provides additional energy savings but remembers user settings, allowing the work environment to retain its levels of illumination.

Effortless Adjustment - An internal counterbalance provides effortless, one-touch positioning while also allowing for quick storage when not in use. Element Vision has an impressive reach of up to 28".

Unique design maximizes light output, reduces glare and increases the light's usable life

Replaceable LED assembly allows for easy in-field repairs

Dimmer switch provides adjustable illumination levels

PIR occupancy sensor automatically turns the unit off when not in use, and back on when the user returns

19 mounting options suit virtually any work environment

Universal power supply and interchangeable plug options accommodate global power outlets
Specifications
| | |
| --- | --- |
| Finish | Black, Silver, White with Silver accents |
| Power Consumption | 7 watts |
| Color Temperature | 3000K |
| Color Rendering Index | 89 |
| Lifespan | Up to 50,000 hours |
| Certification | UL/cUL/CE certified |
| Compliant | RoHS/WEEE compliant |
| Maximum Reach | 710 mm (28") |
| Working Height | 455 mm (18") |
| Warranty | 10 year, 24/7 |
Option 1: Color
Element Vision is available in Silver, and White with Silver accents. Element Vision is also available an ultra-modern all Black finish.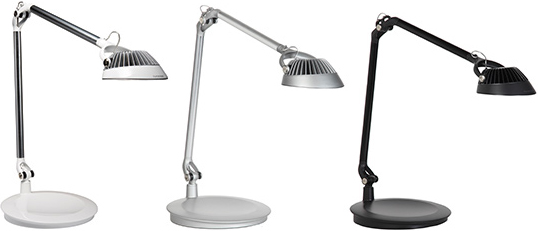 Option 2: Mount Style
| | | |
| --- | --- | --- |
| C Clamp - For grommet or edge mount. Fits surfaces up to 2" thick and grommet holes 2" or more in diameter | G Clamp with Grommet Cover - For grommet holes 2"-3.25" in diameter | Element Desktop Base - 8" diameter |
Humanscale LED Task Light Comparison
Element 790

Element Vision

Element Disc

Horizon

Light Output (Lumens)

250

215

315

320

Light Quality (CRI)

85

88

83

80

Energy Consumption (Watts)

5

7

7

9

Efficiency (Lumens/Watt)

50

31

45

36

Color Temperature

3500K

3000K

3000K

3000K

Dimming

Yes

Yes

Yes

Yes

PIR Motion Detector

No

Yes

Yes

No

Colors

S, B, W

S, B, W

S, W

S, B, W

Mount Options

20

20

20

Preliminary Data

Base Only
| | |
| --- | --- |
| Model | EV Element 790 |
| Manufacturer | Humanscale |
| Part Number | Element 790 EV |
| | |
| --- | --- |
| Color | Black, Silver, White with Silver accents |
| Power Consumption | 7 watts |
| Color Temperature | 3000K |
| Color Rendering Index | 89 |
| Lifespan | Up to 50,000 hours |
| Maximum Reach | 28" |
| Height | Working Height: 18 |
| Warranty | 10 year, 24/7 |
| Mounting Options | Desk Mounts |
Be the first to review this product