The below item has been discontinued.
Ergotron 24-259-026 WorkFit-A Single LD Monitor Sit-Stand Workstation - Back Order till May 2013
Back Order till May 2013. Discontinued.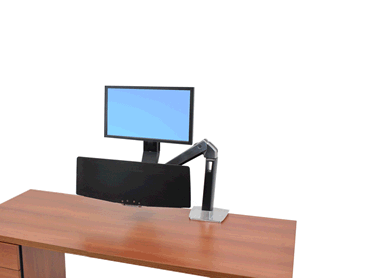 Description
Ergotron 24259026 is ideal for corner workstations, the WorkFit-A clamps to the rear or side of most surfaces and enables an effortless sit-and-stand work style. Fold the keyboard up and swing the arm out of the way when you need your desk surface.
Change from a sitting to a standing position whenever you want. This height-adjustable workstation moves your keyboard and display in one simple motion, making computing comfortable for prolonged periods.
Technical Drawing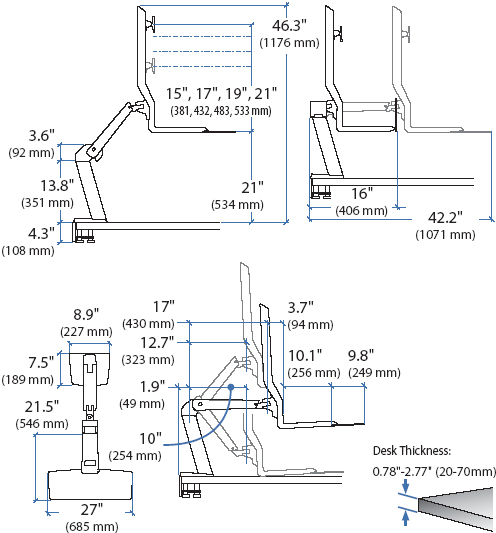 Technical Specifications
LCD Size

Capacity

Lift

Tilt

Pan

Rotation

VESA

Up to 24"
Up to 20 lbs

9.1 kg

20"

51 cm

30°
180°
360° P/L
MIS-D
Product Information
Part Number:

24-259-026

Description:

WorkFit-A, Single LD LCD Monitor Sit-Stand Workstation (polished aluminum/black)

Weight Capacity:

Maximum total load on height-adjustment assembly ≤ 20 lbs (9.1 kg). LCD weight range = 5–15 lbs (2.3–6.8 kg), keyboard tray accessories ≤ 2 lbs (.9 kg). For proper operation the total maximum weight when added together should not exceed 20 lbs (9.1 kg). The minimum total weight should not be less than 6 lbs (2.7 kg).

Desk Thickness:

Desk Clamp attaches to surface edge 0.78" to 2.7" (20 to 70 mm) thick.

Arm Extend/ Retract Range:

Arm fully extends up to 42" (1066 mm) from wall and pushes back to 18 1/4" (464 mm) when fully retracted.

Cable Management:

Integrated cable management hides wires.
Cable management clips on the under side of the mount arm routes and hides wires.

Constant Force Technology:

Patented Constant Force (CF) lift-and-pivot motion technology

Mounting Standards:

VESA FDMI, MIS-D, 75/100, C (hole patterns = 100 x 100 mm and 75 x 75 mm)

Hardware Kit:

Includes complete hardware kit

Note:

Computer systems mounted on a WorkFit-A may require extra long power and video cables in order to span between standing and sitting heights.
Because mounting surface materials can vary widely, it is imperative that you make sure mounting surface is strong enough to handle mounted product and equipment.

Shipping Dimensions:

37" x 21" x 11.5" (940 x 533 x 292 mm)

Shipping Weight:

44.5 lbs (20.2 kg)

Warranty:

Five (5) years
Benefits
For Computer Users
On-demand sit-stand workstation - improve your energy and productivity by standing or sitting as you work, and then switch positions whenever you choose. Standing a little more each day burns extra calories, tones muscles, improves posture, increases blood flow and ramps up metabolism.
Safe, easy-to-use - simple installation and effortless operation.
Easily and simultaneously lift keyboard and screen to proper height for unsurpassed ergonomic comfort.
Patented Constant Force lift technology provides fluid, one-touch adjustments of the keyboard and monitor positions for personalized computing.
Fold keyboard up and swing arm and monitor out of the way when you need your desk surface.
For IT and Facilities Staff
Flexible, open-architecture design is scalable for future computer equipment.
Modify existing office spaces or cubes by simply clamping a WorkFit on an existing worksurface, without the cost of expensive professional installers.
Safe and neat routing of cables.
For HR/Risk Management and Company Cost Savings.
Manage the cost of healthcare premiums by promoting wellness in the daily work routine
Provide standing work platforms for employees without having to buy expensive height-adjustable chairs.
Comfortable computing offers provable ROI on investment - healthcare costs associated with unhealthy computing and missed time are reduced while productivity increases.
Standing supports healthy neck and back conditions. According to the 2007 OE Medicine Journal, back and neck pain are cited as the most costly conditions affecting employees.
Studies in office ergonomics show productivity increases of 12%–18% following an ergonomic intervention where employees are provided with well-designed ergonomic furniture.
Literature (Please open the following documents for more technical information)


| | |
| --- | --- |
| Model | 24-259-026 |
| Manufacturer | Ergotron |
| Part Number | 24-259-026 |
| | |
| --- | --- |
| Screen Size | Up to 24 in |
| Weight Capacity | Maxi total load on height-adjustment assembly ≤ 20 lbs. LCD weight range = 5–15 lbs, keyboard tray ≤ 2 lbs. For proper operation the total maxi weight when added together should not exceed 20 lbs. The mini total weight should not be less than 6 lbs. |
| Lift | (51 cm) 20 in |
| Tilt | 30 degree |
| Pan | 180 degree |
| Rotation | (P/L) 360 degree |
| Shipping Dimensions | 37" x 21" x 11.5" (940 x 533 x 292 mm) |
| Shipping Weight | 44.5 lbs (20.2 kg) |
| Warranty | Five (5) years |
| Color | Polished aluminum/Black |
| Mounting Pattern | VESA FDMI, MIS-D, 75/100, C (hole patterns = 100 x 100 mm and 75 x 75 mm) |
| Extend/Retract Range | Arm fully extends up to 42" (1066 mm) from wall and pushes back to 18 1/4" (464 mm) when fully retracted |
| Desktop Thickness Range | Desk Clamp attaches to surface edge 0.78" to 2.7" (20 to 70 mm) thick |
Be the first to review this product