The below item has been discontinued.
WorkRite Sierra HX Electric Rectangular Bi-Level Sit-Stand Table
Lead times: Classic laminates: 10 working days for 20 or less. Designer laminates: 20 working days for 10 or less. Silhouette: 10 working days for 10 or less. Colors and patterns for Laminates, Edges and Base Frames are representative only. Actual colors and patterns may vary slightly.
Description
Raise the Bar on Workcenter Comfort. The Workrite Sierra HX is the most innovative adjustable height workcenter for the professional workplace. The standard crossbar has been eliminated to allow maximum leg clearance for worker comfort. Instead, a mount structure under the worksurface provides unmatched stability and plenty of room to attach a CPU holder and keyboard platform and lots of space to position your mobile pedestal.
Sierra HX features our beautiful Silhouette Collection of worksurfaces. These sleek tops are whisper thin at just ½", use GREENGUARD certified material, and are available in a variety of edge treatments.
Sierra HX Electric workcenters will lift your spirits along with your essential worktools. Quiet motors provide over 100 pounds of lifting force per leg, so no matter how heavy your workload, the Sierra Electric HX Electric is there to support you.
Specifications
Height Range, Base and Leg Dimensions

Features
Hidden crossbar design provides optimum knee clearance and under worksurface access
Adjusts 22" - 48" at 1.6" per second
Up/down control with 3 memory presets under front of worksurface
Load capacity on worksurface: two leg workcenter 225 lbs, three leg workcenter 300 lbs
Available in 24 worksurface styles in over 60 laminate options including slender Silhouette worksurfaces
Available in Sierra silver or charcoal finish
Base only or full workcenter
Compatible with full line of tool bar and rail system accessories
Environmental Considerations
LEED Credit Eligibility
Material & Resources Credit 4.1–4.2 (1–2 points)
LEED Base Only: 26–29%
LEED with laminate: 31–37%
LEED with Silhouette: 13–18%
Innovation in Design Credit 1.1–1.4 (1–4 points)
Standby power use is only 0.1W
GREENGUARD Silhouette top material
VOC free powdercoat
Option 1: Choose your Surface Dimensions
Model SEHX4231B: 42" x 31" Surface Dimensions
Model SEHX4831B: 48" x 31" Surface Dimensions
Option 2: Switch Position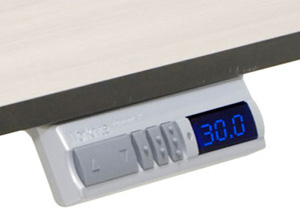 Under Worksurface (U)
Option 3: Choose your Base Frame Colors
Colors and patterns are representative only. Actual colors and patterns may vary slightly
| | |
| --- | --- |
| Sierra Silver (S) | Charcoal (C) |
Option 4: Choose your Laminate Top Colors
Classic Collection Laminates
Colors and patterns are representative only. Actual colors and patterns may vary slightly
Folkstone Gray

SG241

Opti Gray

SG213

Black

SE101

Ice Fishin

WF181

White Spectrum

AW785

Gateway To the Future

AV100

 
 
 
 
 
 

Cavalcade South

AT650

Tropical Gateway

AV110

Summer Heat Wave

AO360

IL Palio Papel

AV981

Coriander Fiber

AT981

Leave Likatre

WP120

 
 
 
 
 
 

Looks Likatre

WP110

Appears Likatre

WP115

Seems Likatre

WP125

Hardrock Maple

WM791

Pearwood

WX031

Shaker Cherry

WC521

 
 
 
 
 
 

Oiled Cherry

WC421

Jewel Mahagony

WY351

Black Ashwood

SZ101

 
 
 
Designer Collection Laminates
Colors and patterns are representative only. Actual colors and patterns may vary slightly
Spa White

S740T

Almond

ST655

Putty Gray

SG209

Taupe

ST606

Sage

SV720

Cubical Papel

AG561

 
 
 
 
 
 

Gray Santos

AG291

Negotiating In Geneva

PFA60

Beige Crepe

AT251

Opti Gray Crepe

AG341

Vanilla Fiber

AW871

Wheat Fiber

AT991

 
 
 
 
 
 

Oatmeal Fiber

AT101

Thyme Fiber

AV721

Shipping Seattle Java

PFA48

Pepper Fiber

AG581

Manila Linen

AT231

Gridlock In LA

PFA51

 
 
 
 
 
 

Travelin Light

AT680

Gold Pannin

AT710

Passin Through

AV250

Blue Sandstone

AB191

Caramel Crepe

AT111

Amber Raffia II

AO355

 
 
 
 
 
 

Brick by Brick

AR350

Anigre

WX041

Millwork Cherry

WC431

Honey Maple

WM951

Yorkshire Cherry

WC411

Moroccan Fresco

AT121
Option 5: Choose your Edge Treatments
Edge Treatments for Laminated Surfaces
Standard

Colors 01 - 05

Wedge

Black only - 06

Ripple

Black only - 07
Standard Edge Colors
Colors and patterns are representative only. Actual colors and patterns may vary slightly
| | | | | | |
| --- | --- | --- | --- | --- | --- |
| Folkstone - 01 | Black - 02 | Opti Gray - 03 | Almond - 04 | HW Brown - 05 | Soft White - 53 |
Option 6: Choose your Casters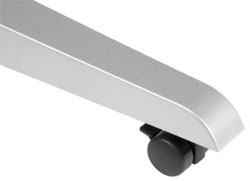 Sierra Locking Casters
Features
Low profile locking casters 2" W x 1.5" H
Casters raise work centers by 1" versus installed adjustable glides
Can be used with all Workrite adjustable work centers, recommended for Sierra workcenters
Four (4) casters required for 2 leg workcenters, five (5) casters required for 3 leg workcenters
The following Casters are available
95234 - 4 casters for 2 leg tables
95235 - 5 casters for 3 leg tables
Option 7: Pinch Points
Dimensions provided above are nominal. Actual widths of all tables are reduced by 2" and depths by 1". For example, a nominal 42" × 42" × 24" corner table has an actual dimension of 40" × 40" × 23", and a 72" × 30" rectangular table has an actual dimension of 70" × 29".
Option 8: HX Spacers
HX Accessory Spacers
Attach the spacer to the leg motor with the #M6x12 mm Button Cap Screws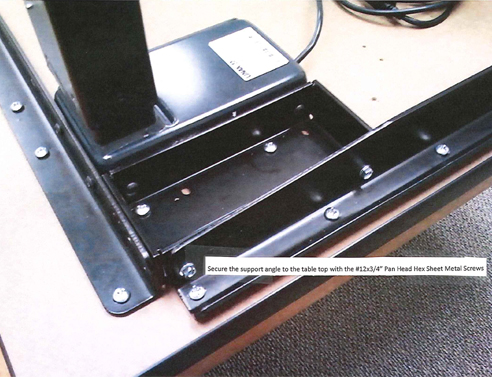 Secure the support angle to the table top with the #12x3/4" Pan Head Hex Sheet Metal Screws
Features
Provides 3" or 5" of additional mounting depth under worksurface for accessories including keyboard platforms
3" spacer can mount to either 24"D or 30"D workcenters; 5" spacer can only be used on 30"D workcenters
For 3 leg dual depth workcenters, order spacer for narrowest side
Quantity 2 spacers provided
The following Spacers are available
SHX-24SPCR: 3" depth spacer, weight 4 lbs
SHX-30SPCR: 5" depth spacer, weight 7 lbs
Workcenter Ordering Information
Classic Collection Laminates - 10 working days for quantity 20 or less
Silhouette Collection Laminates - 10 working days for quantity 10 or less
Designer Collection Laminates - 20 working days for quantity 10 or less
Modular, high strength steel frame mounts to worksurface; exceeds ergonomic knee clearance requirements.
All tables have adjustable glides providing ½" adjustment. Table surfaces are predrilled with mounting location for bases. Silhouette surfaces include screws to mount accessory items under the worksurface. Special drill bit required, can be ordered separately.
All tables and bases ship unassembled. Weight information is shipped weight for laminate option only. Sierra HXL Electric legs rated at 175 lbs maximum force per leg. Control box powered by 120V / 60Hz. May draw 2.9 amps maximum under full load. Standby power is 0.1W. 10' power cord with IEC type connection at control box provided.
Cable management spool provided to manage excess control cables; optional cable mount accessories are available.
Literature (Please open the following documents for more technical information)
| | |
| --- | --- |
| Model | SEHX4231B, SEHX4831B |
| Manufacturer | Workrite Ergonomics |
| Part Number | SEHX4231B, SEHX4831B |
| | |
| --- | --- |
| Height Range | 22"– 48" at 1.6" per second |
| Lifting Capacity | 2-leg: 225 lbs |
Be the first to review this product