Workrite WA2000-C-S or WA2000-G-S Willow Dual Wide Monitor Arm
WA2000 is ideal for corners, 30" or deeper worksurfaces and displays up to 14 lbs each
Related Products
Part Number

Description

WA2000-C-S
Silver Willow Dual Wide LED Arm C-Clamp Mount
WA2000-G-S
Willow Dual Wide LCD Monitor Arm Grommet Mount Silver
Description
Willow is specifically developed to support newer monitors which are becoming ever lighter. Whether you have a one pound ultra light display or a 14 pound LCD monitor, the Willow monitor arm will provide the support you need. Two dual monitor configurations and an optional laptop or iPad holder round out the Willow family.
Willow leads the category in its height and reach adjustment. Users of all ages and levels of visual acuity will be able to position their monitor to maximize their viewing comfort.
Perfect for benching configurations, Willow is designed to fold back completely, maximizing the usefulness of your worksurface. To bring your work into focus, the spring and friction balance arm gracefully extends a full 22-1⁄2" from the worksurface edge.
Technical Drawing

Features
Ideal for corners, 30" or deeper worksurfaces and oversized monitors up to 14 lbs. each
Parallel linkage design keeps monitor perfectly parallel when adjusting vertically
135° tilt range (+45°/- 90°), 360° pivot at base and arm connections, 180° pivot at monitor mounting
22½" reach, 13" height range
4¼" stored depth
Coil spring and adjustable friction balance
For customized control, including touch-screen use, tension is adjustable at all pivot points
Integral cable management neatly stores cables
VESA 75mm and 100mm compliant
Includes both VESA Quick Release and Secure Screw monitor mounting options
Each arm has 21½" reach
Specify two-piece C-Clamp or grommet mount, each fits worksurfaces 1/2"-2 3/8" thick
Available in silver only
10 year warranty
Environmental Considerations
100% recyclable at end of life
51% recycled content
Non-metal components marked with recycle symbol
LEED credit eligibility
Innovation in design, credit 1.1-1.4 (1-4 points) Implementation of comprehensive ergonomic program
Materials & Resources, MR Credit 4.1–4.2 (1-2 points) Recycled content: 20% (post-consumer + ½ pre-consumer) LEED Recycled Content
WA2000-C-S: 26% total LEED recycled content (8% post-consumer, 36% post industrial)
WA2000-G-S: 25% total LEED recycled content (7% post-consumer, 36% post industrial)
Option 1: Color

S- Silver
Option 2: Mounting Options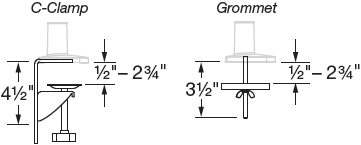 Two Piece C-Clamp (fits worksurfaces 1/2"-2 3/8" thick)
Grommet Mount (fits worksurfaces 1/2"-2 3/8" thick)
Option 3: Laptop Holder
LTH-1-S - Silver Notebook Tray for 13", 15" and 17" laptops measuring from 12"-16½"W × 8"-11"D
Option 4: iPad Holder
IPH-1-B - iPad 2 and 3 Holder Black
Option 5: Adapter
PA-MIS-E - VESA Bracket 100 mm x 200 mm
Literature (Please open the following documents for more technical information)
| | |
| --- | --- |
| Model | WA2000-C-S, WA2000-G-S |
| Manufacturer | Workrite Ergonomics |
| Part Number | WA2000-C-S, WA2000-G-S |
| | |
| --- | --- |
| Color | Silver |
| Mounting Options | Desk |
| Weight Capacity | Oversized monitors up to 14 lbs each |
| Horizontal Range | Each arm has 21½" reach |
| Worksurface Depth | 30" or deeper worksurfaces |
| Warranty | 10 years |
| Weight | WA2000-C-S: 17 lbs, WA2000-G-S: 16 lbs |
Be the first to review this product