The below item has been discontinued. See above for similar products that we offer instead. We apologize for this inconvenience.
Innovative 7Flex-104i-8424 Secure iPad Holder Arm - 24" Reach
The Innovative 7Flex-104i comes with a universal mounting option. It can be mounted on a desk and the wall. The 8424 iPad Holder works with all versions of iPad and comes with a lock and key option to secure the iPad. The KRA400 or KRA401 Adaper plate adds enough weight to the 8424 Holder to be compatible with the 7Flex arm. 
Description
Innovative 7Flex-104i-8424 7Flex iPad Arm will change the way you work. The arm suspends your iPad above your desk, allowing you to quickly reposition the iPad with just one hand. Simply move the iPad to where you need it. The arm eliminates the iPad footprint on your desk, reclaim your desk, even as you work in greater ergonomic comfort. 7Flex is Innovative's best-value product - incredible flexibility and versatility at an attractive price.
Innovative 8424 (home button access) or 8424-NHB (no home button access) is made of heavy-duty steel construction. It is a secure iPad holder. It keeps the iPad accessible yet safe. Available in black, silver or white. Combine with any Innovative mounting product for a secure self-service or POS application.
Technical Drawing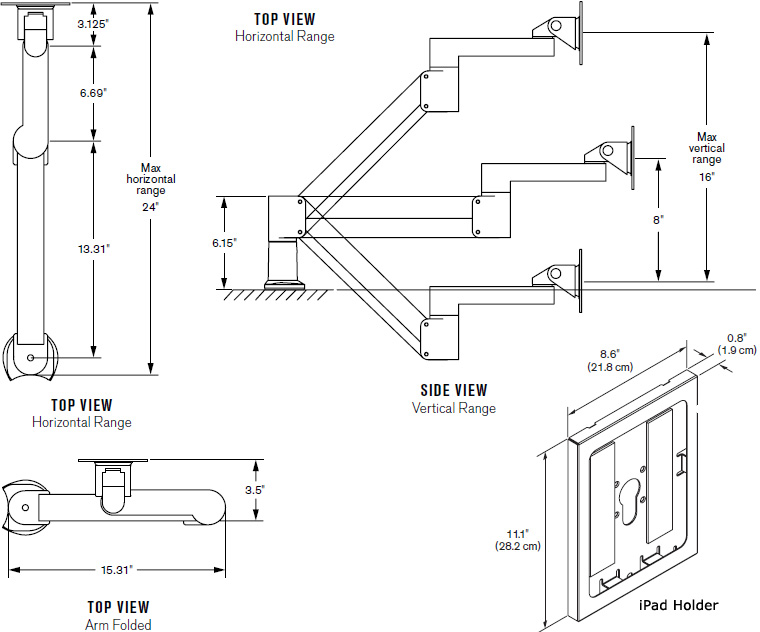 Technical Specifications
| | |
| --- | --- |
| Vertical Range | 16" (8" up and down from horizontal) |
| Horizontal Range | 24" |
| Rotation | 360 degree at three joints |
| Tilt | 200 degree |
| Pivot | Landscape to portrait |
| Mounting Options | 8374 - 7Flex Style Mount |
Features
7Flex-104i
24" of horizontal range
16" of vertical range (8" up and down from horizontal)
Monitor tilter mechanism can tilt over 200 degrees
Rotates 360 degrees at three joints
Folds up to occupy just 3'' of space
Optional 6" extender tube available to raise monitor (see Extender Tubes under Available Accessories).
8424 or 8424-NHB
Keeps iPad safe yet still accessible
8424-NHB blocks user access to 'home' button
Secure and durable steel construction
Perfect fit for iPad
Compatible with Innovative mounting products
Innovative Returns Policy:  
All returns must be labeled with a valid Return Authorization (R/A) number, which can be obtained by contacting Ergodirect.com, on the outside of packaging. Restocking fee of 20% will be applied on all returns. Products must be in brand new, saleable condition, and never installed. Defective items may be returned within limits of the Warranty. Non-defective Custom-configured Items are not returnable. All return must be made within 30 days of receipt.
| | |
| --- | --- |
| Model | 7Flex-104i-8424 |
| Manufacturer | Innovative LCD Arms |
| Part Number | 7Flex-104i-8424 |
| | |
| --- | --- |
| Color | Arm: 104 - Vista Black, Holder Color: 104 - Vista Black, 124 - Silver, 232 - Linen White |
| Vertical Range | 16" (8" up and down from horizontal) |
| Horizontal Range | 24" |
| Rotation | 360 degree |
| Tilt | 200 degree |
| Pivot | Landscape to portrait |
| Mounting Options | Desk |
| Material | 7Flex-104i - Cast Aluminum, 8424 - Steel |
| Mounting Options | Wall |
| Mounting Options | All-in-one |
Be the first to review this product