Peerless MOD-FCSKIT300-B Modular Series Floor To Ceiling Kit for 32" to 60" Display Black
Package contents: 2 x MOD-CPF heavy duty flat ceiling plate, MOD-P300 black 9' 8" (3m) extension pole, MOD-ASC display stacking clamp, MOD-FPMS single mount, MOD-UNL large adapter. Display size: 32" - 60". Max load: 374.0lb (169.6kg)
Description
Peerless Modular Mounts Line features a full range of products that can fulfill multiple requirements from a limited number of SKUs. With the universality of the components, configure your own perfect custom flat-panel display or projector mounting solution for any application.
The Modular Mount Line was developed with the professional AV installer in mind. Designed around a 2" (50mm) diameter pole, the line is ideal for new projects as well as for upgrading existing installations.
Peerless MOD-FCSKIT300-B Floor-to-Ceiling Kit comes with all of the components required to mount a single 32-60" flat panel display between the floor and ceiling. As a part of the Peerless Modular Series, it can be expanded with additional Modular accessories (sold separately) to accommodate additional displays, configurations to achieve the perfect custom mounting solution.
Technical Drawing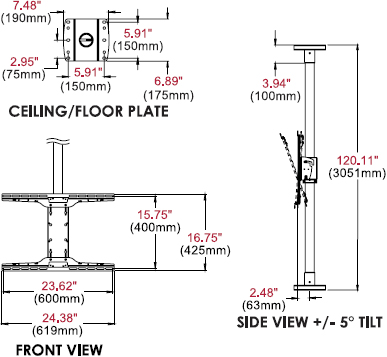 Features
Pre-assembled Kit includes: Flat ceiling plates, 9'-8" (3m) black extension column, Single display flat panel mount, Display stacking clamp, Large universal adapter
Heavy duty flat plate mounts to wood or concrete ceiling and floor
Easy installation of single display between floor and ceiling up to 9'-8" (3m) height
Universal display adaptor for 32 to 60" displays with VESA mounting patterns up to 700 x 400mm
Versatile positioning of display at any point along the full height of the 2" (50mm) diameter column
Technical Specifications
Color

Black

Display Size

32" - 60"

Product Dimension (W x H x D)

28.897" x 118.109" x 3.425" (734 x 3000 x 87 mm)

Product Weight

26.3 lb (11.9 kg)

Load Capacity

374.0 lb (169.6 kg)

Finish

Powder Coat

Mounting Pattern

VESA up to 700 x 400 mm

Pole Diameter

2" (50 mm)

Tilt

+20° to -5°

Package Size (W x H x D)

Box1: 35.38" x 4" x 2" (16 x 1 x 0.9 mm)
Box2: 120" x 2.5" (54 x 1 mm)
Box3: 10.25" x 10.25" x 8.25" (4 x 4 x 3 mm)

Package Ship Weight

Box1: 2 lb (0.9 kg)
Box2: 33.8 lb (10.7 kg)
Box3: 4 lb (1.8 kg)

Units in Package

1
Literature (Please open the following documents for more technical information)
Frequently Asked Questions
Question: Do you carry any shelving which can be added to this pole?
Answer: The above product is specifically designed only to hold TV/Monitor mounts. But here is an LCD TV Stand that comes with shelves.
Question: We have a 8 ft ceiling height and would like to know which pole length would be best for our installation.
Answer: You will need to go with the 118" length pole that comes standard. You'll need to cut the pole to the length needed for your installation.
| | |
| --- | --- |
| Model | MOD-FCSKIT300-B |
| Manufacturer | Peerless Mounts |
| Part Number | MOD-FCSKIT300-B |
| UPC | 735029290162 |
| | |
| --- | --- |
| Color | Black |
| Dimensions | 28.897" x 118.109" x 3.425" (734 x 3000 x 87mm) |
| Weight | 26.3lb (11.9kg) |
| Weight Capacity | 374.0lb (169.6kg) |
| Finish | Powder coat |
| Shipping Dimensions | Box1: 35.380" x 4.000" x 2.000" (16 x 1 x 0.9mm), Box2: 120.000" x 2.500" (54 x 1mm), Box3: 10.250" x 10.250" x 8.250" (4 x 4 x 3mm) |
| Shipping Weight | Box1: 2.0lb (0.9kg), Box2: 33.8lb (10.7kg), Box3: 4.0lb (1.8kg) |
| Monitor Size | 32" to 60" |
| Mounting Pattern | VESA up to 700 x 400mm |
| Tilt | +20 to -5 degree |
| Pole Diameter | 2" (50mm) |
| Pole Length | 9' 8" (3m) |
Be the first to review this product