ErgoDirect Dual Monitor/Keyboard Sit-Stand Workstation, ED-2KLXS
Highlights
Dual Monitor Sit-Stand workstation: Operate Monitors and Keyboard Arm Independent of each other

Keyboard Tray stays at desktop level. It doesn't go below desktop. Works better for taller users.

Monitor compatibility: Carries two monitors between 14" to 24.5" wide each (including frame)
20" height adjustability: Keyboard, monitors can be adjusted 20" vertically
Weight capacity: For model ED-KLXS, each monitor not to weigh more than 8.5lbs; model ED-KHXS, each monitor not to weigh more than 11lbs
Small footprint: Installs at the side or back of the desk and does not occupy space on the desk
Flexibility: Move the keyboard and monitor arm out of the way easily to speak across your table 
Notebook Tray: Convert dual monitor display to a single monitor and laptop set up 
Please see, if you want a Single Monitor/Keyboard Sit-Stand system
Description
 This versatile arm can be used in a variety of applications: we have created a unique solution where you can use two monitors on this arm to increase your productivity at work. With the dual monitor bracket you can use monitors up to 10 lbs.
The LX provides unparalleled range of motion, being able to accommodate a user's sitting or standing posture. Features include 20 inches (51 cm) of vertical adjustment and 62 inches (157 cm) of side-to-side motion.
Effortlessly position a keyboard to the most comfortable typing position, while seated or standing. The LX provides a very stable platform for a keyboard and mouse - tested to be 3x more rigid than other keyboard arms. The tray's adjustment mechanism allows the surface to be perfectly level no matter where the keyboard is positioned.
Convert a single-monitor mount so it holds two displays, or increase the size of compatible displays for your current dual-monitor solution. A handle is included to make repositioning of the screens easy.
Technical Drawing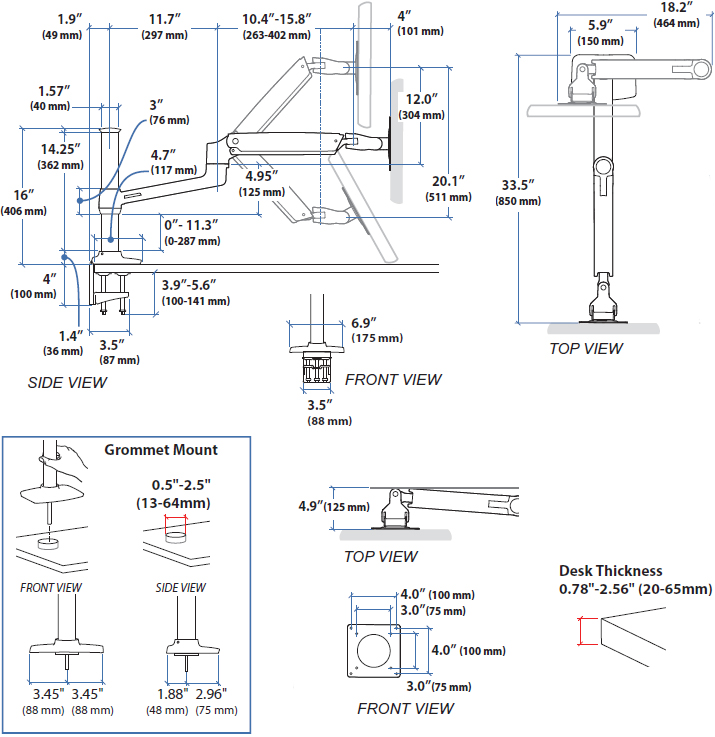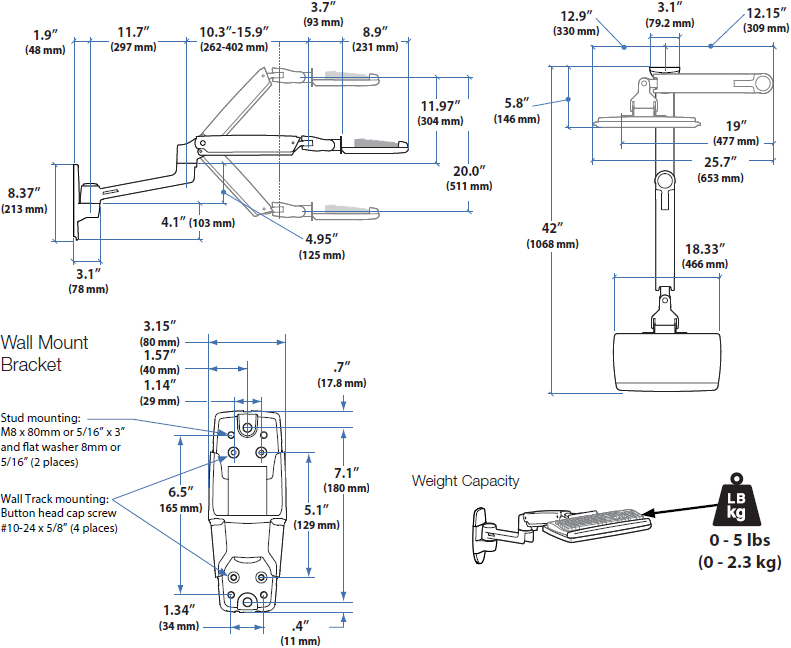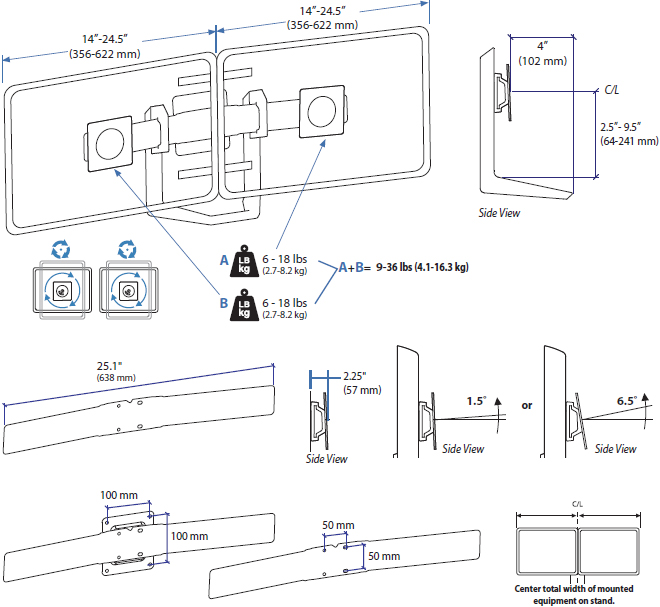 Technical Specifications
  Arm with Dual Bracket Kit
Screen

Capacity

Lift

Tilt

Pan

Rotation

VESA

Up to 26"

14-30 lbs

6.3-13.6 kg

20"

51 cm

80°

360°

90°

MIS-D/E/F
Keyboard Arm
Screen

Capacity

Lift

Tilt

Pan

Rotation

VESA

-

Up to 5 lbs

2.2 kg

20"

51 cm

-

360°

-

-
Product Information
Description

LX HD Sit-Stand Desk Mount LCD Arm (polished aluminum)

Includes

LX HD sit-stand arm
Extension
Desk clamp base
Grommet-mount base
40 cm pole
VESA brackets

Quality Tested

10,000-cycle test applied to lift mechanism, ensuring years of trouble-free height adjustment

Weight Capacity

14 to 30 lbs (6.3 to 13.6 kg). Monitor depth may affect weight capacity

Monitor Tilts

70° up and 5° down

Mounting Standards

VESA MIS-D, 75/100 (hole pattern = 100 x 100 mm & 75 x 75 mm), MIS-E (hole pattern = 200 x 100 mm), MIS-F (hole pattern = 200 x 200 mm ONLY). Optional VESA Bracket Adaptor Kit (97-759) can be ordered separately for MIS-F interface with hole pattern of 400 x 200 mm, 400 x 300 mm or 400 x 400 mm

Locking Connections

Locking connections between arm, extension and base offer increased theft deterrence and prevent potential disconnections caused by jarring or impacts

Desk Clamp

Attaches to edge up to 2.5" (65 mm) thick; grommet mount attaches through hole 0.5" to 2.5" (7–65 mm) wide and up to 2.5" (65 mm) thick

Cable Management

Clips on the under side of the arm route and hide cords

Keyboard Arm

To add an LX Sit-Stand Keyboard Arm to the configuration, order 45-354-026. Attach keyboard arm at base of pole while leaving the arm's wall-mount base unused

Note

Computer systems mounted on this product may require extra long USB, power or video cables in order to span between standing and sitting heights

Product Weight

17.5 lbs (8 kg)

Shipping Dimensions

25" x 14.75" x 7.5" (64 x 38 x 19 cm)

Shipping Weight

20 lbs (9.1 kg)

Warranty

Five (5) years
Description

LX Sit-Stand Wall Mount Keyboard Arm (polished aluminum)

Includes

LX sit-stand arm
Extension
Wall-mount base
Keyboard tray
Slide-out mouse tray
Wrist rest
Mouse holder

Arm

Can be used with or without the extension

Quality Tested

10,000-cycle test applied to lift mechanism, ensuring years of trouble-free height adjustment

Tilt

When in down position, tray features a back-tilt of 5°; folds upright 90° in storage position

Rotation Stop

On wall-mount base limits turn of extension-base connection to 180°, preventing extension from contacting wall

Mounting Options

Attaches directly to sturdy vertical surfaces. Where applicable, install to wood stud. Also attaches to Wall Plate, or to Wall Track using bracket 97-091 (order separately)

Fasteners

For direct attachment to wood/metal studs or concrete surface are not included - customer supplied

Base

Includes theft-deterrent anchor holes for cable locks

Note

Computer systems mounted on this product may require extra long USB, power or video cables in order to span between standing and sitting heights

Product Weight

14.4 lbs (6.5 kg)

Shipping Dimensions

22.4" x 13.7" x 7.8" (57 x 35 x 20 cm)

Shipping Weight

17.1 lbs (7.8 kg)

Warranty

Five (5) years
Description

Dual Monitor & Handle Kit (black)

Includes

Bow
Two mounting brackets
Handle
Mounting hardware

Display Size

Outside width of monitor should be 14" to 24.5" (35 to 62 cm). This range accommodates most 17" to 24" displays as well as some displays as large as 26". If the outside width is less than 14" (35 cm), a small gap will be present between the two displays. Displays with an outside width greater than 24.5" (62 cm) are not compatible.

Weight Capacity

Combined weight of displays can be no more than 36 lbs (16.4 kg). This kit adds an additional 6 lbs (2.7 kg) to your mounting solution. Your mounting solution's weight capacity must be reduced by 6 lbs (2.7 kg) when using standard monitors less than or equal to 2.5" (64 mm) thick. Additional reduction may be required if monitors are greater than 2.5" (64 mm) thick. Exception: When used as a replacement bow on WorkFit Dual products, there is no reduction in capacity

Attaches

To mounts with four-hole interface of 50 x 50 mm or 100 x 100 mm

Mounting Standards

VESA FDMI MIS-D, 100/75, C (hole pattern: 100 x 100 mm & 75 x 75 mm)

Installed & Used

This kit can be installed and used without the included handle

Product Dimensions

4"H x 29.1"W x 1.5"D (10 x 74 x 38 cm)

Shipping Dimensions

31" x 13.5" x 7" (79 x 34 x 17.5 cm)

Shipping Weight

8.4 lbs (3.8 kg)

Warranty

Five (5) years
Benefits
20-inch (51 cm) height range allows users to move between sitting and standing positions while they interact with the display

Extends LCD up to 33" (84 cm); push your display out of the way when not in use

Increase viewing comfort - help reduce eye, back and neck strain

Upgrade LCD monitors and TVs with improved ergonomic adjustment

Patented CF motion technology provides premium ease-of-use adjustment

Cable management clips on the under side of the arm route and hide cords

Ideal for space-constrained spaces - folds to within 4.5" (12 cm) of back of desk in storage position

Secure installation - locking connections between arm, extension and base

Passes Ergotron's 10,000-cycle motion test, which ensures a minimum of five years trouble-free height adjustment
20-inch (51 cm) height range allows users to move between sitting and standing positions during data entry
Extends keyboard up to 42" (107 cm); fold the keyboard back out of the way when not in use
Ergonomic back-tilt keyboard tray ensures wrists remain in a neutral position during data entry - avoid repetitive-stress injuries while increasing comfort and productivity
Mouse tray slides out to left or right, depending on user preference
Patented CF motion technology provides premium ease-of-use adjustment
Cable management feature routes cables under the arm, out of the way
Ideal for space-constrained spaces - folds to within 5.8" (15 cm) of wall in storage position
Secure installation - locking connections between arm, extension and base
Passes Ergotron's 10,000-cycle motion test, which ensures a minimum of five years trouble-free height adjustment
Perfect dual-mounting solution for monitors with screen sizes of 17" to 24"
Attaches to wide variety of mounts using a 50 x 50 mm or 100 x 100 mm hole pattern
Robust design ensures many years of service
Conceal and organize cables: Display cables can be neatly routed behind displays
| | |
| --- | --- |
| Model | ErgoDirect ED-2KLXS |
| Manufacturer | Ergodirect |
| Part Number | ED-2KLXS |
| | |
| --- | --- |
| Color | Polished aluminum |
| Monitor Size | Up to 46" |
| Lift | (51 cm) 20 in |
| Tilt | 80 degree |
| Pan | 360 degree |
| Rotation | 90 degree |
| Mounting Pattern | VESA MIS-D, 75/100 (100 x 100 mm & 75 x 75 mm), MIS-E (200 x 100 mm), MIS-F (200 x 200 mm ONLY). Optional VESA Bracket Adaptor Kit (97-759) can be ordered separately for MIS-F interface with hole pattern of 400 x 200 mm, 400 x 300 mm or 400 x 400 mm |
| Extension | Extends LCD up to 33" (84 cm), Extends keyboard up to 42" (107 cm) |
| Weight Capacity | 45-384-026: 14 to 30 lbs (6.3 to 13.6 kg), 45-354-026: up to 5 lbs (2.2 kg) |
| Weight | 45-384-026: 17.5 lbs (8 kg), 45-354-026: 14.4 lbs (6.5 kg) |
| Shipping Dimensions | 45-384-026: 25" x 14.75" x 7.5" (64 x 38 x 19 cm), 45-354-026: 22.4" x 13.7" x 7.8" (57 x 35 x 20 cm) |
| Shipping Weight | 45-384-026: 20 lbs (9.1 kg), 45-354-026: 17.1 lbs (7.8 kg) |
| Warranty | Five (5) years |
| Monitor Arm Types | 2 Monitors |
| Monitor Arm Types | Sit-Stand Workstation |
| Price | $600 - $699 |
Be the first to review this product