The below item has been discontinued.
Anthro YESMORGMPW4 YES Charging Cart for Mini-Laptops
Anthro is in the process of updating its products. Please call us at 888-456-3746 if you have any questions.
Description
With YES Carts, one size fits all: up to 36 Chromebooks, Ultrabooks or MacBooks with screen sizes up to a 13" even some at 14" - will fit in this highly adaptable charging cart. Set the cart's bay width and shelf height for your device, then reconfigure when it's time for new devices. Mix and match with tablets, e-Readers and hand-helds for even more flexibility. All this in a space-saving footprint and with a Lifetime Warranty. Anthro YESMORGMPW4 YES Cart truly is the last charging cart you'll ever buy.
Made in the USA by Anthro Corporation. Anthro Corporation is a wholly owned subsidiary of Ergotron.
Technical Drawing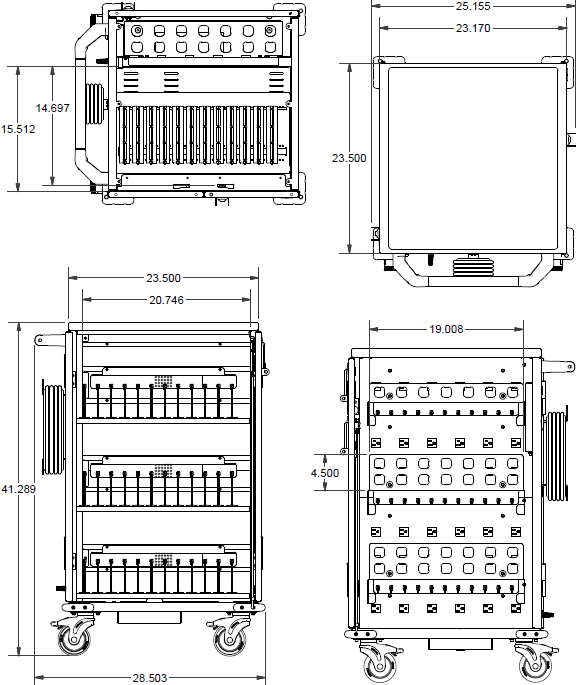 Technical Specifications
Screen

Capacity

Lift

Tilt

Pan

Rotation

VESA

Up to 13"

Up to 6 lbs

2.7 kg

-
-
-
-
-
Product Information
Part Number

YESMORGMPW4

Description

Anthro YES Charging Cart for Mini-Laptops, Chromebooks, Ultrabooks, MacBooks (white/grey)

Includes

Top shelf
Handle
Locking door latch w/ padlock bracket and two-point lock mechanism
Cord wrap
12' (3.5 m) power cord
Adjustable device bays
Cord pass-through slots
Cable channels
Adjustable-height shelves
4" casters (2 directional-lock and 2 total-lock)
External power recepticles
Locking IT area
Internal power recepticles

Made

In the USA by Anthro Corporation. Anthro Corporation is a wholly owned subsidiary of Ergotron

TAA (Trade Agreements Act)

Compliant

Total Capacity

Up to 36 devices with 1.25"-wide (3 cm) bays; up to 30 devices with 1.6"-wide (4 cm) bays. Adjustable bay dividers install at any width in 1/3" (.8 cm) increments along each shelf's installation track, supporting devices of any thickness

Maximum Device Width/Height

14.25" x 10" (36.2 x 25.4 cm), including case and cord, when cart is configured to hold 30 or 36 devices

Weight Capacity

60 lbs (12.7 kg) per shelf (3 shelves total in cart). Per device maximum weight of 6 lbs (2.7 kg) assumes 10 devices per shelf in a cart configured to hold 30 devices in total

Ships

Fully assembled with shelves arranged for landscape storage, configured for 36 devices with 1.25" (3 cm) wide bays

Small Footprint

Just 28.75" wide x 24.25" deep (73 x 61.5 cm), fits into tight spaces and through doorways with room to spare

Adjustable Shelves

Install at any height in 2/3" (1.7 cm) increments along the 27"-high (69 cm) installation track. Store devices on their long side, in landscape orientation, or on their short side, in portrait orientation, as dictated by device size and the position of the power inlet and on/off button

Keyed Locks

Front and back engage a two-point locking system for security. Padlock brackets position your padlock to block access to the front and back latches for extra security

Locking IT Area in Back

Provides 36 power outlets and three roomy bins to hold power adapters and cord bundles

Power Management System

Alternates power from one side of the cart to the other to manage the cart's power draw. The timer cycle is set at 25 minutes when the cart leaves the factory and can be adjusted anywhere from 15-120 minutes using the timer control accessed inside the IT area

Interface Panel

Under the handle has two external outlets to power your peripherals plus the on/off switch and indicator lights

Single Front Door

Opens 270 degrees so door lays flush against the side of the cart when open

Wide Handle

With 13" (33 cm) grip sits at a comfortable 39" (99 cm) height and makes the cart easy to steer

Top Surface

Is made of contoured wood with strong vinyl thermoplastic laminate for smooth corners and soft edges

Made

With 14- and 16-guage steel with durable baked-on powder coat finish

Certified and Listed

To UL 60950 Safety of Information Technology Equipment, CAN/CSA C22 2 No. 60950

Product Dimensions

28.75" x 25" x 41.5" (73 x 64 x 105 cm)

Product Weight

174 lbs (79.1 kg)

Shipping Weight

194 lbs (88.2 kg)

Warranty

Lifetime against manufacturing defects on cart; 5-year warranty for electrical system. Cords and plugs are not warranted
Benefits
One Size Fits All
The YES Cart for Mini-Laptops fits ALL shapes and sizes with screens up to 13" and some up to 14" - with and without cases. Mix and match Chromebooks and Ultrabooks with tablets, e-Readers and hand-helds. It's completely up to you
Space-Saving Footprint
This heavy-duty charge cart is just 28.75" wide x 24.25" deep. It's also easy to steer, thanks to its wide handle and 4" locking caster
Stretch Your Budget
This innovative cart is budget-friendly, especially when you factor in its flexibility - you can use it for years and years, even if you switch devices - and the fact that it comes with a Lifetime Warranty
Lift-N-Set Shelves
Adjusting the YES Cart's shelves is simple and intuitive. Position them at any height in 2/3" increments, and store your devices in landscape or portrait orientation, depending on size and the position of the power inlet and on/off button
Pop-N-Go Bays
Bays are so easy to adjust; simply pop them out of place and position them at any width in 1/3" increments. The cart ships configured for 36 units with 1.25" wide bays
American Made Quality
Anthro products are made with premium materials right here at our plant in Oregon, so we control every aspect of the manufacturing process from start to finish, and ensure that you receive a product worthy of a Lifetime Warranty
IT Friendly
A spacious locking IT area in back keeps cables and power adapters protected and secure. The power outlets face straight back so they're easy to reach, and three roomy bins store power adapters and cable bundles so they're tidy and accessible
Easy to Move
This innovative cart has heavy-duty 4" locking casters so it moves smoothly over rough surfaces, and it's easy to steer thanks to two directional lock casters and a wide handle with a 13" grip
Power Management
Don't worry about power management. The cart has a built-in system that alternates power from one side of the cart to the other to manage its power draw. Both the enclosure and electrical system are listed to UL 60950, so your devices are safe
Product Options/Accessories

SRVC-PI-03 Tier 3 Service Program
$500.00
$303.08
| | |
| --- | --- |
| Model | YESMORGMPW4 |
| Manufacturer | Anthro |
| Part Number | YESMORGMPW4 |
| | |
| --- | --- |
| Color | White/grey |
| Maximum Device Size | Width/Height: 14.25" x 10" (36.2 x 25.4 cm), including case and cord, when cart is configured to hold 30 or 36 devices |
| Weight Capacity | 60 lbs (12.7 kg) per shelf (3 shelves total in cart). Per device maximum weight of 6 lbs (2.7 kg) assumes 10 devices per shelf in a cart configured to hold 30 devices in total |
| Dimensions | 28.75" x 25" x 41.5" (73 x 64 x 105 cm) |
| Weight | 174 lbs (79.1 kg) |
| Shipping Weight | 194 lbs (88.2 kg) |
| Warranty | Lifetime against manufacturing defects on cart; 5-year warranty for electrical system. Cords and plugs are not warranted |
Be the first to review this product