Adjustable Keyboard Platform with Swivel Mouse Tray, ED-SFC2135BL
Description
ED-SFC2135BL is an affordable and sturdy height adjustable keyboard platform to add to any desk for an extra ergonomic comfort. The tray is easily adjusted to up, down, left and right movements with the use of a single knob. You can move the tray to a positive and negative tilt using the same knob.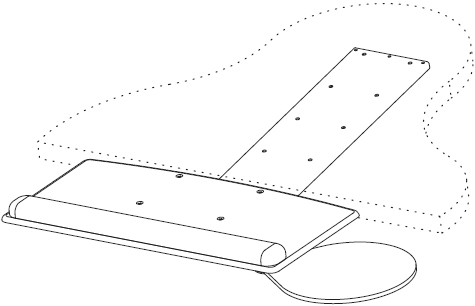 Installation Notes
The following observations have been made by our installer after installing this tray in our office:
This keyboard tray comes with solid packaging. The instructions included in the package were mostly visual. It was relatively easy to install the keyboard tray. The user needs a drill to install the track under the desk. Use of masking tape would make the installation of the track much easier.
It is recommended to install the track 1/2" behind the front edge of the desk. We noticed that the holes on the keyboard tray appeared to be smaller than the size of the screws. We needed to force the screws through the plastic around the holes. After installing the track you can install front and back bumper.
The swivel mouse tray can either be installed to the right or left side of the Keyboard tray. The package includes the hardware to install the mouse platform and it is easy to follow the instruction for installation.
ED-SFC2135BL is suitable for small and large desks. You only need 18" of clearance under your desk to install the keyboard tray. The keyboard tray will fully retract under the desk and will out of the way when not in use. 
In reviewing this product, we noticed that installation manual could be improved by adding more description to the visuals in the manual. Also, we noticed that once you glue the wrist rest to the keyboard tray, it stays there permanently. You may choose not to glue the wrist rest to the tray and let it rest freely on the keyboard tray. Using the knob to move the tray each time you would like to make an adjustment is also an extra step that we would like to avoid.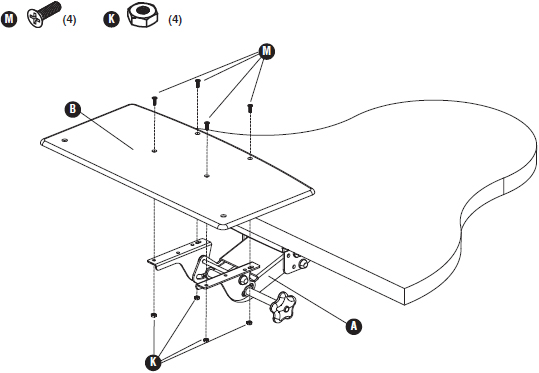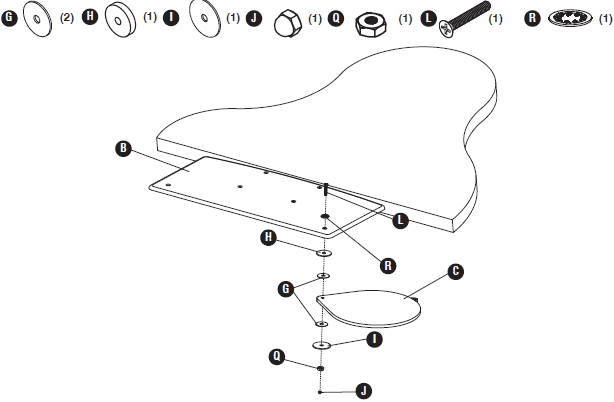 Features
Single knob height and tilt adjustment
Tucks away under desk
Tilt adjusts +10 degrees to -15 degrees
17-¾" track
Foam wrist rest included
Slim" profile
Swivel mouse tray mounts on left or right
Height adjusts 5" (1-½" above desk)
Product Information
| | |
| --- | --- |
| Color | Black |
| Height Adjustability | 5" (1-1/2" above desk) |
| Rotation | 360 degrees |
| Tilt | +10 to -15 degrees |
| Finished Product Dimensions | 18-1/2" W x 9-1/2" D x 3/8" H |
| Finished Product Weight | 9 lbs |
| Fits Workstation Type | Straight; 15" Diagonal corners or greater; 19" Radius corners or greater |
| Glide/Track Length | 17-3/4" |
| Green Guard | Yes |
| Left or Right Mouse Platform Attachment | Yes |
| Made In USA | Yes |
| Material Thickness | 3/8" (Keyboard & Mouse platforms) |
| Material(s) | Steel, MDF (Medium Density Fiberboard) - platform |
| Meets Industry Standards | BIFMA |
| Mounting Hardware | Included |
| Mouse Platform Size | 7-3/4" Dia. x 1/4" |
| Mouse Tray Swivel | Yes |
| Overall Dimensions | 9-1/2" D x 3/8" H x 18-1/2" W |
| Platform Size | 18-1/2" W x 9-1/2" D |
| Wrist Rest | Included, foam with vinyl cover |
Shipping Information
| | |
| --- | --- |
| Assembly Required | Yes |
| UPC Code | 0073555213522 |
| SCS Code | 10073555213529 |
| UPS Billable Weight | 10 lbs |
| UPSable | Yes |
| Quantity Per Unit | 1 |
| Tools Required | Yes |
| Unit of Measure Pricing | Each |
| Carton Cube | 0.76 ft |
| Carton Dimensions | 22.25" D x 5.25" H x 11.25" W |
| Carton Weight | 9.8 lbs |
| Country of Orgin | US |
| NMFC Freight Class | 100 |
| Harmonized Tariff Code | 8473.30.5100 |
| | |
| --- | --- |
| Model | ED-SFC2135BL |
| Manufacturer | Ergodirect |
| Part Number | 2135BL |
| UPC | 073555213522 |
| | |
| --- | --- |
| Color | Black |
| Rotation | 360 degree |
| Height Adjustment | 5" (1-1/2" above desk) |
| Tilt | +10 to -15 degree |
| Dimensions | 18-1/2" W x 9-1/2" D x 3/8" H |
| Weight | 9 lbs |
| Compatible | Straight; 15" Diagonal corners or greater; 19" Radius corners or greater |
| Track Length | 17-3/4" |
| Thickness | 3/8" (Keyboard & Mouse platforms) |
| Material | Steel, MDF (Medium Density Fiberboard) - platform |
| Platform Size | 18-1/2" W x 9-1/2" D |
| Overall Dimensions (H x W x D) | 3/8" H x 18-1/2" W x 9-1/2" D |
| Mouse Tray Dimensions | 7-3/4" Dia. x 1/4" |
| Carton Weight | 9.8 lbs |
| Shipping Dimensions | 22.25" D x 5.25" H x 11.25" W |
Be the first to review this product