Similar Products:
---
The below item has been discontinued. See above for similar products that we offer instead. We apologize for this inconvenience.
Workrite Solace Single or Dual Monitor Sit-Stand Workstation
Description
For more than 25 years, Workrite Ergonomics has been helping organizations create happier, healthier and more productive workplaces. We take issues like neck and back pain, blurred vision, and headaches caused by extended computer use seriously, and are committed to helping organizations fight these increasingly common problems.

Workrite's Solace provides a quick and efficient way to transform any ordinary desk into a more ergonomic sit/stand Workstation. Solace provides up to 22" of smooth vertical adjustability and can be easily mounted to the back of the worksurface using the built in C-clamp or grommet mount. It also features a reversible base that enables it to be used with virtually any size desk.

Solace was designed to promote comfortable healthy posture and is available with Workrite's Standard or Revo adjustable keyboard platforms. Our optional dual monitor adaptor kit enables you to reconfigure quickly and seamlessly from one monitor to two. Solace is simple to install, features a wide adjustment range and can be easily adapted to provide a uniquely personalized workspace for any user. All Solace Sit-to-Stand models include: monitor mount, keyboard platform and secondary surface.
Technical Drawing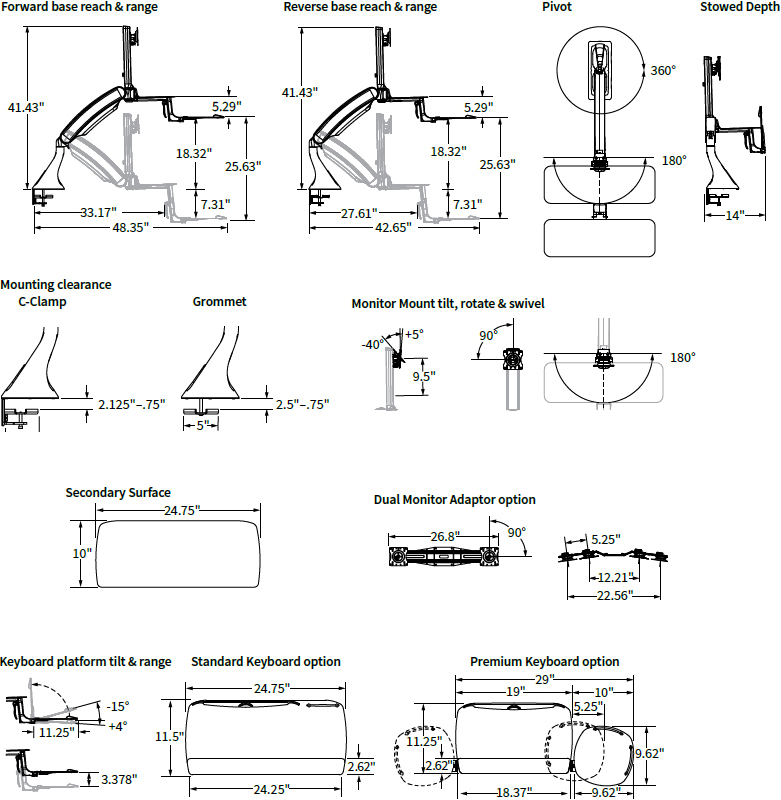 Features
Superior range ensures ergonomic comfort. Solace promotes health and wellness by providing the core ergonomic benefits associated with height adjustable desks, monitor arms, and keyboard platforms. The all-in-one ergonomic workstation offers a quick & economical method to enhance user comfort as well as overall productivity. With its proficient ranges of lift, rotation and tilt, Solace has the flexibility to accommodate a wide variety of users and applications.
Arm
Solaces' pneumatic strut allows the arm to effortlessly lift the keyboard and monitor(s) between the seated and standing positions. The industry leading keyboard platform height range makes Solace an ideal solution for multi-user environments.
Designed to meet ANSI/BIFMA & HFES standards, supporting 5th percentile seated women to 95th percentile standing man

Keyboard Platform, Secondary Surface & Monitor Mount travel in unison allowing transition between seated and standing height in seconds

Stows down to just 14" to quickly and easily access desktop workspace

Over 22" vertical adjustability

25 lbs lifting capacity

Arm rotates 360°

Arm & base available in Silver
Base
C-Clamp and Grommet Mount provide installation flexibility

Reversible base to be installed on 24" or 30" deep work surfaces

Reversible base allows keyboard platform to drop below static worksurface up to 32" deep
Independent adjustment for a fine-tuned fit. To create a uniquely personalized configuration, Solace incorporates the ability to make fine-tune independent adjustments to both Monitor and Keyboard Platform positioning.
Monitor Mount
The counter balance technology creates a simple to use, knob free experience so the user can adjust monitor height with minimal effort.
Supports one 5 - 17 lbs monitor

Optional Dual Monitor Adaptor supports two monitors 5 - 7 lbs each

Independent monitor tower allows 9.5" of vertical adjustability

Tilt range 45° (+5°/-40°), Pan 90°, Rotate 180°

Standard VESA (75 mm & 100 mm)

Quick Release Adaptor Included for streamlined monitor installation
Optional Dual Monitor Adaptor

Supports two monitors 5 - 7 lbs each and up to 24" wide
Keyboard Platform
By unlatching the cam lever behind the keyboard platform, the user has ability to raise or lower the keyboard platform to ideal height.
Standard features our UB182-25 Platform

Premium features our Revo UB2100FT25 Platform

Keyboard platform mounting surface allows over 3" independent vertical adjustability

Folds up 90° for optimal storage

Tilt Range (+4°/-15°), Rotate 180°
Secondary Surface
Convenient worksurface for placing items when in standing position
Simple and Quick Installation
When compared to installing a height adjustable workcenter, a monitor arm and a keyboard platform, the Solace sit-to-Stand is far less complex and time consuming. Benefits of installing Solace Sit-to-Stand include
Installing complete ergonomic solution with one connection point

Allen wrenches provided for arm assembly and tension adjustments

Included Tool Caddy attaches to Solace keeping tools at hand

Base ships with upper clamp bracket pre-attached

Keyboard Platform & Secondary Surface attach with just four screws each

Quick Release Adaptor included for easy monitor attachment
 Average Installation Time
Height Adjustable Workcenter - 40 minutes

Solace 25 minutes

Monitor Arm - 20 minutes

Adjustable Keyboard Platform - 15 minutes

1 hour 15 minutes job
25 minutes job
Environmental Considerations
Solace design was centered around green business practices with special focus on environmental sustainability. By incorporating recycled material in the manufacturing process, Solace contributes toward LEED credit ratings.
LEED Recyclability Calculations
| | | |
| --- | --- | --- |
| | Weight in lbs | Recycled Content % |
| Total Weight | 36 lbs | - |
| Post Industrial Content | 11.5 lbs | 16% (1/2 of 32% total) |
| Post Consumer Content | 8 lbs | 22% |
| LEED Recycled % | 19.5 lbs | 38% |
LEED % recycled content: Total post-consumer recycled %, plus 1/2 pre-consumer/post industrial recycled %.
LEED Credit Rating

Product

Manufacturing and Resources

MR Credit 4.1
Required Recycled Content, 10%

Solace Sit-to-Stand

MR Credit 4.2
Required Recycled Content, 20%

Solace Sit-to-Stand

Innovation and Design Process

Credit 1.1 - 1.4 Innovation in Design
Ergonomic product could be credited as part of an implemented Ergonomic Strategy

Solace Sit-To-Stand
Option 1: Model
SOL-ST-CCG-S

Arm Features

25 lbs capacity

22" lift range

360° rotation at base

Reversible base for compatibility with 24" - 32" deep worksurfaces

Monitor tower and keyboard platform rotate independently

Available in Silver

 

Monitor Mount Features

Supports one 5 - 17 lbs monitor

9.5" independent monitor height adjustment

 

Standard Keyboard Platform Features

Features our Standard UB-182-25 Keyboard Platform

In-Line mousing for right and left handed users

3" independent keyboard platform adjustment

 

SOL-PR-CCG-S

All the same Arm and Monitor Mount features as the Standard, plus
Premium Keyboard Platform Features

Features our Revo UB-2100FT-25 Keyboard Platform

Mouse platform tilts independently from keyboard platform

Mouse platform can be positioned in-line, mouse-forward and mouse-over in both right handed or left handed position

3" independent keyboard platform adjustment
Option 2: Dual Monitor
SOL-ADPT-TWIN-S

Converts from single monitor to dual monitor use

Supports two monitors 5 - 7 lbs each, up to 24" actual width

Reduces maximum weight capacity of arm by 3 lbs

Includes additional Quick Release Adaptor
| | |
| --- | --- |
| Model | Solace |
| Manufacturer | Workrite Ergonomics |
| Part Number | Solace |
Be the first to review this product