Ergotron 24-388-009 WorkFit-B, Sit-Stand Base, HD
Highlights
Sit stand base only; Top not included
Size of the work surface compatible with this base:  41"- 72"W x 23.5"-30.5"D x 0.8"-1.75"T
Height adjustable platform: Lets you attach worksurface of your choice
20" height adjustability:Provides sit-stand capability
88 lbs weight capacity:Carries a load of up to 88 lbs (includes weight of worksurface, monitors and any other hardware being placed on the worksurface)
Built-in flexibility: Convert this base into a personal standing desk, a work bench or a conference table
Please see, if you want a base, that carries a lighter load
Description
This WorkFit-B 24-388-009 from Ergotron is unique because it provides you the flexibility and creativity to attach your own worksurface to a height adjustable base. Add a desk surface according to the color scheme of your office walls or convert the base into a sit-stand conference table. This height adjustable platform can carry weight up to 88 lbs and provide 20" of height adjustability.

Convert your cubicle or work area into a height adjustable standing workstation. This sit-stand platform provides all the benefits of our popular WorkFit-D Desk while allowing you to attach your existing worksurface.
Features 20-inch (51 cm) vertical motion - patented CF technology allows instantaneous, tool-free, non-motorized re-positioning while you work. Integrated brake secures table in place and with just a touch releases for height adjustment.
Technical Drawing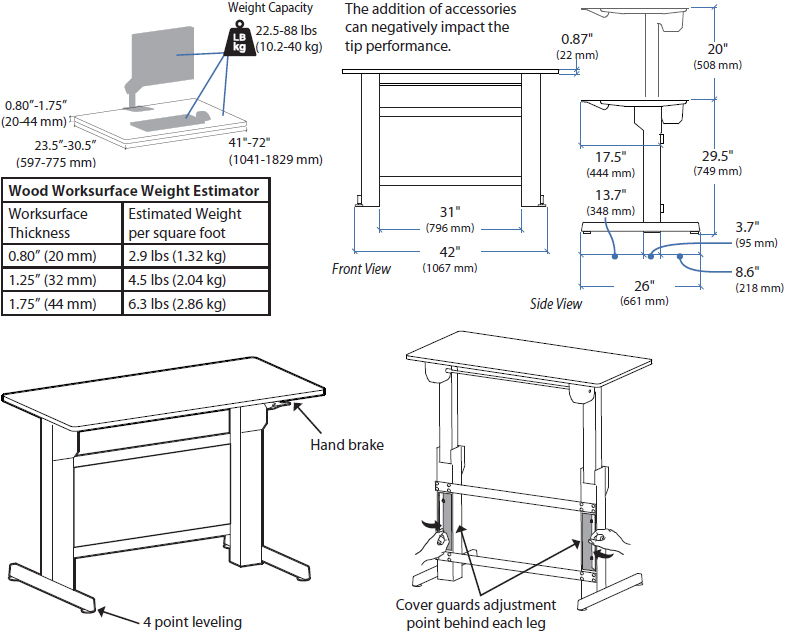 Technical Specifications
Screen
Capacity
Lift
Tilt
Pan
Rotation
VESA
-

Up to 88 lbs

39.9 kg

20"

50.8 cm

-
-
-
-
Product Information
Part Number
24-388-009
Description
WorkFit-B, Sit-Stand Base, HD, Heavy Duty (black)
Includes

Height-adjustable platform

Hand-brake system

Mounting template

Mounting hardware

Four (4) glides

Weight Capacity
Up to 88 lbs (39.9 kg). Listed weight capacity represents total load applied to height-adjustment platform. When calculating load, include weight of worksurface, accessory mounts for keyboard and display(s), and any computer hardware being placed on worksurface
Height
Minimum height = 30.6" (78 cm); maximum height = 50.6" (129 cm). Assumes worksurface thickness of .87" (2.2 cm)
Worksurface Size Range
41"–72" (104–183 cm) W x 23.5"–30.5" (60–76 cm) D x 0.8"–1.75" (2–4.4 cm) T
CF Technology
Patented Constant Force (CF) motion technology
Glides
Four leveling glides establish a firm footing and adjust to install the unit on uneven floors
Keyboard Arm
For proper ergonomic keyboard placement, Ergotron's Neo-Flex Underdesk Keyboard Arm (97-582-009) is recommended
LCD ad Laptop Display
Add Ergotron LCD and laptop display mounts as needed to accommodate individual workflows
Complies
With all international environmental regulations related to its design, manufacture and packaging
Designed and Tested
To ANSI/BIFMA X5.5-2008 standards
Shipping Dimensions
51" x 30" x 17" (129 x 75 x 43 cm)
Shipping Weight
85 lbs (39 kg); actual product weight: 63 lbs (28 kg)
Warranty
Five (5) years
Benefits
Create a stand-up computer desk, a height adjustable work bench, or a sit-stand conference table

Includes mounting template and required fasteners to easily adapt your own worksurface to the WorkFit desk base

Offers the most flexibility for customizing a sit-stand furniture solution to match your space and needs

Open-architecture design is scalable for future computer equipment

Durable, robust structure, designed to ANSI/BIFMA X5.5-2008 standards

Easily add accessories to your worksurface to complete your ergonomic workspace
Frequently Asked Questions
Question: I have an IKEA Galant desk top surface. Will this work as a top for this base? It is within the max top dimensions given, but I am wondering how thick the top has to be for the screws.
Answer: It looks like the desk will work. For this base, the length of the top surface should be between 41"-72" and the width should be between 23.5"-30.5". The thickness should be between 0.80"-1.75."
Question: It appears that this WorkFit-B is not motor driven. There appears to be a handbrake. Release the handbrake and it moves. Is this correct? In that case, is it counter-balanced? What happens if you have a heavy load, say 88 lbs, and you release the brake? Thud?? Do you have models like this (base only) that are motor driven?
Answer: Yes, this unit is not motor-driven and it does have a handbrake. Release the brake and it can be moved up and down. The unit moves with a coiled spring technology. When you release the brake with a full load (88lbs) the unit will maintain its position and can be moved up or down using your hand with very little effort. We do have models available with built-in motors and push button control. One of them is the WorkRite Sierra HX Rectangular Height Adjustable Table, which can be purchased base only.
| | |
| --- | --- |
| Model | 24-388-009 |
| Manufacturer | Ergotron |
| Part Number | 24-388-009 |
| UPC | 698833038002 |
| | |
| --- | --- |
| Color | Black |
| Weight Capacity | Up to 88 lbs (40 kg) |
| Lift | (51 cm) 20 in |
| Height Adjustment | Mini height = 30.6" (78 cm), maxi height = 50.6" (129 cm). Assumes worksurface thickness of .87" (2.2 cm) |
| Worksurface Dimensions | 41"-72" (104-183 cm) W x 23.5"-30.5" (60-76 cm) D x 0.8"-1.75" (2-4.4 cm) T |
| Shipping Dimensions | 51" x 30" x 17" (129 x 75 x 43 cm) |
| Shipping Weight | 85 lbs (39 kg), actual product weight: 63 lbs (28 kg) |
| Warranty | Five (5) years |
| Desk Type | Base Only |
Be the first to review this product