Ergotron Waiting Area Products
Large Display Mounts that are secure and save space: Mobile Media Center Cart, Tilting Wall Mount, Digital Signage Mount, Ceiling Mount and TM Cantilever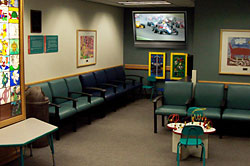 Features and Benefits:
Solutions for large displays that use little space while improving sightlines
No walls? No problem. Cart moves a display wherever it's needed
Security fasteners deter theft and hold display in place
Rock-solid, long-lasting construction
Versatile: One-SKU-fits-all designs
Ergotron's recommended products: Mobile Media Center Cart, TM Tilting Wall Mount, SIM90 Signage Integration Mount, Neo-Flex Ceiling Mount and TM Cantilever.