WorkRite Sierra Pin Adjustable Height Tables, Workcenters Seated Height Range
WorkRite Sierra Pin

 

 

Adjusts 22" - 34" in 1" pin-set increments.   

Choose your worksurface by selecting an image below

 

 

 
Workrite Sierra Pin Height Adjustable Desks and Workstations
Sierra comes in an equally sleek pin-set version. A smart alternative in settings where only the occasional change in seated height is needed.
An ergonomic and economic solution:
For today's multishift, job-sharing offices, the WorkRite Sierra Pin offers maximum flexibility and exonomy in the seated position. In typical office environments where employees move frequently, the Sierra Pin permits facilities personnel to quickly and easily calibrate each workcenter to its new owner.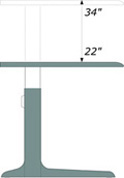 Sierra pin height range fully meets BIFMA requirement
Stylish leg profile provides robust support:
Readily adjust the height in 1" increments to achieve full 5th - 95th percentile height range support for seated workers. With 250 pounds of support in over a dozen shapes and our full range of laminate and trim options, the Sierra Pin is a sturdy stalwart for virtually any office.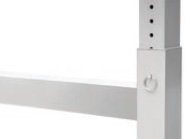 Pin sets in 1" increments for complete BIFMA height range
LEED eligibility:
All Sierra Electric workcenters exceed LEED requirement MR4.2 (20% recycled content) with a minimum of 42% LEED recycled content, and 35% for base only models.
Tool Bar and Privacy Panel:
Make your workcenter work for you with our complete line of accessories, mounted to our stylish tool bar or privacy panel.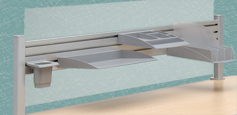 Sierra tool bar provides ready access to work tools