Workrite Fundamentals EX Electric Height Adjustable Table
The affordable solution for height adjustability. Workrite Fundamentals EX height adjustable workcenter is designed to provide exceptional quality at an affordable price. Fundamentals features integrated computerized control and is one of the most energy efficient tables in the industry, using less than one dollar of electricity per year on average.
Fundamentals frame sets are available in 3 finish colors , meet BIFMA G1-2013 standards for height adjustability, and are designed to easily accommodate both 24" and 30" deep work surfaces with equipment payloads up to 125 pounds.
Fundamentals is available with a wide range of feature options enabling users to build the perfect work center for virtually any application or budget.
Fundamentals EX Electric Frame Set
The Fundamentals EX electric height adjustable frame set is the newest addition to Workrite's family of electric workcenters and is a truly affordable option for companies who want to focus on wellness and improve productivity without breaking the bank.
All Frame Sets include: legs, brackets, motor(s) and cables..
Dimensions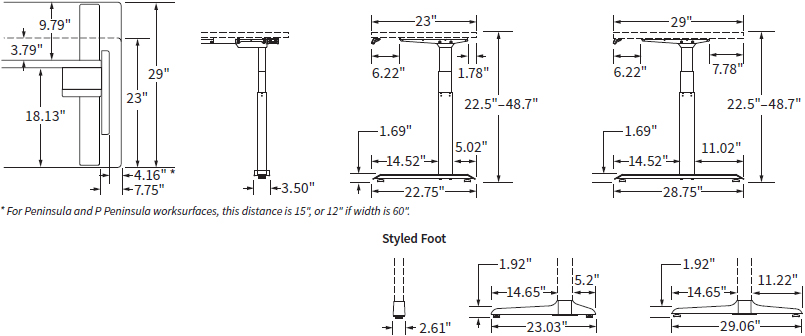 Features
Frame options: 2-leg frames
24" or 30" depths
Widths from 30" to 72" depending on shape
Finish options: Silver, Charcoal, and White
Height Range: 22.5" to 48.7"
Payload Capacity: 125 pounds
Travel Speed: 1.6 inches per second
Max Power Draw: 120 V, 60 Hz, 1.2 A
Standby Power: 0.1 W