Humanscale FM500K or FM500C Rocking Foot Machine
Related Products
| Part Number | Description |
| --- | --- |
| FM500C | Cherry Ergonomic Comfortable Rocking Foot Machine Footrester |
| FM500K | Black Ergonomic Comfortable Rocking Foot Machine FootRester |
Description
The award-winning Humanscale FM500 delivers effortless functionality in a simple, stylish package. Like all Humanscale foot machines, the FM500 promotes health and comfort by getting the user's feet moving. This addition to the workstation provides instant relief from prolonged sitting by encouraging a gentle rocking of the feet.
Humanscale FM500 footrest provides perfect support for the feet and legs when sitting. By engaging lower leg muscles, it increases healthful circulation while also raising the feet to relieve pressure on the lower back. Designed with a graceful curvature, the FM500 encourages users to get their legs and feet moving. Its innovative design ensures the user's feet stay firmly planted on the foot rest so the user can gently rock all day long.
Design Story - The Humanscale Design Studio is committed to designing workplace tools based on sound ergonomic principles. Modern-day office work has become a largely sedentary task. Humanscale Foot Machines were created to offer relief from prolonged sitting by stimulating movement in the feet and legs throughout the day.
Technical Drawing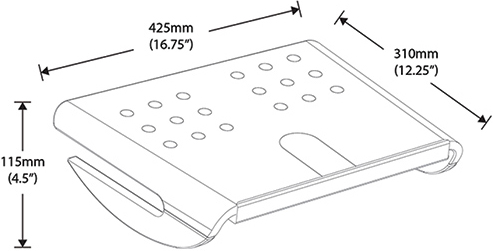 Specifications
Finishes
Cherry and Black
Features

Curved leg design encourages rocking motion
Provides support for lower back
Rubber, non-skid grips keep feet in place and protect hard flooring

Dimensions
16.75" W x 12.25" D x 4.5" H
Materials

Die-cast aluminum legs
Molded plywood platform
Steel foot stop
Rubber grips

Warranty
Lifetime Warranty
Benefits
Healthy Movement - With curved supports to encourage healthful rocking, the FM500 foot rest offers a new level of functionality in an elegant package. It provides effortless support for the lower back, allowing users to sit for extended periods without fatigue or discomfort.
No Slipping - The FM500 features rubber, non-skid grips to help users maintain the most comfortable position possible without having to make constant adjustments.
Timeless Design - With a sleek, minimalist aesthetic, the FM500 complements any environment. Made from molded plywood, steel and aluminum, its robust design makes it the perfect ergonomic foot rest for the executive office.
| | |
| --- | --- |
| Model | FM500K or FM500C |
| Manufacturer | Humanscale |
| Part Number | FM500K or FM500C |
| | |
| --- | --- |
| Color | Black and Cherry |
| Dimensions | 16.75" W x 12.25" D x 4.5" H |
| Material | Die-cast aluminum legs, Molded plywood platform, Steel foot stop and Rubber grips |
| Warranty | Lifetime Warranty |
Be the first to review this product