Desk Mounting Tablet Arm, ErgoDirect ED-IP-NFDM
The Tablet Holder works with most popular tablets and eReaders, including Apple iPad, Barnes & Noble Nook and Amazon Kindle and more.
Highlights
Desk Mounting Arm for Tablets
Tablet Dimensions: Minimum dimensions of the tablet should be 5.5" x 8", maximum 8" x 9.75", thickness up to 0.75"
Compatibility: Tablet holder is compatible with all 4 generations of iPad, iPad Air, Nook, Kindle
Weight Capacity: Arm can carry weight up to 18 lbs
Add the weight of the tablet holder (2.25 lbs) to the weight of your tablet to calculate total weight to be mounted 
Flexibility: Provides 8" height adjustability, 19.3" horizontal extension to the tablet
Description
The Neo-Flex Arm adds flexibility to your LCD. Simply push the side button while lifting the display, then position it where you want it. Get ergonomic comfort for a great price. It's ideal for use where multiple people use the same display.

The Tablet Cradle attaches your tablet to an arm or stand. Install your tablet alongside an LCD monitor OR attach it directly to an Ergotron mount. Works with most popular tablets and eReaders, including Apple iPad, Barnes & Noble Nook, Amazon Kindle and HP TouchPad.

Cradle attaches alongside an LCD monitor using a sliding bracket that attaches to the 75mm/100mm VESA hole pattern interface of an LCD mount. Cradle also attaches directly to select Ergotron mounts to hold a tablet alone with no secondary LCD monitor. Recommended mounts when attaching only a tablet include the Neo-Flex LCD Arm (45-174-300), the 200 Series Arm (45-234-200), and the 200 Series Pivot (45-232-200). When installing a tablet alone, be sure to check minimum weight requirements of the mount - Ergotron LX Arms should not be used with cradle when attaching a tablet without an LCD monitor.
Technical Drawing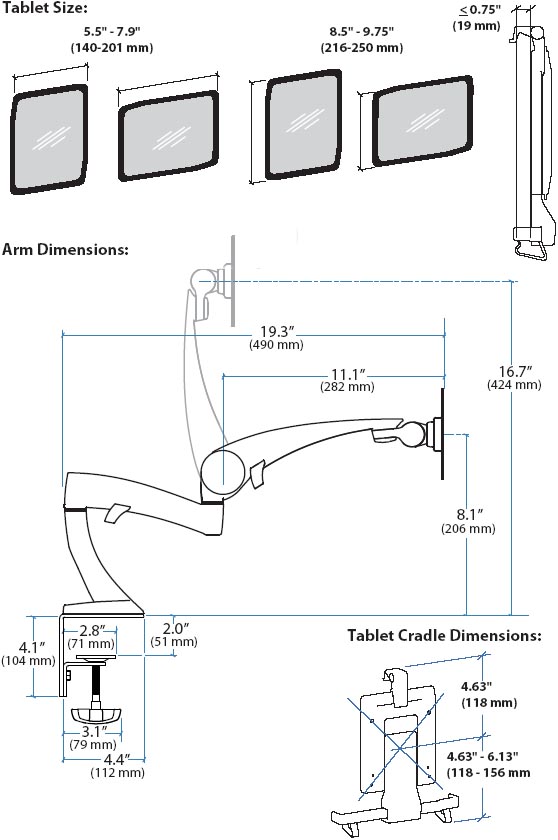 Technical Specifications
Screen
Capacity
Lift
Tilt
Pan
Rotation
VESA
Up to 10"

Up to 2.5 lbs

1.1 kg

8"

20.3 cm

180°
360°
360°
MIS-D
Product Information
Description
Neo-Flex Desk Mount Tablet Arm (silver)
Includes

Arm

Extension

Desk clamp

Grommet mount

Tablet cradle

Allowable Tablet Dimensions
Minimum = 5.5" x 8" (14 x 20 cm); maximum = 8" x 9.75" (20 x 25 cm). Depth of tablet must be ≤ 0.75" (19 mm). If case is used, be sure to account for its space requirements
LCD Monitor
If cradle is not used, an LCD monitor with screen size up to 22" may be attached to the arm
Tablet Weight
Maximum tablet weight = 2.5 lbs (1.1 kg). If tablet cradle is not used, an LCD monitor weighing up to 18 lbs (8.2 kg) may be attached to the arm
Mounting Standards
VESA FDMI MIS-D, 100/75, C (hole pattern: 100 x 100 mm & 75 x 75 mm). Tablet cradle attaches to arm using the 100 x 100 mm hole pattern. If cradle is not used, a VESA-compliant monitor may be attached to the arm
Mounting Options
Desk Clamp attaches to surface edge up to 1.8" (46 mm) thick; Grommet Mount attaches through hole 3/8" to 2" (51 mm) wide and up to 1-3/4" (44 mm) deep
Height of Tablet
To change height of tablet, depress button on side of arm while positioning screen at desired height
Product Weight
7.3 lbs (3.3 kg)
Shipping Dimensions
18" x 14.5" x 6.5" (462 x 370 x 159 mm)
Shipping Weight
9.5 lbs (4.2 kg)
Warranty
Three (3) years
Benefits
Works with many tablets and eReaders, including Apple iPad, Barnes & Noble Nook and Amazon Kindle

Easily remove the tablet from the cradle when you need to go mobile

The cradle's adjustable contact points keep ports free

Sliding brackets allow adjustment to a variety of tablet sizes, with or without case

The cradle firmly grasps tablet with latch for secure placement

The arm's sturdy design maintains touch-screen stability

View tablet in portrait or landscape mode; easily rotate from one mode to the other

Arm can extend the tablet out up to 19.3" (49 cm) to the point of need

Robust construction dampens shock and vibration

Can be used to hold an LCD monitor when the tablet cradle is removed
Frequently Asked Questions
Question: Would this product fit my first generation iPad?
Answer: Yes, this will work with the first generation iPad.
| | |
| --- | --- |
| Model | ED-IP-NFDM |
| Manufacturer | Ergodirect |
| Part Number | 45-174-300, 80-106-085 |
| | |
| --- | --- |
| Color | Silver |
| Monitor Size | Up to 22" |
| Weight Capacity | 18 lbs (8.2 kg) |
| Lift | (20 cm) 8 in |
| Tilt | 180 degree |
| Pan | 360 degree |
| Rotation | 360 degree |
| Mounting Pattern | VESA MIS-D, 100/75, C (hole pattern: 100 x 100 mm or 75 x 75 mm) |
| Extension | Arm can extend display out up to 19.3" (49 cm) to the point of need |
| Mounting Options | Desk |
| Shipping Dimensions | 18" x 14" x 5" (457 x 356 x 127 mm) |
| Shipping Weight | 9 lbs (4.1 kg) |
| Warranty | Three (3) years |
| Device | Apple |
| Monitor Arm Types | Tablet |
Be the first to review this product