Peerless ECMU-C 1-4 feet Wind Rated Concrete Ceiling Tilt Mount
NOTE: Each product is shipped in 4 separate boxes. 3 boxes are the same sizes while the pole is shipped in a various sized tubes. Pole tubes are listed below on Specifications. The 3 same sized boxes are: Concrete adapter base: 16" x 16" x 16" (406 x 406 x 406mm). Wall plate w/vertical brackets: 34.25" x 10.18" x 3.12" (870 x 258 x 79mm). Wall plate pole adapter box: 33.5" x 12.5" x 5.12" (850 x 317 x 130mm).
Description
Peerless ECMU-C Wind Rated Outdoor TV Mount is tough enough to handle rough weather. Wind rated up to 90mph, it's constructed from heavy gauge steel, and sealed with corrosion resistant E-Coat. Complete with stainless steel tamper resistant hardware that is for simplified installation to concrete ceiling structures. It's the mount designed to hold an outdoor TV in any environment.
Technical Drawing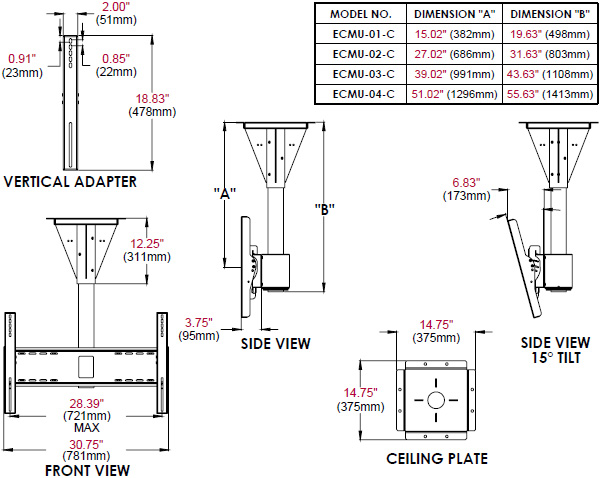 Specifications
Color
Black and Stone Gray
Minimum to Maximum Screen Size
32" to 65"
VESA Pattern
Up to 600 x 400
Weight Capacity
200 lbs (91 kg)
Finish
Powder Coat
Distance from Ceiling
15.02" (382mm)
Increlock Increments
-5, 0, 5, 10, 15 degree
Mounting Pattern
721 x 449mm (28.39 x 17.67")
Security Features
Security Hardware
Swivel Yaw
360 degree
Tilt
+15 / -5 degree
Dimensions (W x H x D)

ECMU-01-C(-S): 19.63" x 30.75" x 14.75" (498 x 781 x 375mm)

ECMU-02-C(-S): 31.63" x 30.75" x 14.75" (803 x 781 x 375mm)

ECMU-03-C(-S): 43.63" x 30.75" x 14.75" (1108 x 781 x 375mm)

ECMU-04-C(-S): 55.63" x 30.75" x 14.75" (1413 x 781 x 375mm)

Product Weight

ECMU-01-C(-S): 64lb (29kg)

ECMU-02-C(-S): 66lb (30kg)

ECMU-03-C(-S): 68lb (31kg)

ECMU-04-C(-S): 70lb (32kg)

Shipping Dimensions (W x H x D)

Pole Tube Box: ECMU-01-C(-S): 5" D x 20" L (127 x 508mm)

ECMU-02-C(-S): 5" D x 32" L (127 x 812mm)

ECMU-03-C(-S): 5" D x 44" L (127 x 1117mm)

ECMU-04-C(-S): 5" D x 56" L (127 x 1422mm)

Shipping Weight

ECMU-01-C(-S): 70.5lb (32kg)

ECMU-02-C(-S): 76.5lb (35kg)

ECMU-03-C(-S): 81.5lb (37kg)

ECMU-04-C(-S): 87lb (39.5kg)

UPC Code

ECMU-01-C: 735029272472

ECMU-01-C-S: 735029272519

ECMU-02-C: 735029272489

ECMU-02-C-S: 735029272526

ECMU-03-C: 735029272496

ECMU-03-C-S: 735029272533

ECMU-04-C: 735029272502

ECMU-04-C-S: 735029272540

Package Contents

Mount

Hardware

Concrete fasteners

Security fasteners

Warranty

Limited 5-year on mount. Limited 1 Year Warranty on corrosion
Features
Hook-and-Hang design for simplified installation

1' (304mm) pole length

Up to 8" (203mm) of horizontal positioning

Fixed incremental tilt with angle settings at 0°, 2°, 5°, 10° or 15°

Wind rated up to 90 mph, elevation 200ft (60m), Category "D"

Corrosion resistant materials, coatings and hardware

Universal mounting pattern - 28.39"W x 17.67"H (721 x 449mm) VESA up to 600 x 400mm
| | |
| --- | --- |
| Model | ECMU-01-C, ECMU-01-C-S, ECMU-02-C, ECMU-02-C-S, ECMU-03-C, ECMU-03-C-S, ECMU-04-C, ECMU-04-C-S |
| Manufacturer | Peerless Mounts |
| Part Number | ECMU-01-C, ECMU-01-C-S, ECMU-02-C, ECMU-02-C-S, ECMU-03-C, ECMU-03-C-S, ECMU-04-C, ECMU-04-C-S |
| UPC | 735029272472 |
| | |
| --- | --- |
| Color | Black or Stone Gray |
| Dimensions (W x H x D) | ECMU-01-C(-S): 19.63" x 30.75" x 14.75" (498 x 781 x 375mm). ECMU-02-C(-S): 31.63" x 30.75" x 14.75" (803 x 781 x 375mm). ECMU-03-C(-S): 43.63" x 30.75" x 14.75" (1108 x 781 x 375mm). ECMU-04-C(-S): 55.63" x 30.75" x 14.75" (1413 x 781 x 375mm). |
| Weight | ECMU-01-C(-S): 64lb (29kg). ECMU-02-C(-S): 66lb (30kg). ECMU-03-C(-S): 68lb (31kg). ECMU-04-C(-S): 70lb (32kg). |
| Weight Capacity | 200lb (90.7kg) |
| Shipping Dimensions | Pole Tube Box: ECMU-01-C(-S): 5"Dx20"L (127x508mm). ECMU-02-C(-S): 5"Dx32"L (127x812mm). ECMU-03-C(-S): 5"Dx44"L (127x1117mm). ECMU-04-C(-S): 5"Dx56"L (127x1422mm). |
| Shipping Weight | ECMU-01-C(-S): 70.5lb (32kg). ECMU-02-C(-S): 76.5lb (35kg). ECMU-03-C(-S): 81.5lb (37kg). ECMU-04-C(-S): 87lb (39.5kg). |
| Monitor Size | 32" to 65" |
| Mounting Pattern | 28.39"W x 17.67"H (721 x 449mm) VESA up to 600 x 400mm. |
| Wind Rated | Up to 90 mph, elevation 200ft (60m), Category "D" |
| Tilt | 0, 2, 5, 10 or 15 degree |
| Pole Length | 1 to 4 feet pole lengths for varied drop down requirements |
| Warranty | Limited 5 year on mount. Limited 1 Year Warranty on corrosion. |
| Horizontal Range | Up to 8" (203mm) |
| Mounting Options | Ceiling |
| Swivel | 360 degree |
| Distance From Ceiling | 15.02" (382mm) |
| Finish | Powder Coat |
Be the first to review this product