Innovative 7000-Busby-8408 Dual Mount with Integrated USB Hub
This product has a lead time of 20 business days. Busby must be connected to a computer and a power outlet to enable devices to be charged. Busby may not charge devices while they are in use.
Description
Mount two 7000 arms at one point on the desk. Includes Busby, an integrated USB hub for your desktop.
Now you can mount two of our best-selling 7000 monitor arms from one point on your desk. This dual monitor mount allows users to effortlessly reposition each monitor with just one hand. You will free up desk space, even as you work in greater ergonomic comfort.
Innovative 7000-Busby-8408 combines the 7000 dual monitor arm with our Busby USB hub. With Busby, you no longer have to crawl under your desk to reach your PC's USB port. Busby places USB ports right at your fingertips, where they are integrated into your flat panel monitor mount. Busby provides convenient access to charge and power all of your USB-enabled devices without consuming additional desk space.
Technical Drawing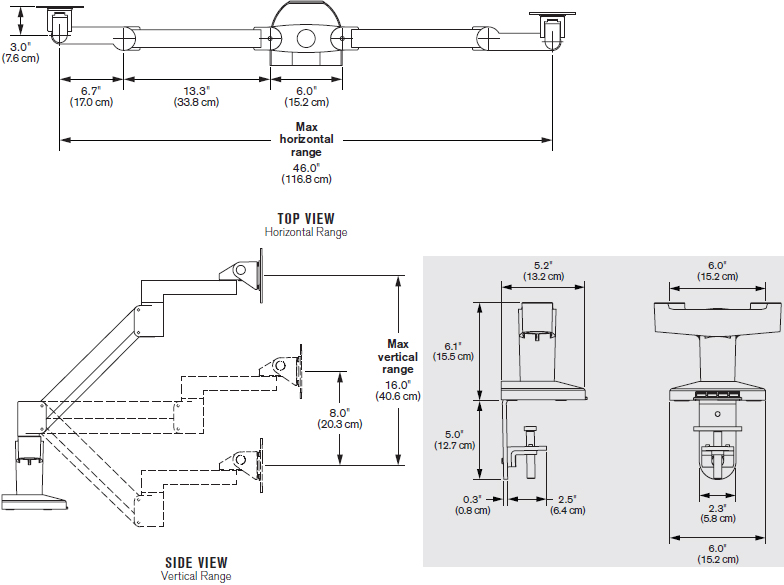 Technical Specifications
Color
104 - Vista Black, 124 - Silver and 232 - Linen White
Horizontal Range, per arm
24.0" (61.0 cm)
Vertical Range
+/- 8.0" (20.3 cm) from horizontal
Rotation
360 degrees at three joints
Monitor Tilt
180 degrees
Monitor Pivot
Landscape to portrait
Monitor Compatibility
VESA 75mm and 100mm
Cable Management
Cables are clipped beneath arm
Mounting Options
Desk Edge, Grommet, Thru-Desk
Monitor Weight

7000-500-8408-Busby: 2 - 13 lbs (0.9 - 5.9 kg)

7000-800-8408-Busby: 7.5 - 25 lbs (3.4 - 11.3 kg)
Features
Dual monitor arm offers convenient access to charge and power all of your USB-enabled devices

Features four USB 2.0 ports

The monitor arm offers 24" of horizontal range and 16" of vertical range (8" up and down from horizontal)

Extremely flexible positioning of dual flat panel monitors

Independently move and adjust each arm

Mount the monitor arms to your desk edge, through a grommet hole, or bolt through desk

VESA-monitor compatible - 75mm & 100mm VESA adapter included
| | |
| --- | --- |
| Model | 7000-Busby-8408 |
| Manufacturer | Innovative LCD Arms |
| Part Number | 7000-Busby-8408 |
| | |
| --- | --- |
| Color | 104 - Vista Black, 124 - Silver |
| Vertical Range | +/- 8.0" (20.3 cm) |
| Horizontal Range | 24" |
| Rotation | 360 degree |
| Tilt | 180 degree |
| Pivot | Landscape to portrait |
| Mounting Pattern | VESA 75mm and 100mm |
| Monitor Weight | 7000-500-8408-Busby: 2-13 lbs (0.9-5.9 kg); 7000-800-8408-Busby: 7.5-25 lbs (3.4-11.3 kg) |
| Mounting Options | Desk |
| Monitor Arm Types | 2 Monitors |
| Number of Monitors | 2 Monitors |
Be the first to review this product
Warranty
Seller warrants that its products will be free from defects in material and workmanship when the title passes to the buyer. Seller will repair or replace, at its discretion, any defective product without charge (shipping charges excluded) for a period of 10 years (exception: 1 year for Busby, 5 years for Winston Workstation, Winston-E, Winston Desk and Freedom Desk, 3 years for Tablik and 1 year for Bild motorized column) after the original date of sale, unless the product damage resulted from normal wear and tear, buyer abuse, misuse or negligence or failure to follow instructions related to the products's installation or intended use. Seller may require proof of purchase before performing any repairs or replacing any products during the warranty period. Except as specifically set forth above, seller makes no warranties, express or implied and specifically disclaims any warranty of merchantability or fitness for a particular purpose. Repair or replacement of the product ordered from seller shall be buyer's exclusive remedy.