Sit-Stand Laptop Wall Mount Arm, ED-LX-55NV01
For laptops weighing 7 to 25 lbs.
You can add ED-WGT65-400B VESA adapter plate for laptops lighter than 7 lbs (Please see Option 1 if your laptop is lighter than 7 lbs)
Highlights
Wall Mount Sit-Stand Arm with Laptop Holder
Works for laptops up to 17" in screen size, weighing 7-25 lbs
For laptops lighter than 7 lbs, use adapter plate
Adapter Plate adds 6.5 lbs
Laptop needs to be at least 1/2" thick
20" height adjustment

provides

sit-stand ability
33" horizontal reach
62" side-to-side adjustment
Laptop holder has 4 adjustable clasps, which hold the laptop in place and prevent overheating
Looking for a Desk Mounting Laptop Arm ?
Description
The ED-LX-55NV01 is a unique product. It is a wall mounting arm for a laptop with a height adjustability of 20" that provides the user an ability to sit or stand while working. With a horizontal reach of 33" and side-to-side adjustment of 62", it is ideal for dental offices, libraries and offices. This product is made up of two parts - the arm provides the vertical, horizontal and side-to-side flexibility and the laptop holder provides a safe resting place for the laptop. With four adjustable clasps and an open back, this holder, which attaches to the arm directly, allows for air circulation and prevents overheating of the laptop. 
Technical Drawing
Sit-Stand Wall Mount Arm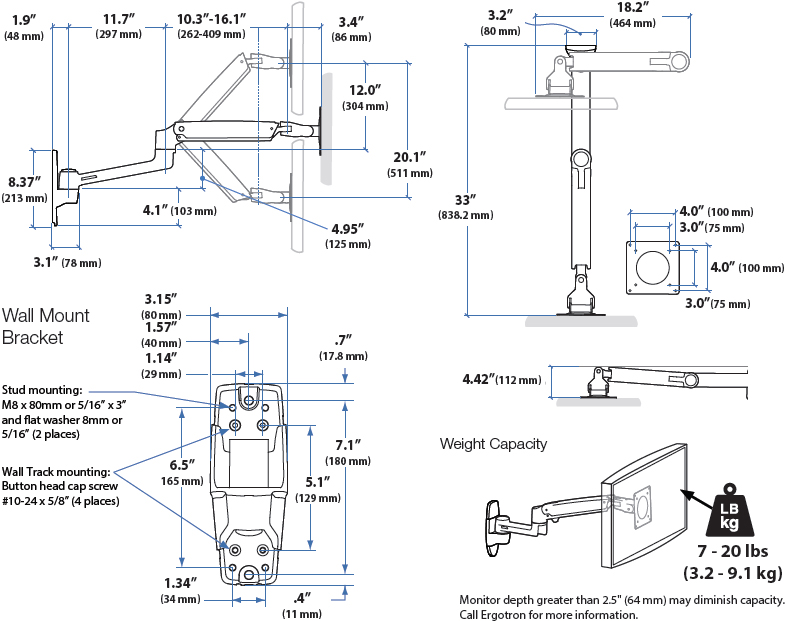 Laptop Holder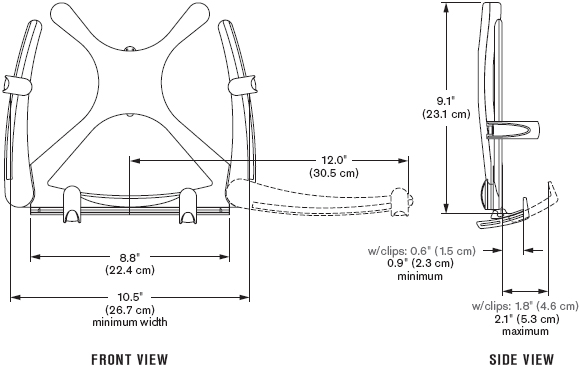 Technical Specifications
Sit-Stand Wall Mount Arm
Capacity

Lift

Tilt

Pan

Rotation

VESA

7 - 25 lbs

3.2 - 11.3 kg

20"

51 cm

75°

360°

360°

MIS-D/E/F
Notebook Holder
Minimum Width

10.5" (26.7 cm)

Height

9.1" (23.1 cm)

Length with Clips

0.6" (1.5 cm)
0.9" (2.3 cm) Minimum
1.8" (4.6 cm)
2.1" (5.3 cm) Maximum

Supports

Tablet PCs and Laptops
Product Information
Description

LX Sit-Stand Wall Mount LCD Arm (polished aluminum)

Includes

LX sit-stand arm
Extension
Wall-mount base
VESA brackets

Quality Tested

10,000-cycle test applied to lift mechanism, ensuring years of trouble-free height adjustment

Weight Capacity

7 to 25 lbs (3.1 to 11.3 kg). Monitor depth may affect weight capacity

Monitor Tilt

70° up and 5° down

Rotation Stop on wall-mount base

Limits turn of extension-base connection to 180°, preventing extension from contacting wall

Locking Connections

Between arm, extension and base offer increased theft deterrence and prevent potential disconnections caused by jarring or impacts

Mounting Standards

VESA MIS-D, 75/100 (hole pattern = 100 x 100 mm & 75 x 75 mm), MIS-E (hole pattern = 200 x 100 mm), MIS-F (hole pattern = 200 x 200 mm ONLY). Optional VESA Bracket Adaptor Kit (97-759) can be ordered separately for MIS-F interface with hole pattern of 400 x 200 mm, 400 x 300 mm or 400 x 400 mm

Mounting Options

Attaches directly to sturdy vertical surfaces. Where applicable, install to wood stud. Also attaches to Wall Track using bracket (97-091, order separately)

Base

Includes theft-deterrent anchor holes for cable locks

NOTE

Computer systems mounted on this product may require extra long USB, power or video cables in order to span between standing and sitting heights

Product Weight

11 lbs (5 kg)

Shipping Dimensions

22.1" x 10.9" x 7.3" (56 x 28 x 19 cm)

Shipping Weight

12.6 lbs (5.7 kg)

Warranty

Five (5) years
Benefits
20-inch (51 cm) height range allows users to move between sitting and standing positions while they interact with the display
Extends up to 33" (84 cm); push your display out of the way when not in use
Increase viewing comfort - help reduce eye, back and neck strain
Upgrade to LCD monitors and TVs with improved ergonomic adjustment
Patented CF motion technology provides premium ease-of-use adjustment
Cable management feature routes cables under the arm, out of the way
Ideal for space-constrained spaces - folds to within 4.5" (12 cm) of wall in storage position
Secure installation - locking connections between arm, extension and base
Passes 10,000-cycle motion test, which ensures a minimum of five years trouble-free height adjustment
Features
Adapts to support both tablet PCs and laptops
Securely grips tablet or laptop, with quick attach and release
Adjustable clasps allow free access to jacks and ports
When used with tablet PCs, enables one-handed use of the tablet
Allows tablet to be used in portrait or landscape position
Mounting arm floats computer above desk - simply grab and move to desired position
Arm extends up to 18", with vertical adjustment of +/- 5" from horizontal
Integrated cable management keeps cords off the desk
Mount clamps to desk or through grommet with integrated handle (may also combine with slatwall, slat rail or wall mount)
| | |
| --- | --- |
| Model | ED-LX-55NV01 |
| Manufacturer | Ergodirect |
| Part Number | ED-LX-55NV01 |
| | |
| --- | --- |
| Weight Capacity | 7-25 lbs |
| Vertical Range | 20" |
| Horizontal Range | 33" |
| Tilt | 75 degree |
| Pan | 360 degree |
| Rotation | 360 degree |
| Monitor Arm Types | Laptop/Notebook |
| Mounting Options | Wall |
Be the first to review this product