Humanscale M/Connect USB 3.0 Dual-Video Docking Station
Description
Humanscale M/Connect USB 3.0, dual-video docking station is a unique innovation that merges ergonomics and technology. Available with Humanscale's M2, M8, and M/Flex monitor arms, M/Connect gives easy access to user ports and conceals IT ports to eliminate cable clutter. M/Connect is a total workspace solution that enhances the computing experience.

Humanscale M/Connect improves comfort, health, and productivity while offering instant use of all devices through DisplayLink's universal Plug and Display connection. M/Connect is at the heart of the effortlessly connected, active workspace.

Design Story - The Humanscale Design Team reimagined the impractical, stand-alone USB docking station that induces cable clutter with a sleek, efficient, and more accessible docking solution that eliminates cable clutter. M/Connect, like all Humanscale products, was designed with a focus on purpose, function, and ergonomics. The result is a unique, all-in-one monitor arm base and USB 3.0, dual-video docking station designed to support workers in an active, adaptive workspace.

The traditional office has been changing. People are coming and going, plugging in who-knows-how-many devices into a preset workstation, and expecting everything to work seamlessly. That's the requirement." - Robert Volek, Designer.

Drivers Download - M/Connect Driver Installation Instructions
Before using M/Connect, go to this link, choose your operating system, and install the requisite driver. For the best user experience, we recommend running the latest version of the driver.

Troubleshooting - If your firewall blocks the installation of this driver, corporate users should contact their systems administrator and have them allow this driver under their corporate installation standard procedures (MSI Installer), available for download from DisplayLink's website. Individual users should ensure that suggestions to update other drivers are followed. This typically includes updating the host graphics drivers and host USB drivers to the latest version.
Technical Drawing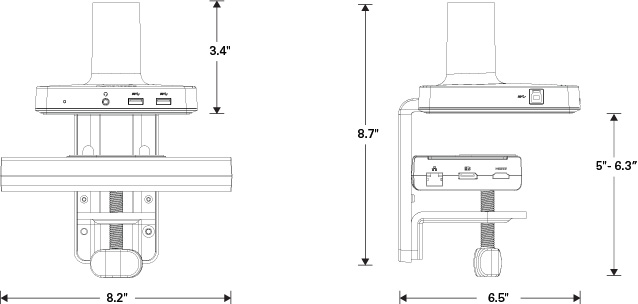 Features
Space Saving - M/Connect's USB hub resides on the desktop while the dock resides below the desk surface. The majority of cables are connected under the desk, providing a clean look and instant accessibility to high-speed charging ports.

3 Displays, One Simple Connection - At only 4.98 pounds, M/Connect's aluminum and steel construction can support up to 40 pounds of monitor equipment - two external monitors plus laptop display. M/Connect also supports display adapters, which can be purchased separately to support additional external displays.

Prevents Dock "Walk-Away" - Unlike traditional USB docks, M/Connect facilitates one-handed port access - which means the dock won't slide backward and fall off the desktop.

Supports up to 40 lbs monitors (M8), (2) 20 lbs monitors (M8 w/ Crossbar) or 20 lbs (M2)

Single laptop cable for universal connectivity to all peripherals, for up to 3 displays (includes laptop)

Sleek, modern look made with highly recyclable parts
Specifications
| | |
| --- | --- |
| Colors | Polished aluminum, Silver and Black |
| Weight | 4.65 lbs |
| Height | 1.07" |
| Width | 5.75" |
| Depth | 5.98" |
| Materials | Aluminum/Steel |
Environmental Story
Humanscale products are designed with a constant and genuine focus on their environmental impact at every stage of their development. For us, the best designs in the world achieve more with less, and sustainability is the natural result of this focus. Made with highly recyclable aluminum parts, M/Connect has also been conscientiously engineered to ensure LSZH categorization by using non-PVC cable jackets for its wiring.
Option 1 - Color
 

Polished aluminum with white trim and cables

 

Silver with gray trim and cables

 

Black with black trim and cables
| | |
| --- | --- |
| Model | M/Connect |
| Manufacturer | Humanscale |
| Part Number | M/Connect |
| | |
| --- | --- |
| Weight Capacity | Up to 40 lbs monitors (M8), (2) 20 lbs monitors (M8 w/ Crossbar) or 20 lbs (M2) |
| Weight | 4.65 lbs |
| Height | 1.07 in |
| Width | 5.75 in |
| Depth | 5.98 in |
| Color | Polished aluminum, Silver and Black |
Be the first to review this product