Today's technology is making it possible for all digital devices to become smaller and lighter. Our laptops are now thinner and sleeker than ever before. Tablets have touch-screens and retina display screens, and can do just about anything we need. All of this helps humans be more comfortable than ever before in their digital lives.
However these wonderful advancements increase the potential for theft too. It is estimated that more than 600,000 laptops are stolen each year in the US. Here are a few key products you can get to make sure your devices are secure and protected fr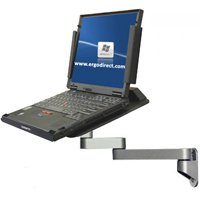 om theft.
Secure your laptop to a wall or a desk mount. The Secure Laptop Wall Mount Arm is one of our most secure products.
Clamps close around the edges of your laptop screen and a plate attaches the laptop to a wall mounting arm. This combination product made up of a wall mounting arm as well as a secure plate comes with a lock and key, though the design of the plate means that the laptop remains open at all times.  It finds use in a variety of industries and our customers range from manufacturing companies (for data access on shop floors) to medical centers, dental offices, schools and adult residential service providers.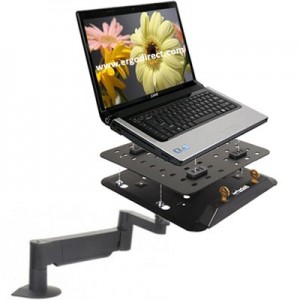 The Secure Adjustable Arm secures your laptop to a desk in a way that your laptop can be closed. It is compatible with laptops weighing up to 6lbs and also provides height adjustability.
If you own a store, bar, or restaurant and use an iPad for point-of-sale applications like price checking, ordering, or displaying deals and promotions, the Secure iPad Wall Mount Arm may be perfect for you. Whether it's a self service station or a kiosk, this holder gets the job done while keeping the device at eye level for users.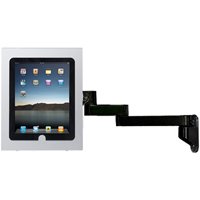 The secure iPad holder clamps down over the entire device and comes with two options – access to home button or access to home button. The no-access-to-home-button option is appropriate for retail stores, where you don't want customers leaving the open application. This iPad holder comes with a lock and key and the wall mount arm provides a horizontal reach ranging from 4" to 12.5" from the wall.
Please contact us if you are looking for secure solutions for your devices, or visit our website to look at these and other products.