Last month Yahoo featured an article "Best Standing Desks of 2023." The gist of the article was, there is no excuse not to buy a standing desk now, since they are available for ALL demographics and price ranges. The best budget standing desk in this list is priced at $180 – an extremely attractive price point. And the most expensive one (for gamers) costs $ 500. This is a welcome development and we at ErgoDirect are very happy that it will encourage computer users to fundamentally change the way they work – that is, alternate between sitting and standing while working for prolonged hours in front of a computer by switching to standing desks.
However, no one is paying attention to the most important piece of specification about a standing desk. And that is the lowest height reached by the standing desk. Let us explain why. Most standing desks in the market today have desktops that move within a height range of 28" to 47" from the floor. And since most of us place the keyboard and mouse on the desktop, effectively the desktop height becomes our keyboard and typing height. The upper range of 47" works for everyone up to a height of 6' – which is 85% of men and 99% of women in the US.  And that means the user is following the ergonomics of the keyboard – the user can stand and type with relaxed shoulders, elbows bent at 90-95 degrees and straight wrists – the ideal position to type without aches and pains and resulting problems such as carpal tunnel syndrome, tingling fingers and tendonitis.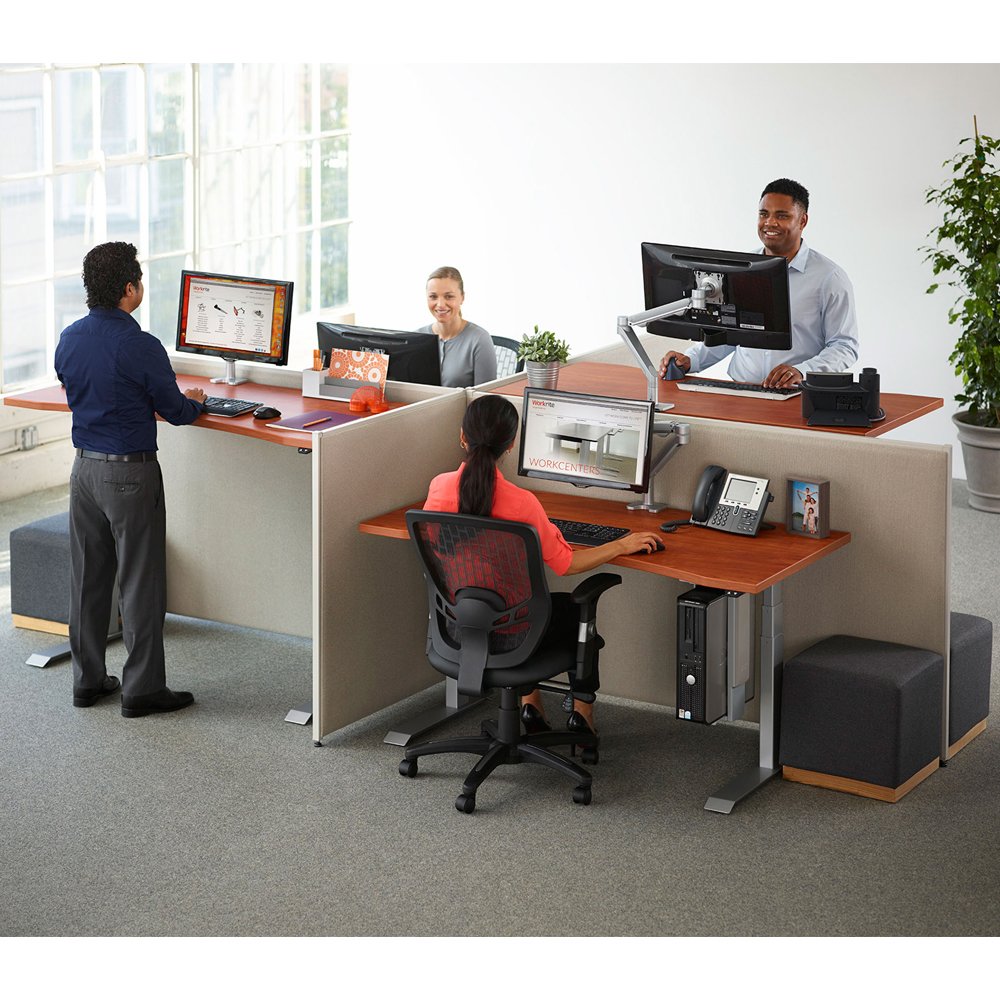 But most of these desks lower to a height of 28", at which only a 5'11" person can type with the ideal typing posture (relaxed shoulders, bent at 90-95 degrees elbows and straight wrists). And considering that the average male height in the US is 5'9" and average female height is 5'4" according to the CDC, these desks do not go low enough for at least half of the US population. This is a problem. The market is awash with these desks, which you may end up buying because of the low barrier entry price point. Sadly, once you start using this desk, you will get a rude awakening that these desks are not ergonomic in a sitting posture. You will end up typing at a height that is above your ideal height with broken wrists and perched up shoulders.. You can mend the situation by investing in an under desk keyboard tray. Spending another $100-200 unexpected dollars on an under-desk keyboard tray, however, will evaporate the benefit of an attractive standing desk price. Both are not welcome scenarios.
Here is a list of all the desks mentioned in this article and their height range –
| | | |
| --- | --- | --- |
| Desk | Price $ | Adjustable Height Range |
| Fezibo Standing Desk with Drawer | 179.99 | 27.7″ – 46.6″ |
| Vivo Electric Height Adjustable Corner StandUp Desk | 699.99 | 24.7″ – 50.3″ |
| Eureka Ergonomic 65-inch Electric Height Adjustable Gaming Desk Standing Desk | 499.99 | 29.92″ – 48.43″ |
| SHW Memory Preset Electric Height Adjustable Standing Desk | 200 | 28″ – 45″ |
ErgoDirect recommends that if you are considering buying a standing desk and if your height falls between 5' to 6', buy one that goes all the way down to 23" as its lowest height. This is especially important if you are a petite person and below 5'4" height. Please use this workspace planner to determine your ergonomic keyboard height.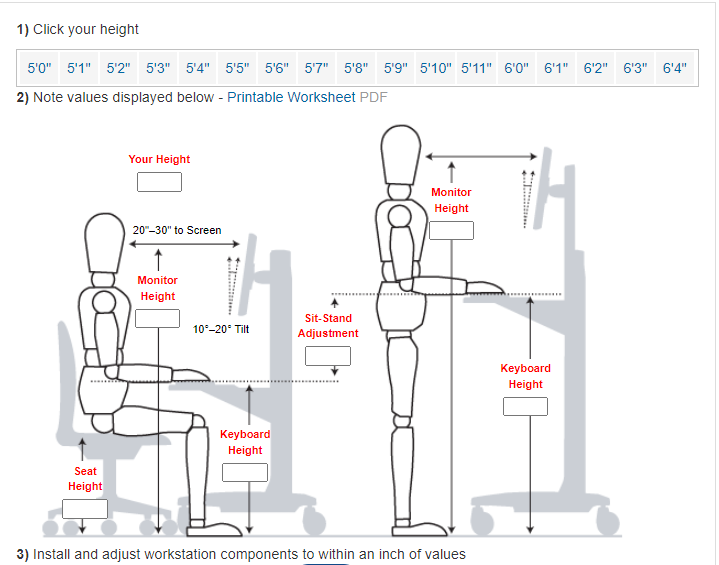 ErgoDirect also offers a wide range of price points for standing desks –
Flexispot E7 ProPlus Standing Desk – Height range is 22.8" to 48.4", Price: $460
Flexispot E8 Oval Shaped Electric Height Adjustable Desk – Height range is 23.6" to 49.2", Price: $480
WorkRite Fundamentals EX Electric Rectangular 2 Leg Workcenter – Height range is 22.5" to 48.7", Price: $775.80
Workrite Sierra HX Rectangular Electric Height Adjustable Table – Height range is 22" to 48", Price: $900.60
And here our under desk keyboard trays that lower the keyboard by 6", in case you buy commonly available standing desks.
Please fill out our desk finder form if you are in the market for a standing desk. We will customize our recommendations for your height, weight, chair, typing height and working style.