Your chair is the most important part of your ergonomic working environment. On average, employees spend 5-6 hours daily in a sitting position, so choosing the right chair is important for your health and comfort.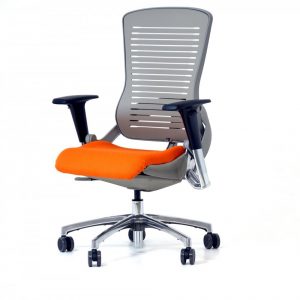 There are several factors to keep in mind when picking your ergonomic chair. However, today's focus is only about the height of the chair seat. Your legs should always be supported while sitting. Finding the right seat height is the most complicated and most crucial part of finding the right chair.
The mechanism that moves a chair seat up and down is managed by a cylinder. The right size cylinder adjusts your chair to a height that is ideal for your feet to lie flat on the floor, thighs parallel to the floor and knees bent at a 90 degree angle. Your legs should not be dangling or bent past 90 degrees while sitting on a chair.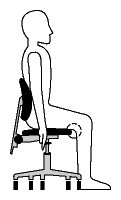 Every body type is unique, as some people have longer legs or torsos. Therefore there is no set formula to determine the length of the lower leg in proportion to the overall height of a person. In addition, shoe type and how it affects overall height also affects seat height. Finally, the thickness and density of the upholstery, design of the base, and size of the chair casters (wheels) needs to be kept in mind, even if chair cylinder size is the same between two chairs.
Five inch cylinders are standard for most chairs, but cylinders range from 4″-10″ depending on chair type. Most task chair manufacturers offer  a choice between four, five, and six inch cylinders.
How do you decide which chair is best for you?
Here are a few guidelines to choose the ideal cylinder size for your chair:
Measure your height – Most users need a cylinder size that corresponds to their height. If less than 5'4″ tall, get a 4″ cylinder, if 5'4″-6'2″ tall, get a 5″ cylinder, if more than 6'2″, get a 6″ cylinder. 
Measure seat height – Sit on a chair with feet planted on the floor, knees at a 90 degree angle, and thighs parallel to the floor. The distance from the base of your knee cap to the floor is the seat height.
Measure using different shoe types – Determine the minimum and maximum seat height by wearing flat and high-heeled shoes respectively.
Measure chairs from different brands – Chairs from different manufacturers may have the same cylinder size but offer different seat heights. Our chart below outlines some examples.
For more information please contact us.