Task lighting is lighting that illuminates a specific area and makes the completion of a task easier as opposed to ambient lighting that sheds light on a general area, or mood lighting that illuminates for creating a certain atmosphere or effect.
Which industries need task lighting?
Task lighting becomes especially important in software or hi-tech industries,  or any other industry where tasks cause eye strain or employees work in front of a computer for long hours. Labs, home offices, retail stores, art galleries, showrooms from cars to jewelry are other users of task lighting. Focused lighting is a crucial part of an ergonomic workstation as it relieves eye strain.
Specialty of task lights
Task lights are made with LED (light-emitting diodes) bulbs that are less aggressive to our retinas. Similar to other ergonomic products, most task lights tend to be adjustable. They allow users to position or adjust lights according to one's needs and preference. Lamps that are too bright or dim strain your eyes and lead to a number of vision problems.  This is where contrast comes into play.  Contrast relates to various factors including lamp position, lamp strength, and the interaction between task lighting and ambient lighting. However, extreme contrasts between ambient and task lighting lead to frequent contraction and dilation of the pupils of the eye causing eye fatigue. 
The most important advantage of task lights is they result in energy and cost savings.
Here are some options to consider when looking for a Task Light –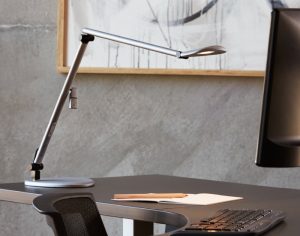 The Workrite Astra 3 LED Desk Task Light has a 34.9″ reach from its base, thanks to its double arms. With this outstanding reach, focus the light where you want it. Touch button and dimming controls are convenient. The Astra 3 can be programmed to auto shut-off after 5-10 hours of use.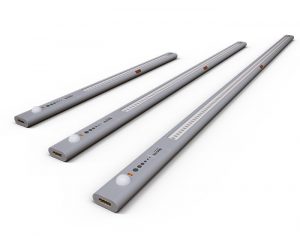 The Ciglio 2 LED Under Cabinet Light from Workrite offers another sleek design to help comfort your eyes. It is available in three popular lengths that can be linked to create 80 inches of actual light fixture and an ideal under cabinet lighting for illuminating tasks.
For more information on task lighting and other ergonomic solutions please contact us, or visit our website.