A Point-of-Sale mount lets you place technology exactly where you need it with convenience, style, and security. Point-of-Sale (POS) mounting solutions are ideal for monitors and tablets that work as checkout or signature-capturing devices, price check stations, or display screens in restaurants,  retail stores, libraries, or other customer-facing industries.
Use a POS mount to avoid placing expensive monitors or kiosk technology on counter surfaces. Instead, elevate your monitors and kiosks above the counter, or even attach them to the wall or suspend them from the ceiling with a pole as an informative display.
While there are a large range of different mounting options available, POS solutions have 6 common functionalities that make them great solutions for their applications.
Save Valuable Selling Space
Suspend a POS monitor or kiosk above the counter to free up and expand your selling space, which you can fill with impulse-buy items, brochures, or store updates and policies.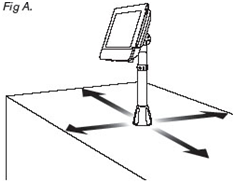 Adjust Monitor Height
Ergonomically speaking, your eyes should rest on the top 1/3 of a monitor in order to prevent neck and back strain. A height adjustable POS monitor stand is necessary in order to allow easy monitor re-positioning for sales associates of varying heights. Happy, healthy sales staff ultimately leads to company profitability in the long run.
Adjust Screen Angles to Avoid Glare
Light sources and their intensities can vary throughout the day. Keep annoying glare off a POS screen by tilting or swiveling it as needed. This also helps keep POS monitor positions ergonomic.
Cable Management Benefits
Keep cables out of view and out of harm's way by routing cables through your POS monitor mount with a cable management system. This also helps prevent accidental disconnects and reduce cord wear and tear.
Enhance Store Image And Reduce Clutter
Well-designed POS mounting solutions have aesthetic as well as functional benefits. With a POS solution, you can avoid ad-hoc or unpleasantly welded solutions. A POS solution puts your best face forward at the point of purchase to present a sleek and modern image.
Improve Security And Prevent Accidents
Mounted POS monitors are inherently more secure than free-standing monitors simply because of their installation. In addition to discouraging theft, securing your monitors to countertops or walls can also prevent them from tipping over and other accidental equipment damage.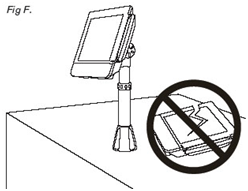 Are you interested in a POS mounting solution for your company? Let us know in the comments, or check out our selection of POS mounting solutions to find one that suits your needs.