Point-of-Sale (POS) Monitor Mounts
Retail-hardened mounting solutions for point-of-sale - save space, protect your technology, enhance your image.
Place your technology exactly where you need it. Monitors, kiosks and signature capture devices can quickly be placed in user-convenient positions with Ergodirect.com Point-Of-Sale POS mounting solutions.
Features include:
Flexible configurations conform to your layout needs.
Secure cable management protects your IT investment.
Quick to install, easy to use, a breeze to maintain.
Use for displays, kiosks, signature capture devices and more - place information where you need it.
6 ways mounting Solutions can benefit POS installation:
Are you getting the maximum return from your technology investment?  You may have installed the most recent monitor or kiosk technology in your retail store, but if you have placed the screens on counter surfaces, you are passing up the extremely attractive benefits offered by monitor mounting solutions for point of sale applications.
Mounting solutions consist of products for elevating your monitors and kiosks above the counter, perhaps even attaching to the wall or suspending from the ceiling.  While there are a large range of mounting options available, they tend to share 6 key benefits in the point of sale environment.
1 - Save valuable selling space
By suspending the monitor or kiosk above the counter, you can expand your usable selling space... in a location perfect for impulse buy items. (Fig A)
2- Adjust monitor height
Your sales associates vary in height- a height adjustable monitor allows each of them to work in comfort.   Reduce neck and back strain from improperly positioned screens.  Happy, healthy sales staff lead to happy profitable customers. (Fig B)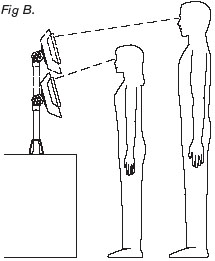 3-  Adjust screen angles to avoid glare
Light sources and intensity may vary throughout the day.  Keep annoying glare off your screen by tilting or swiveling the monitor. (Fig C)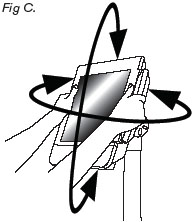 4- Cable management benefits
Keep your cabling out of view, and out of harm's way, by routing cables through your monitor mount.  Prevent accidental disconnects, and reduce wear and tear. (Fig D)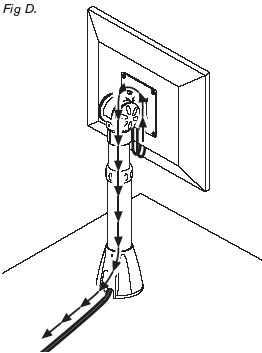 5-  Enhance store image - reduce clutter
Well-designed mounting solutions can have aesthetic as well as functional benefits.  Avoid ad-hoc and unsightly welded solutions.  Put your best face forward at the point of purchase, and present a sleek and modern image. (Fig E)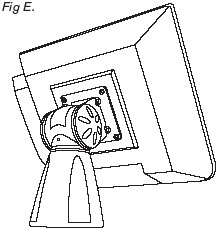 6- Improve security - prevent accidents and dissuade theft
Mounted monitors are inherently more secure than free-standing monitors.  In addition to discouraging theft, securing your monitors to countertops or walls can also prevent tipovers and accidental equipment damage. (Fig F)