Part V – Task Lighting
The fifth and final post in our series on office ergonomics: Task Lighting. Learn about ergonomic chairs, sit-stand desks, monitor arms, and keyboard trays in our past posts.
Q: What is task lighting?
A: Task lighting is focused lighting used in a particular area for a specific task for effectiveness and efficiency, like desk lamps.
Q: Why is task lighting important?
A: Focusing light effectively around computer screens can reduce eyestrain and other visual issues such as blurry vision or headaches.
Q: How do you set up your task lighting?
A: Task lighting should be set up to create a contrast between ambient light, other lighting sources such as a computer screen, and task lighting. According to the American Optometric Association, contrast is an important factor in increasing overall productivity at work. However, contrast should not be too extreme or your pupils will be dilated too frequently, causing eye fatigue and eyestrain.
Bright lights are ideal for working with printed materials, whereas dimmer lights are better when working on the computer. Adjust the angle, position, and intensity of your light source, even using a hood or filter as necessary around computer screens. Ideally, ceiling lights should be positioned parallel to your line of sight in different rows.
Q: What's an added benefit of task lighting?
A: Task lighting helps diminish energy usage and costs as ambient light use is reduced.
Q: What kinds of task lights are there?
A: Task lights come in several strengths and light types. We recommend LED lights because they are more comfortable and safer on human retinas. If the light is ergonomic it should be flexible enough for adjustments, movements, and turns.
No matter what, look for lights that will not create glare or reflections on your screen, while providing even and flicker-free illumination.  In general, find a light that fits the footprint you need it for; larger lights work better for large work surfaces, and smaller lights can help with more focused, direct work in less spacious areas.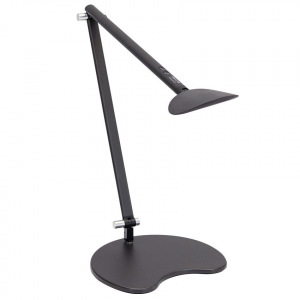 The Workrite Astra 2 Double Arm Desktop Task Light was designed to provide outstanding reach in a small footprint. With nearly 3 feet of extension from the base and a 360 degree rotating head, this lamp illuminates exactly where needed. The bulb provides a crisp, white light with no shadowing effect. New touch button programmability enables users to return light dimming level to level of last time use. The light can also be programmed to shut off automatically 5 or 10 hours of use.
The Humanscale Horizon LED Task Light is the ideal task light for high design environments. Accepted into the permanent collection of the Museum of Modern Art (MoMA) in 2011, this light uses new thin film LED technology to deliver excellent ergonomic lighting and easy adjustability in a sleek package.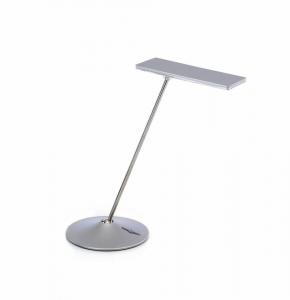 Perfect for work and home, this task light is soft and glare-free, ideal for both pixels and paper. It offers brilliant, single-source light that eliminates multiple shadows.
Comment below for more information or check out the task lighting collection on our website to find one that works for you!