Part IV – Keyboard Trays
Learn about Keyboard Trays in Part IV of our series on office ergonomics. Previously, we've looked at ergonomic chairs, sit-stand desks, and monitor arms.
Q: What is a keyboard tray?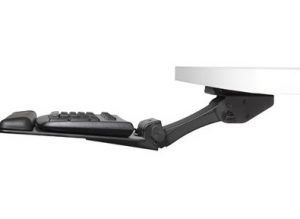 A:  A keyboard tray is an adjustable mechanism that holds a keyboard (and sometimes mouse).
Q: What makes a keyboard tray ergonomic?
A: Keyboard trays hold keyboards at an ideal typing height and angle. Ergonomically, keyboard height should allow user elbows to rest neutrally at a 90-100 degree angle. However, most computer users place their keyboard on top of a standard desk (28"-30" above the floor), meaning their elbows are not at the appropriate angle. This could lead to long-term wrist, shoulder, and back pain. Keyboard trays have articulation, meaning they can be adjusted to custom fit your position, seated or standing.
A keyboard tray is designed to enable users to operate their keyboard for prolonged periods (from 2-4 hours a day) with minimal chance of injury. Moving the keyboard up, down, left, right and creating tilt allows users to maintain a position of neutrality. In a majority of cases, negative tilt (tilting the front portion of the keyboard down) helps keep wrists in the least stressful position.
Q: How are keyboard trays installed?
A: Keyboard trays are generally installed underneath the desktop using an articulating keyboard arm. Keyboards can then be stowed away when not in use by moving the keyboard tray and arm back and forth under the desktop.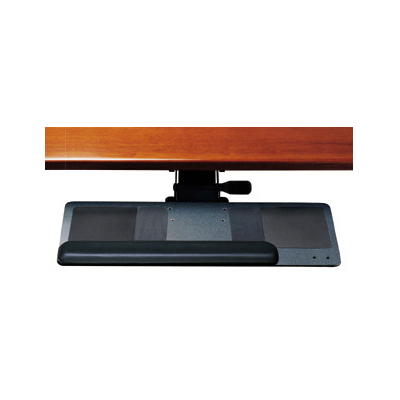 Q: What are the components of a keyboard tray?
A: Metal Track – a rectangular metal track, usually 6″-8″ wide, and 17″-22″ long, is installed under the desktop to move the tray.
A: Keyboard Arm – this mechanism attaches the tray to the track, and slides back and forth inside the track.
A: Tray – the tray attaches to the tip of the keyboard arm to hold keyboards and mice.
Q: What's an added advantage of a keyboard tray?
A: Under-the-desk keyboard trays free up valuable desktop space.
Please contact us for more information or to find out which keyboard tray is right for you.