Neutral Posture 5000 Series Ergonomic Office Task Chair
Weight Capacity 275 lbs. Please note: This chair is custom-made and non-returnable. All fabric colors shown on your computer screen are approximate, based on the resolution of your monitor and subject to variation from the actual color on physical chairs. For more accurate ideas of color tones, etc. please contact customerservice@ergodirect.com or call 888-456-ERGO to obtain a sample or fabric swatch.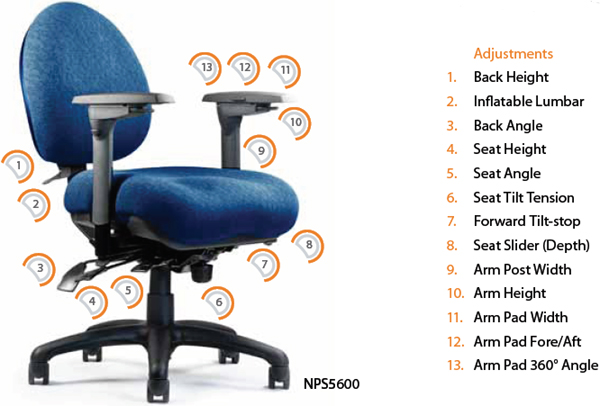 Description
Offering exceptional back and lumber support, the 5000 series is the mid-back chair of the choice for ergonomic comfort. The 12 active adjustments put you in control and deliver daily, personal comfort and body comfort.
Features
Mid back for exceptional back and lumbar support, contoured seat designs

Passive Weight Dispersion Design and Generous Foam for Optimal Comfort

Choice of 5 seat options and 8 arm options

Adjustable Back Height and Angle

Adjustable Seat Height, Depth, Angle and Tension

Adjustable Arm Height, Width and 360° Armpad Rotation

Inflatable lumber

Plastic Outer Shell (Upholstered Back Option Available)

Optional Fring Footrest

Forward Tilt-stop Standard on Multi-function Mechanism (0) w/Seat Slide
Applications
Chair Ship Un-assembled with the following parts in a Box
Single Back

Base with Caster already in

Separate Cylinder

Arms, Seat and Mechanism all put together
Specifications
| | | | | | |
| --- | --- | --- | --- | --- | --- |
| Models | NPS5550 | NPS5600 | NPS5700 | NPS5800 | NPS5900 |
| Chair (H x W x D) | 36" x 26" x 26" | 36" x 26" x 26" | 36" x 26" x 26" | 36" x 26" x 26" | 36" x 26" x 26" |
| Chair Weight | 52.5 lbs | 52.5 lbs | 57 lbs | 57 lbs | 57 lbs |
| Seat Width | 21" | 23" | 23" | 23" | 25" |
| Seat Height | 17.5" - 22.5" | 17.5" - 22.5" | 17.5" - 22.5" | 18.25" - 23.5" | 17.5" - 22.5" |
| Seat Depth | 15.5" - 18" | 16" - 18.5" | 16" - 18.5" | 18" - 20.5" | 19" - 21.5" |
| Seat Angle | F 3° - R 11° | F 9° - R 6° | F 10° - R 3° | F 5° - R 7°F | F 8° - R 6°F |
| Back Width | 17.5" | 17.5" | 17.5" | 17.5" | 17.5" |
| Back Height | 17" - 21" | 17" - 21" | 16" - 20" | 17" - 21" | 16" - 20" |
| Back Angle | 102° - 122° | 107° - 122° | 107° - 124° | 108° - 128° | 102° - 118° |
| Lumber Range | 4" | 4" | 4" | 4" | 4" |
| Arm Height | 7" - 11" | 7" - 11" | 7" - 11" | 6.5" - 10.5" | 6.5" - 10.5" |
| Arm Width | 15.75" - 22.25" | 15.75" - 22.25" | 18" - 22.25" | 18" - 22.25" | 18.5" - 22.25" |
| Shipping Box (L x W x H) | 28" x 26" x 24" | 28" x 26" x 24" | 28" x 26" x 24" | 28" x 26" x 24" | 28" x 26" x 24" |
| Shipping Weight | 62.5 lbs | 62.5 lbs | 67 lbs | 67 lbs | 67 lbs |
Option 1: Seat Back Style
5 - Mid Back

Mid back design with minimal lateral contour

Excellent lower back support with inflatable lumber

Smaller profile. Good choice for tight areas
Option 2: Seat Style
5 - Medium Seat Minimal Contour

Top selling seat design

3" thick foam eliminates "bottoming out"

Fits widest range of population

6 - Medium Seat Moderate Contour

Top selling contoured seat design

3" thick foam and increased surface contact minimize seated pressure

Arm post notches reduce armrest width by 2"

7 - Medium Seat Deep Contour

Most contoured seat design

Designed to support forward tilt (i.e. neutral posture)

Maximizes surface contact to disperse seated pressure

8 - Large Seat Minimal Contour

Large dimension accommodates larger users

3" thick foam eliminates "bottoming out"

9 - Large Seat Deep Contour

Largest contoured seat design for larger users

Designed to support forward tilt (i.e. neutral posture)

Maximizes surface contact to disperse seated pressure
Option 3: Arm Selection
0 - 5-Way Adjustable

Height, width, depth and pivot adjustable from seated position

24 positive lock angle positions in 360 degree range

Arm pads slide inward to reduce width

Arm pads slide fore/aft allowing closest access to work

3 - 360° Swivel w/Oversized Urethane

Height, width and pivot adjustable

Oversized arm pads provide large, soft surface

22 positive lock angle positions in 360 degree range

180 degree rotation alternates long/short end positioning for access to work

4 - Swing

Unique design swings arm down and out of the way

Height, width and swing down adjustable

Excellent for multi-user applications where not all want armrests

6 - Oversized Black Vinyl Arm Pads

Height, width and pivot adjustable

Oversized, padded arm pads provide large extra soft surface

22 positive lock angle positions in 360 degree range

180 degree rotation alternates long/short end positioning for access to work

7 - Oversized Fabric/Leather Arm Pads

Height, width and pivot adjustable

Oversized, padded arm pads provide large extra soft surface

22 positive lock angle positions in 360 degree range

180 degree alternates long/short end positioning for access to work

8 - Friction Tracker

Large dimension accommodates larger users

3" thick foam eliminates "bottoming out"

9 - Ball Bearing Tracker

Largest contoured seat design for larger users

Designed to support forward tilt (i.e. neutral posture)

Maximizes surface contact to disperse seated pressure
Option 4: Chair Mechanism
0 - Multi-Function Mechanism

Center Pivot

Swivel 360 degree

Pneumatic Seat Height

Back Height

Seat Angle

Seat Tension

Independent Back Angle

Forward Tit Stop

Seat Slider

3 - Knee Tilt Mechanism

Front Pivot

Swivel 360 degree

Pneumatic Seat Height

Back Height

Seat Angle

Seat Tension

Independent Back Angle

Seat Slider (Does not include)
Option 5: Fabric Selection
[tag:embed_block:237]
Option 6: Seat Height - Cylinders
L1 - 3" Cylinder

L3 - 5" Cylinder

L4 - 8" Cylinder

L5 - 10" Cylinder

L7 - 7" Cylinder
Option 7: Base Style
B0 - 26" Black Base

B6 - 26" Polished Aluminum Base

B8 - 27" Brushed Aluminum Base (Comes standard with 3" Cylinder (L1))

B12 - 28" Black Base
Option 8: Casters - Wheels
C0 - Carpet Casters

C1 - Hard Floor Casters

C2 - Glides

C3 - Hard Floor Brake/In

C4 - Hard Floor Brake/Out

C8 - Chrome Carpet Casters

C9 - Chrome Hard Floor Casters
Option 9: Foot Ring and NeXtep Platforms
R1 - 18" Black Plastic Footring (only available on 8" (L4) or 10" (L5) Cylinders)

R2 - 20" Chrome Footring (Only available on 8" (L4) or 10" (L5) Cylinders)

R8 - NeXtep 8" with Casters (Not available on 3" (L1) or 4" (L2) Cylinders)

R10 - NeXtep 10" High Leg with Casters (Only available on 8" (L4) or 10" (L5) Cylinders)

R18 - NeXtep Combo 8"/10" with Casters (Not available on 3" (L1) or 4" (L2) Cylinders)
| | |
| --- | --- |
| Model | NPS5500, NPS5600, NPS5700, NPS5800, NPS5900 |
| Manufacturer | Neutral Posture Chairs |
| Part Number | NPS5500, NPS5600, NPS5700, NPS5800, NPS5900 |
Be the first to review this product