If you live in America, you're aware of the obesity epidemic. Today's youth are affected more than any other group.  But there are some solutions to this problem that are tangible and will be effective if implemented properly.
Exercise – According to American Psychological Association (APA), only 30 percent of children (aged six to 17) participate in 20+ minutes of vigorous physical activity on a daily basis. Children need to get 60 minutes of exercise on a daily basis.
Technology in its myriad, fascinating forms has never been more easily available than it is to the current generation of children. The list of temptations – iPads, TVs, video games, mobile phones, car TVs – is endless and has resulted in a drastic reduction in playground time and physical activity.
Nutrition –
"According to the School Health Policies and Programs Study in 2006, 11.7 percent of elementary schools, 19 percent of middle schools, and 23.5 percent of high schools included meals from fast food restaurants, such as Taco Bell and Pizza Hut, among their lunchtime offerings." – SFGate.com
An apple a day keeps the doctor away! According to various sources,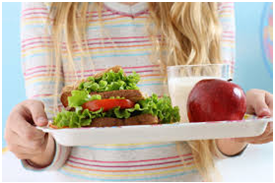 our kids are still eating badly through the very programs that promise to feed them sufficiently and provide energy to focus and learn. This is where parents come in. Make sure you pack healthy snacks (granola or fruit) and try to pack some of their daily lunches if you feel that the options at your child's school are too close to junk
food for comfort.
 In the Classroom – According to "Let's Move", an initiative launched by the First Lady to fight childhood obesity, "8 to 18-year old adolescents spend an average of 7.5 hours a day using entertainment media, and only one-third of high school students get the recommended levels of physical activity."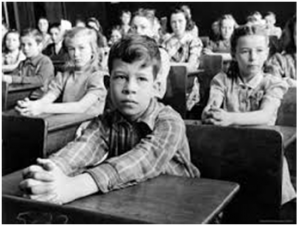 Now, lets combine that with children sitting behind a desk for six plus hours a day while learning their lessons.  Health consequences will be catastrophic if we don't act on this right away.
There is a way for schools to battle this issue.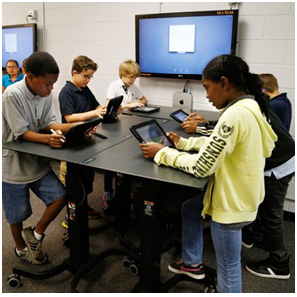 Standing Desks that are becoming all the rage in offices and home offices these days are now available for children too.  Ergotron LearnFit Adjustable Standing Student Desk was designed with children and their classroom needs in mind. With its simple hand lever operation, not only does it allow the students to change the height of the desk and sit or stand but it also allows for easy desk movement across a room for group activities or subject lessons.
So many adults recognize the importance of ergonomics for long term health and productivity. Isn't it time for us to teach our children?