In recent years, the number of options for standing desk converters has skyrocketed.
These converters require no assembly – just place them on your desk and you're ready to seamlessly switch between sitting and standing. With so many options though, which one's the right one for you? Our recent blog will help you choose the right converter for your office space..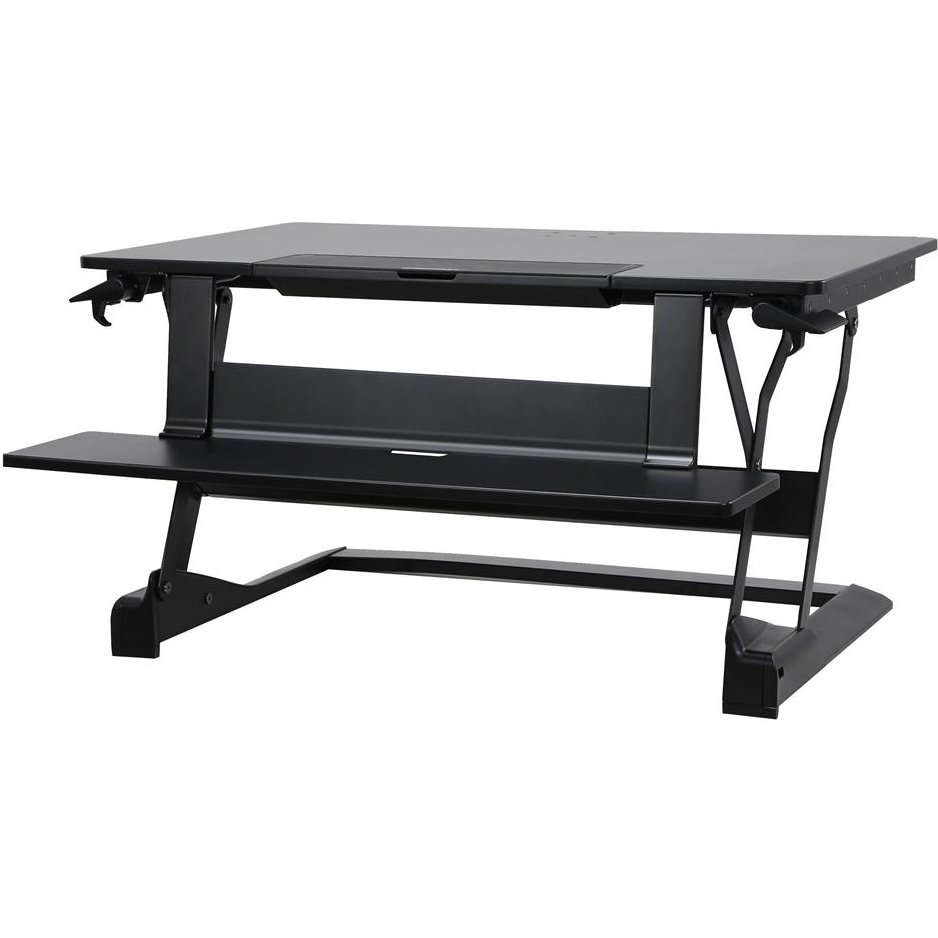 Before you make up your mind, however, we are excited to introduce to you Ergotron's newest solution – the WorkFit-TLE 33-444-921 – released late last month.
WorkFit-TLE is the ONLY no-assembly desk converter in the market featuring a keyboard tray that is suspended while sitting.  This all too often overlooked functionality is critical in order to avoid the repetitive stress injuries that could lead to issues like carpel tunnel syndrome or tennis elbow. Unless you are 6'2" and up or have an under-the-desk keyboard tray, your keyboard is probably not setup ergonomically. Let's see how how —
The first rule of ergonomics is that your workstation should be set up in such a way that you should be able to work in your neutral zone, a space that allows you to work without any stress, pull, pressure, aches on and in any of your body parts.
The average height of a woman in the US is 5'4" and that of men is 5'10". After adjusting one's chair to the correct height and with both feet planted firmly on the gound, the proper keyboard height is usually 1-2" above the lap. This would make the ideal  ergonomic keyboard height for women is 24" and 26.5" for men. You will without a doubt be surprised to hear, then, that standard desk heights are usually 28"-29" from the floor. For the average user, a standard desk will start out with a keyboard height that is, at a minimum, 1.5" too high.
Why does this matter? The most popular desk converter in the market today adds 1.5" to the average desktop height – 28 to 29" – increasing the keyboard height to at least 4-5" above the neutral ergonomic zone. Typing for long hours every day outside the neutral zone can lead to pain in wrist – as the wrist is forced into a crooked posture. This may, over time, lead to issues like carpel tunnel syndrome or tennis elbow.
So how do you fix this? This is where a suspended keyboard comes in! A suspended keyboard, such as our new WorkFit-TLE 33-444-921 lowers the keyboard up to 3.5" below the height of the desk. This allows your shoulders to relax, your elbows to rest at 90-100 degrees, and your wrists to be straight (not crooked) while typing.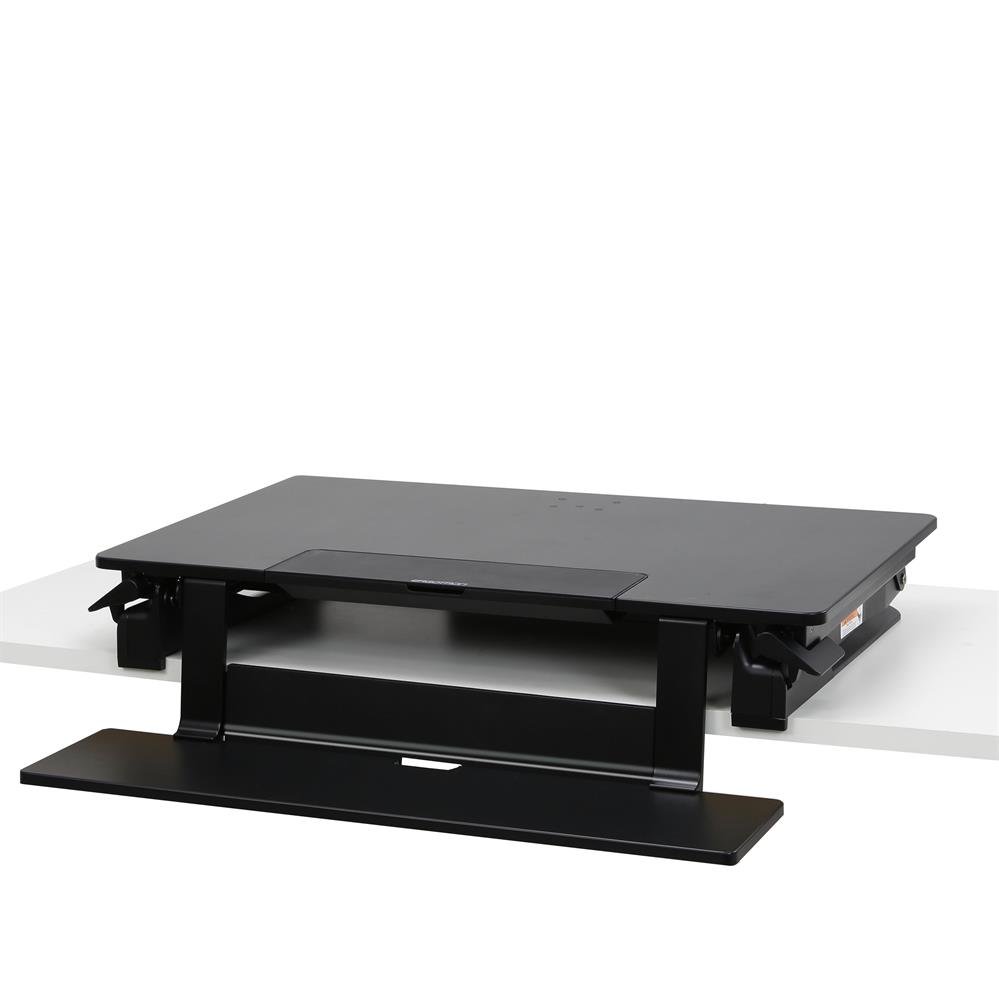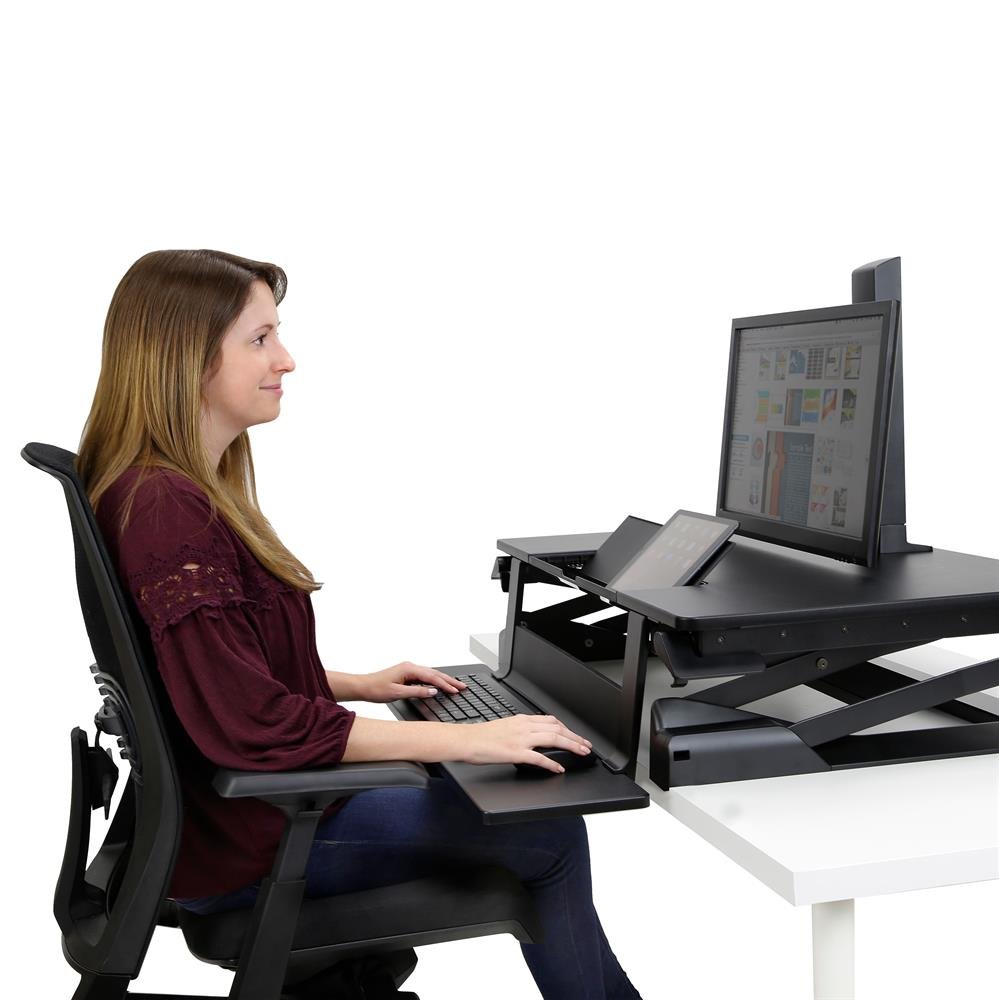 Ergotron is the market leader in sit-stand products and WorkFit-TLE is the latest in its renowned WorkFit series. This converter ships fully assembled, just place it on your desk and you're ready to sit or stand while working. Based on feedback from the popular WorkFit-TL, the updated TLE is recommended for users between 5'4" to 6'10" as they require keyboard and typing height placement below that of average desktops. Tall users above 6'2" will, however, be happy with WorkFit-TL as the above desktop keyboard of TL falls into their typing neutral zone.
Able to carry a load of 10-40 lbs., the TLE can adjust 15" vertically.  Place one or two monitors directly on the surface or add a a WorkFit Single LD Monitor Kit or WorkFit Dual Monitor Kit for increased stability and the ability to adjust monitors independently of the keyboard. With a work surface 37.4" wide and 23" deep, it can fit any desk that is 24" deep or more. The 35" wide but 8" deep keyboard tray suspends 3.5" below the work surface. The hand-brake levers on either side allow for alternating between sitting and standing. The work surface has a groove in the front to hold tablets, mobile devices while there is a removable cable management tray in the back to station power strips, which will keep the messy cables out of the way.
Enjoy peace of mind with the helpful support of ErgoDirect's knowledgeable and dedicated Customer Service team and Ergotron's comprehensive 5 year warranty.
Still need help choosing? Contact us today!