Ergotron 33-406-085 WorkFit-TL Desktop Sit-Stand Workstation in Black
Product ID 18382
HIGHLIGHTS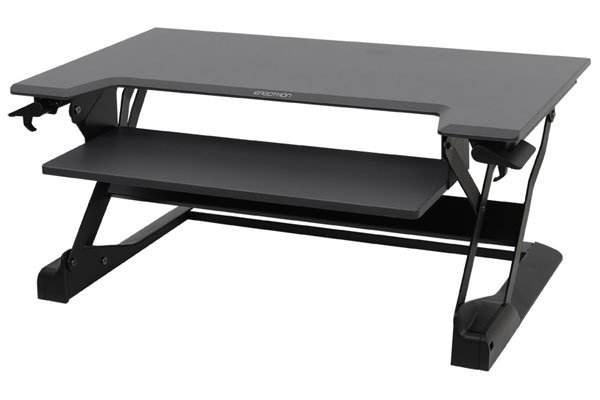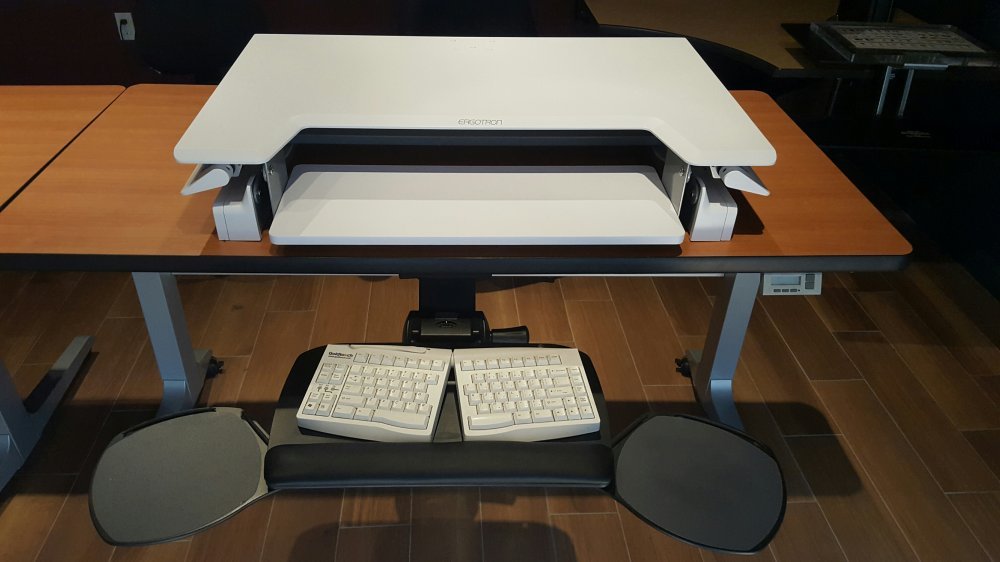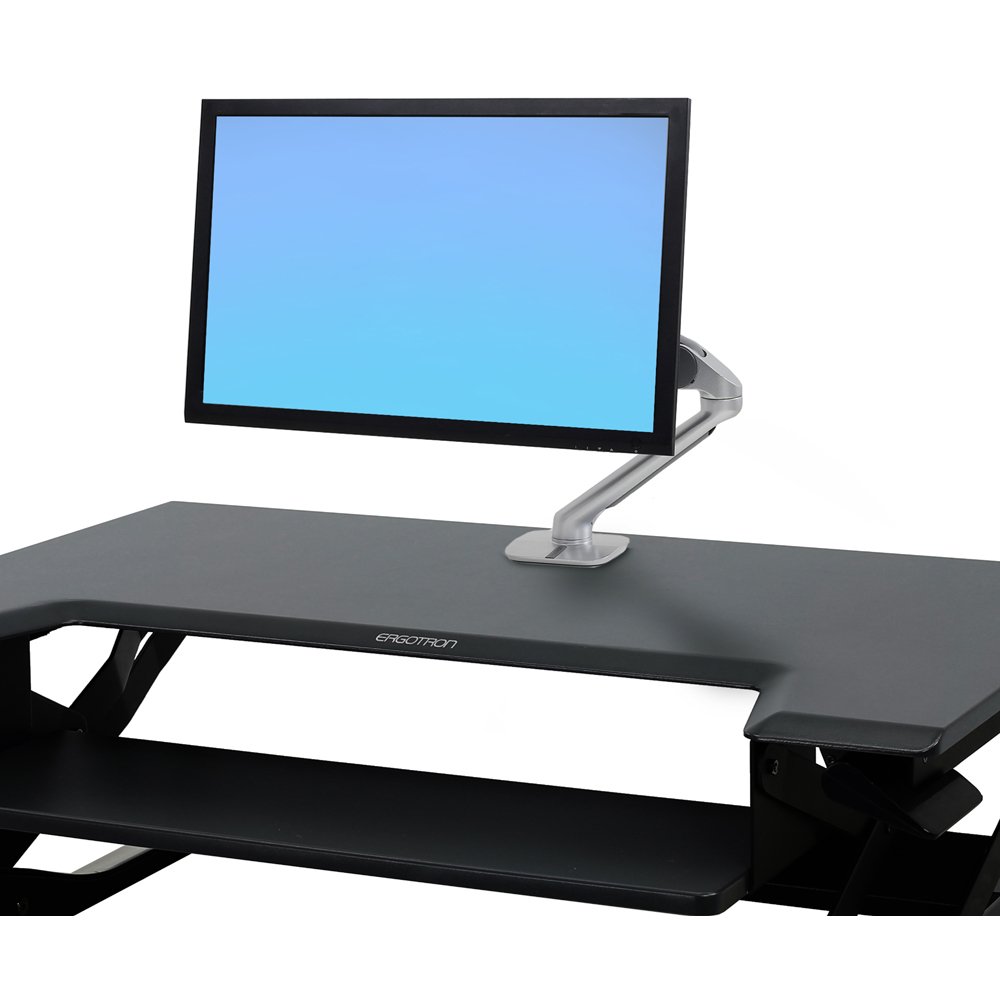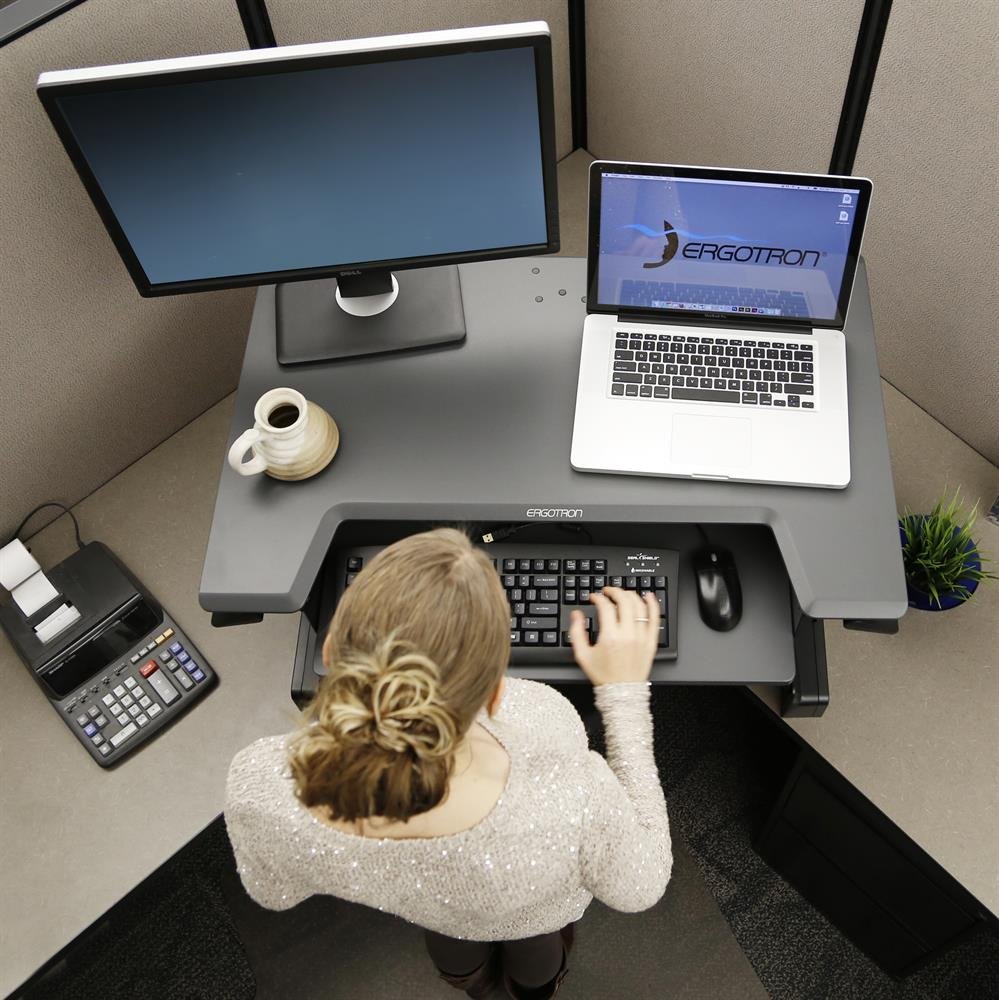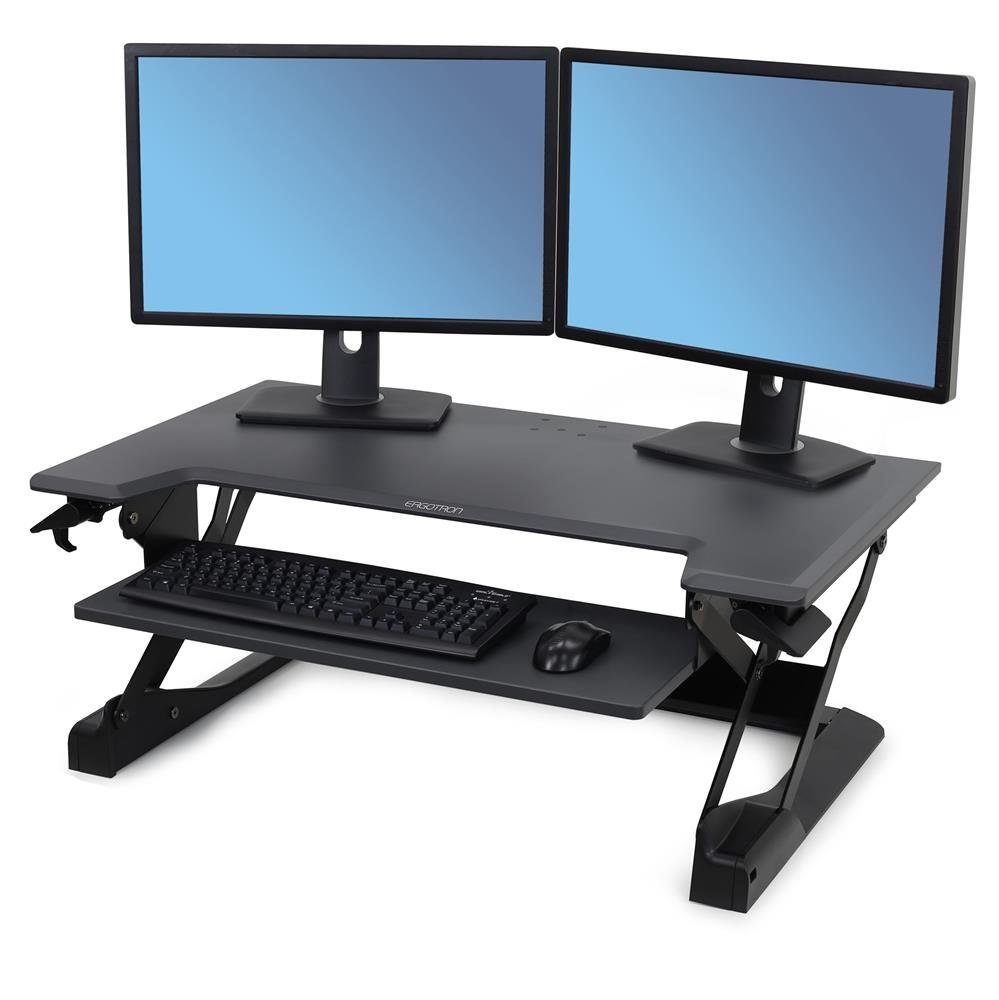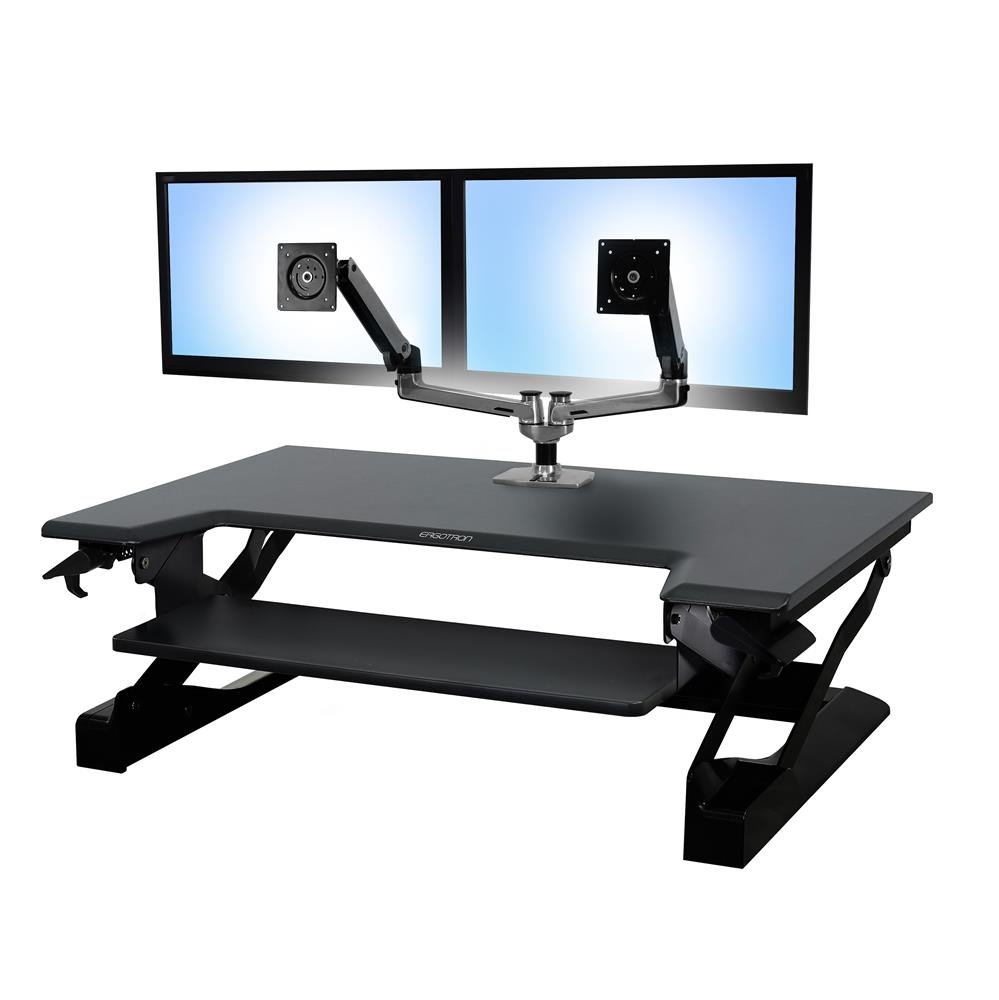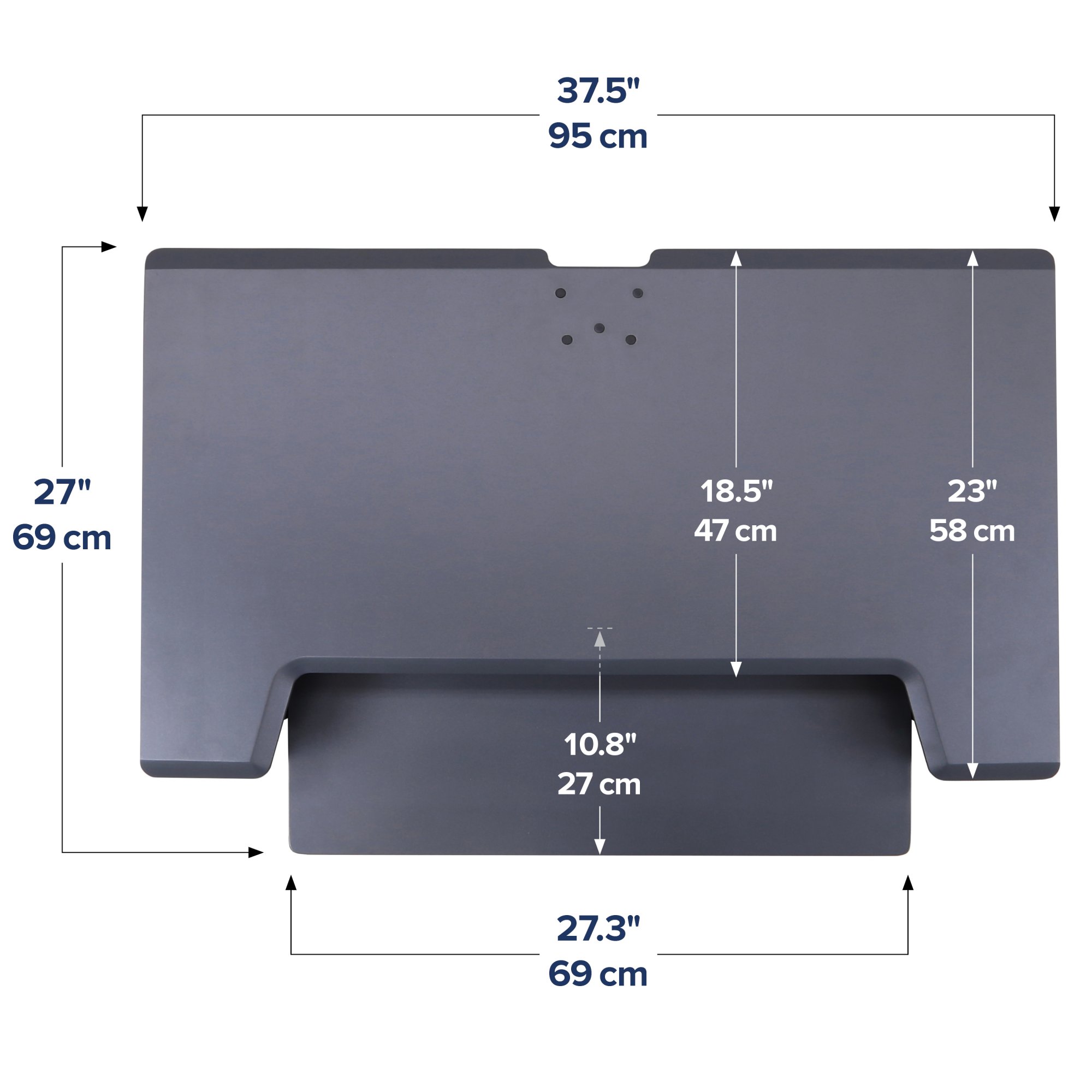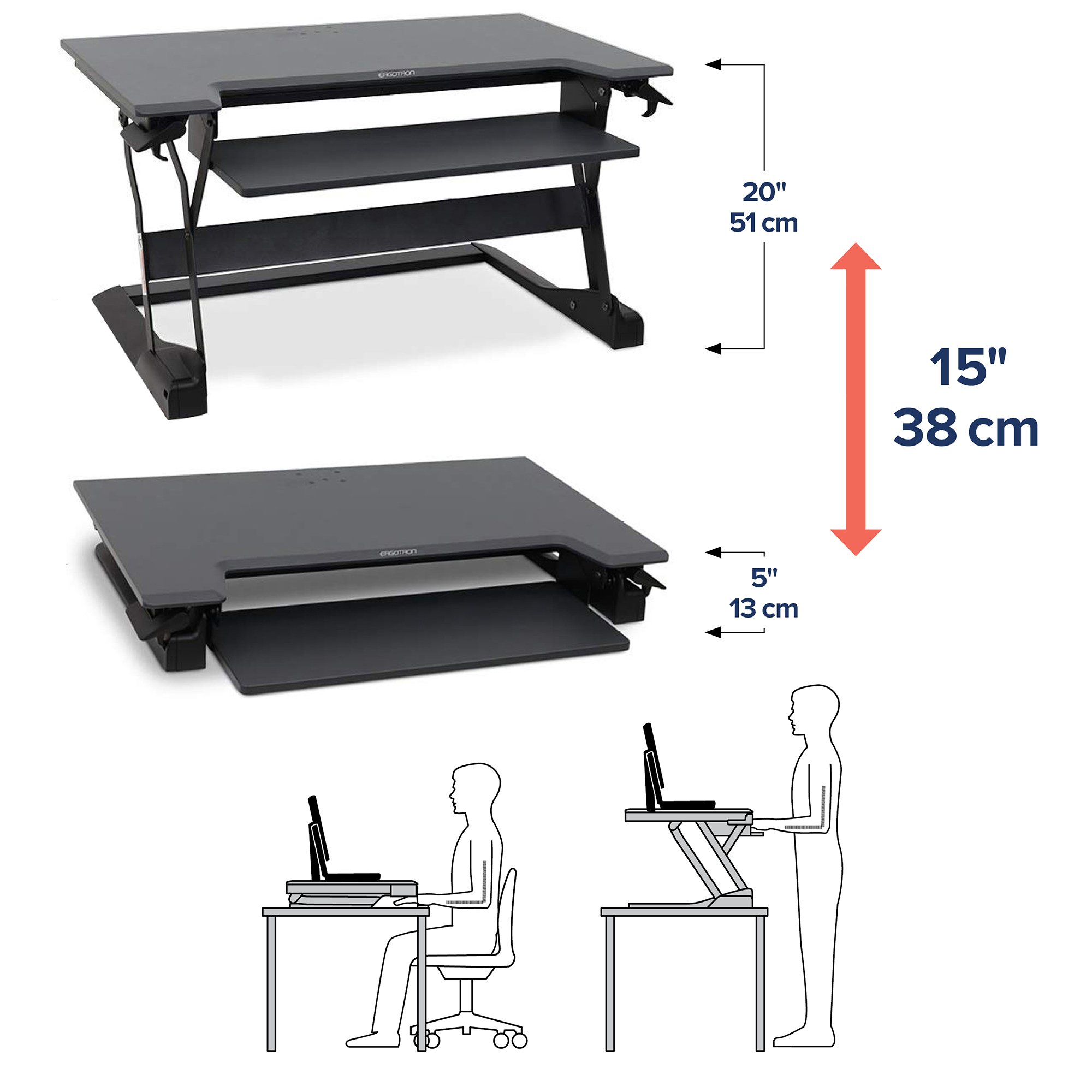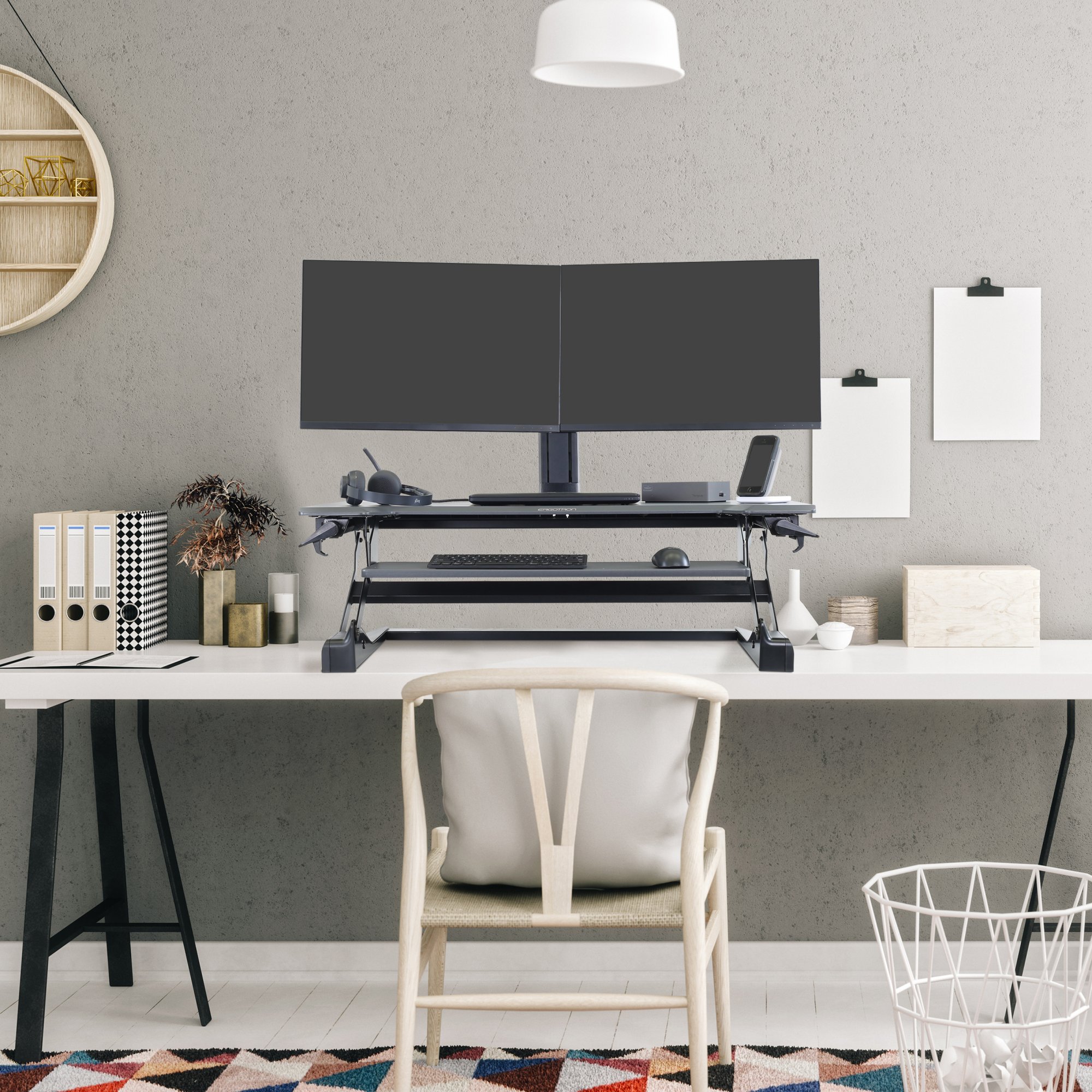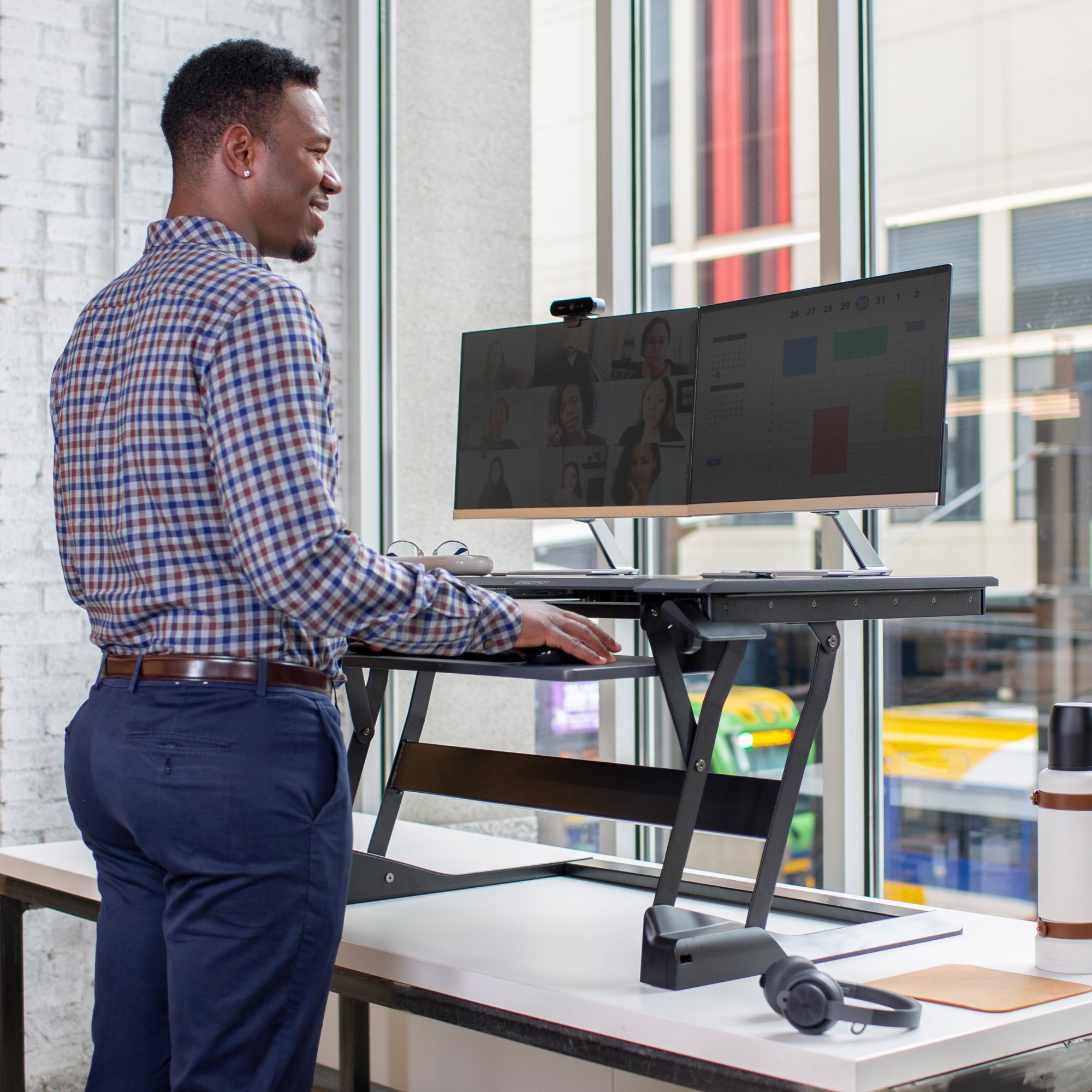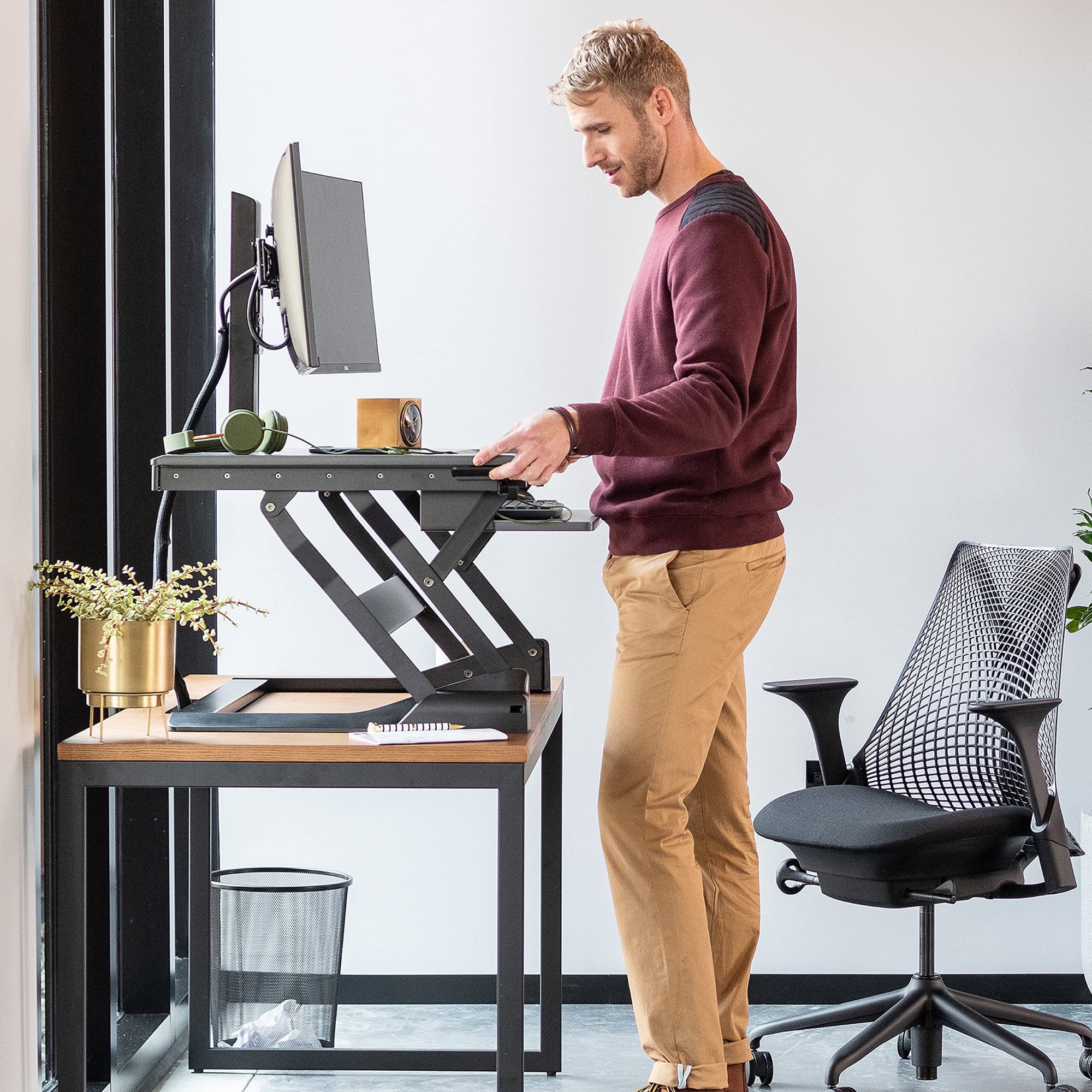 Description
Ergotron WorkFit-TL 33-406-085 is the latest design for desktop sit-stand workstation by Ergotron. Customers have been asking for larger keyboard tray and worksurface on the WorkFit-T, and Ergotron updated the WorkFit-T to come up with the new and improved WorkFit-TL. The new keyboard tray on the new model is 2.75" wider and 1.75" deeper. At the same time, the worksurface on the WorkFit-TL is also 2.5" wider and 2" deeper than WorkFit-T.
Presenting an ultra easy standing desk solution, which quickly converts a tabletop into a healthy sit-stand workstation. Simply place the WorkFit-TL on an open surface, stand up and you're ready to work. WorkFit-TL features a larger keyboard tray and wider worksurface. Like the smaller WorkFit-T, it saves space because it moves straight up and down, always staying within the footprint of your desktop. Extremely stable throughout its range of motion, one can freely lean on it while working without worry of tip or height-drop.
Technical Drawing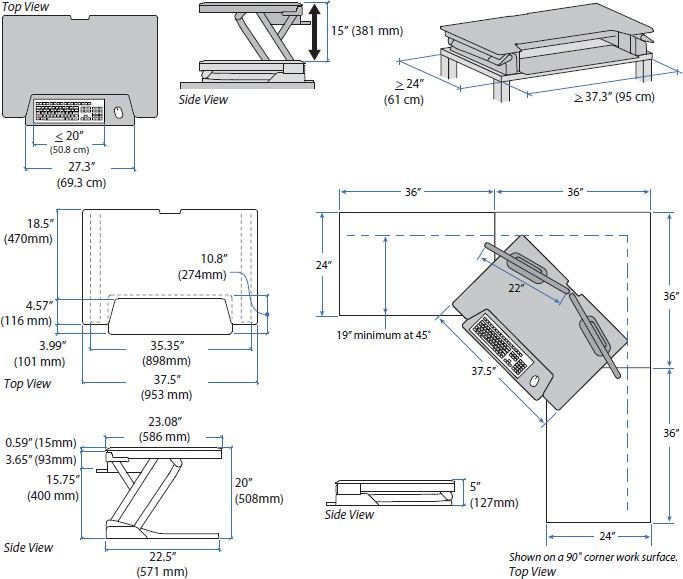 Technical Specifications
Screen
Capacity
Lift
Tilt
Pan
Rotation
VESA
Up to 30"

10 - 40 lbs

4.5 - 18.1 kg

15"

38.1 cm

-
-
-
-
Product Information
| | |
| --- | --- |
| Part Number | 33-406-085 |
| Description | WorkFit-TL Sit-Stand Desktop Workstation (black frame assembly with dark grey worksurface) |
| Ships | Fully assembled; no tool-adjustments needed for installation |
| Footprint | 37.5" x 23" (95 x 59 cm) |
| Fits | On desk surfaces 24" (61 cm) deep or larger |
| Keyboard Tray Dimensions | 27.5" x 11" (69 x 28 cm) |
| Keyboard | Moves in tandem with the worksurface. Tray is positioned 4.5" (11.4 cm) below worksurface to maintain ergonomic spacing between screen height and keyboard |
| Displays | Can be placed directly on the worksurface. Alternatively, use our monitor mount kits to integrate displays into system (see accessories) |
| This Product | Is certified in compliance with indoor air quality standards defined by ANSI/BIFMA pertaining to emissions of VOC (volatile organic compounds) |
| Product Weight | 56 lbs (25.5 kg) |
| Shipping Dimensions | 42" x 33.5" x 8.25" (107 x 85 x 21 cm) |
| Shipping Weight | 62 lbs (28.2 kg) |
| Warranty | Five (5) years |
Benefits
WorkFit-TL features a larger keyboard tray, wider worksurface and higher weight capacity
Add an accessory monitor mount kit: Attach your display(s) with a riser to provide independent screen adjustment while clearing worksurface space
Modify an existing office space or cubicle by simply adding a WorkFit-TL to an open tabletop, without the cost of expensive professional installers
Ships fully assembled. Sits directly on top of desk - no special mounting or tool-adjustments required for installation
Provides 15 inches (38 cm) of vertical adjustment
Instantly move to sit or stand as you work: Simply release hand-brake levers on either side of unit to position the surface higher or lower
No cranks or motors to engage: Counterbalancing mechanism uses CF technology to facilitate quick height adjustment
Extremely stable and solid platform
Space-saving design does not protrude beyond tabletop
Works well in corner desk configurations; fits on surfaces as shallow as 19" (48 cm)
Tested and guaranteed: Full 5-year warranty
Product Options/Accessories
Frequently Asked Questions
q
I have 3 questions about this product. What are the dimensions of the keyboard tray? Is there an option to have an adjustable keyboard tray? Is there a monitor kit that can accomodate 3 monitors?
a
1) The dimensions of the keyboard tray (that is part of the WorkFit-TL) are 27.5"wide x 11" deep. This tray width accomodates a standard keyboard (18" width) and one mouse (on right or left) with enough space to move the mouse. 2) Yes, there is an option to install an additional keyboard tray that is adjustable. Please look at Option 8. We have provided this additional option to our customers so that they can get the comfort of keyboard tray going under the desktop even while sitting. This keyboard tray is not a part of WorkFit-TL. The keyboard tray (that is a part of WorkFit-TL) works perfectly for standing as it suspends 4.5" below the worksurface. This enables your elbows to be at 90 degrees while typing in a standing position. But when you want to sit and work, the keyboard tray of the WorkFit-TL rests on top of the desktop, raising your elbows and shoulders to a position that is not relaxed. This causes ache in your forearms and pain in shoulders. The adjustable keyboard tray ED-SFC2135BL is not a part of WorkFit-TL and installs underneath the desktop. It has the ability to fully retract under the desk (provided there is 18" clearance under the tabletop) and lowers keyboard 3.5" below desktop and elevate 1.5" above the desktop. 3) Unfortunately we do not offer a monitor kit that can mount 3 monitors at this time.
q
How high is the monitor and keyboard lifted in its upright position? I'm 5'4" and wondering if everything would be too high for me. How many settings are there between completely lowered to completely raised? Do the cords get caught in the mechanism as it moves?
a
The unit's work surface rests 5" above the surface of the table the unit is on. The unit can be raised up to a max height of 20" above the table, for a total of 15" inches of height adjustability. You can choose to set the height at any point within the 15" range of height adjustment, and it does not have to be all the way up or all the way down. You can easily adjust it to any level that is comfortable for you. The work surface has a little notch cut out in the back center of the work surface designed to keep your cords safely out of the way. The keyboard tray is not adjustable, and is 5" below the surface of the unit. When the unit is raised to its maximum height of 20", the max keyboard height is 15" above the base.
q
What is the warranty and return policy on this product?
a
Our return policy is good for 30 days from the date the unit is shipped from the warehouse. There is no re-stocking fee. We do require that the unit not be damaged, it returns in the original box, and the buyer must pay return shipping. The warranty is guaranteed for five (5) years from the date of purchase.
q
Can you tell me the dimensions of the feet that would touch my desk? How does this compare to the smaller version - Workfit T. Would either one hold two monitors?
a
The entire bottom section of the WorkFit-TL is 32" by 22.5". Both WorkFit-TL and WorkFit-T can support dual monitors so long as they are within the weight requirements. You also have to take into account multiple factors, such as whether a dual-monitor kit will be purchased (for greater stability in sit-stand environment versus standing bases) which would decrease the weight capacity, or whether they will be used with regular standing bases in which case you would have to take into consideration where the monitors might meet and whether the ends of the bases would stick out beyond the worksurface.
q
What is the total depth (including keyboard tray) of the WorkFit TL? I need to know how many inches the keyboard tray will hang off my 24"-deep desk.
a
The footprint of the WorkFit-TL is 37.5" wide x 23" deep. The keyboard tray is 27.5" wide x 11" deep. As you can see in the product images, the keyboard tray and worksurface overlap so the keyboard tray would not be 11" away from the worksurface. After examining the model, we found that the keyboard tray protrudes only about 3.5-4" from the desk surface.
| | |
| --- | --- |
| Model | 33-406-085 |
| Manufacturer | Ergotron |
| Part Number | 33-406-085 |
| UPC | 698833050769 |
| | |
| --- | --- |
| Recommended for | Tall Users, Wide worksurface |
| Color | Black frame assembly with dark grey worksurface |
| Monitor Size | Up to 30" |
| Weight Capacity | 10 - 40 lbs (4.5 - 18.1 kg) |
| Lift | (38.1 cm) 15 in |
| Footprint | 37.5" x 23" (95 x 59 cm) |
| Keyboard Tray Dimensions | 27.5" x 11" (69 x 28 cm) |
| Weight | 56 lbs (25.5 kg) |
| Shipping Dimensions | 42" x 33.5" x 8.25" (107 x 85 x 21 cm) |
| Shipping Weight | 62 lbs (28.2 kg) |
| Warranty | Five (5) years |
| Price | $450 |
| Shipping | Free |
| Suspended Keyboard | No |
| Desktop Dimensions | 37.5" x 23" (95 x 59 cm) |
| Number of Mice fitting on keyboard tray | 1 |
Customer reviews
1 stars

0

2 stars

0

3 stars

1

4 stars

6

5 stars

37
Sit-Down Workstation is Tops
by (Linda W) per Lisa V, Boulder, Colorado, Dec 05, 2017
I am very satisfied with this item I had Linda order for me from Ergotron. It arrived in a very timely manner (1 - 3 days as indicated). It was easy to assemble...because there was no assembly required! It is sleek and classy looking (not big and bulky). It is not heavy at all and goes up and down with ease. I am so glad I found Ergotron at our Supplier Showcase. I would definitely recommend this sit-stand workstation to others and I have!!.
Just what I wanted!
by Kathleen F, Watertown, South Dakota, Dec 04, 2017
I was purchasing this desk for my use and this product was one of the two suggested. After some research and comparison I chose the Ergotron and LOVE It! Now everyone in my office wants one too!
Exceeded expectations!
by RPBUYER, Green Bay, Wisconsin, Nov 08, 2017
Very pleased with this sit-stand workstation. Solid construction. Raises and lowers easily. Would definitely recommend this product along with the dual monitor kit.
Awesome
by Steven R, Texas, Sep 06, 2017
It is so smooth and easy to use I love it allows me to stand when I need to stand and sit when I need to sit. It's awesome.
Almost perfect
by Tom, NY, Sep 03, 2017
Love the flexibility of this desk and easy set up. I am using the dual monitor set up and there is enough room to keep my laptop on top as well using it as a third screen. The only complaint is that the keyboard tray is way to short and my arms dangle in space, I am used to resting my forearms on the desk surface at 90 degrees and it is too short for that. Having a keyboard tray option that is more like 16 inches deep would make this perfect.
Love my new desk
by jeff, Silver Springs, Nevada, Jun 14, 2017
my arm had been giving me fits when using a mouse all day long, but with the desk up high and standing, no pressure on my wrist. Feels great to work now and I like that I can lower it back down if I get tired. Wish I would have started using this kind of desk 40 years ago.
Completely satisfied
by James B, Charlottesville, Virginia, May 25, 2017
I am still adjusting somewhat and learning how to make full use of the product, but it is what I expected it to be. I am glad to have ordered it.
Awesome!
by Michelle E, Hermann, Missouri, Apr 05, 2017
Highly recommend this product. I should have made this purchase 3 yrs ago when I started working from home. Its easy to set up and so quick with transitioning from sit to stand. Wonderful product!
Love this Workstation!!
by Debbie L, Anaheim, California, Mar 06, 2017
This is the 3rd one we have purchased for employees at our company, all of whom have underlying back or neck issues. It has improved their overall physical health, productivity and they just feel better!
Easy to assemble and use!
Very Happy With This Product
by Laurel S, Dawson, MN, Feb 21, 2017
This is a wonderful product. It is made very well. It is very sturdy. I loved that there was no assembly required. It moves up and down from the stand-up to sit-down position very easily and smoothly. There is enough desk top space for me to have 2 monitors on it and a couple piles of paper. I love that I have the option to stand and work part or most of my day. I have much more energy at work. I highly recommend this product.
Excellent product
by Peggy C, Tennessee, Nov 30, 2016
Great experience from start to finish. We ordered two Work-Fit-TL desks. Easy ordering. Quick delivery. No assembly. Awesome. The Work-fit TL desk has increased our work space as well as provided an easy way for us to choose to stand or sit when we work. Adjusting the desk is extremely easy. The desk is very sturdy and stable even when raising and lowering it.
Exactly what we needed!!
by Debbie L, Anaheim, California, Nov 11, 2016
This workstation is terrific! Spend the extra money by purchasing this item and you will have something that will actually get used!
We have an older workforce and this has helped to keep them feeling better and more productive! YAY!!
Eveything went well. Service was great. Delivery was on time. Great experience.
by Matt B, Bethesda, Maryland, Nov 08, 2016
Ergotron Desktop
by Tami B, California, Jul 12, 2016
What a great product. Quick to ship, easy to assemble, very sturdy and moves up and down very smoothly. I love it!!!
Love the flexibility
by Laura L, Iowa, Jun 21, 2016
I absolutely love the flexibility of this desk! It's easy to set up and easy to adjust between sitting and standing, which is just what I needed. The only thing that would make this better would be if it would go flush to the desk it sits on, but honestly, it's not that big of a deal. Just know that before you purchase it!
Works well
by Cecilia C, California, Jun 20, 2016
I've purchased two of these items for our staff and so far the employees have found this to be a great product. It is easy to use, no assembly required and the best part...it just sits on top of the desk. No modification to the desks required. I am certainly in to purchase more for our staff.
MY BACK IS PAIN FREE!!!
by Terry H, Virginia, May 23, 2016
I love my new WorkFit desktop! I have more energy at work and I am no longer experiencing any back pain due to long periods of sitting. Several co-workers ordered this workstation because they saw mine, and love it as well. The set up was super easy; just take it out of the box and place it on the desk. (Be sure to measure first.) Great product!
Great sit-stand option
by Luke M, Massachusetts, Apr 24, 2016
I spent hours pouring over different options and reviews and finally settled on this one. I am very pleased that it goes straight up (instead of out toward the user, like some of the other sit-stand desks), which is much better for my home office. It goes to the height I need, which is great as I'm about 6'2" (note, however, that the desk I put it on is a little higher than average).

The base is a little too wide/long for the depth of my desk surface & I imagine this will be the case for many home desks, but after talking to the customer service rep, I decided to go ahead with it. The base hangs off the edge a little bit (less than an inch), which has been fine for me. The keyboard tray sticks out more than that, which is perfectly fine (actually, preferable).

I'm able to raise and lower it without problems and can lean on it a little bit when standing and that hasn't been a problem (though I wouldn't advise heavy leans). I generally stand for a while until I get tired, then sit for a while until I get antsy, then stand and that seems to work fine for me (no timer or anything). I have noticed more alertness and energy in general since starting with the standing at work. I don't think I'd like standing for 8+ hours a day, though, so the sit option is great.

I
Excellent table top riser
by Gary S, Texas, Apr 18, 2016
This is a excellent table top riser. I've enjoyed since the day I got it. My coworkers also got one and love it. Thank you!
it works perfect for what we need it for
by Bob R, Minnesota, Apr 15, 2016
easy set up and fits perfect
very good
by Marina Z, New York, Apr 14, 2016
exactly what we needed. Easy to use.
I love the Ergotron Sit-Stand Workstation!
by Judy B, Tennessee, Apr 14, 2016
This unit was purchased for my desk at work, and I really love it. It is sturdy and holds both my monitors. It is spacious and I can place paperwork on the desk portion in front of my monitors. The keyboard tray is perfect. I really like that this unit raises straight up and down and doesn't extend out really wide at the top like other desk units I considered. The set up was easy. It works great with my small mini-trampoline to stand on (and bounce on).
Would highly reccommend!
by Judi D, New Hampshire, Apr 14, 2016
I am an accountant for the YMCA non profit organization and I purchased this desktop at the beginning of our long budget season. and I am so glad I did! It took me a long time to find the right fit for my cube. I have a very narrow width desk due to space limitation and could not use other products on the market that move forward when you raise them up. Because your product goes straight up/down it works perfect for my cube! It was so easy to order, unpack and get right to standing! All my co-workers are impressed on the ease of the movement, you might be getting future orders! Thank you for having such a great sturdy product.
Ergotron workfit_tl desktop sit stand workstation
by Susan, Colorado, Apr 11, 2016
I love my new desk...it is very sturdy and I love that I have the versatility to sit or stand in a brief millisecond.
Good but could be better
by I, Tennessee, Apr 01, 2016
Good. Just needs to be a bit taller. I'm 5' 9" and I have to stoop down a bit.
Very pleased!
by anonymous, Illinois, Mar 29, 2016
This product shipped within a few days and was an easy setup straight out of the box. Literally tore away packaging, set it on my desk and was able to use immediately. The up and down motion is swift and easy, no hangups. Doesn't take up any additional desk area when brought down to desk height.
Great product
by Aaron R W, Indiana, Mar 22, 2016
The WorkFit-TL is great. It was really easy for me to set up and get standing immediately. Transition from sitting to standing and vice versa is a mere seconds (it takes more time to slide my anti-fatigue mat out of the way than to raise and lower the WorkFit-TL). The cable management is nice and helps to have a clean look for your overall workstation.

The only complaint that I have is that the system is not compatible with any other mount. Other clamp or grommet based mounts are much more functional than the Ergotron dual-monitor kit, but because of the spring loaded system in this desktop, you cannot use a different monitor mount.
could not be more pleased with my Sit-Stand Workstation
by Sue H, Iowa, Mar 19, 2016
1st of all found this wonderful product online and I am 60 years old. I stand probably 90% of the day and also got from Amazon a ergodriven/non-flat standing est mat. I could not say enough about the WorkFit-TL and speak and share highly about this product to others including my co-workers including the lawyers I have worked for, for over 37 years. I am so very pleased with the larger TL for work space as I working in the accounting department and the wider space for keyboard & mouse. I also purchased the LX Desk Mount LCD Arm as this provides the monitor off the desk top for more space to work. You will not be disappointed in this product and should have reviewed this product before now!
Easy up & easy down!
by Phyllis M, Washington, Mar 14, 2016
The Ergotron sit-stand desk is great. It is easy to raise and just as easy to lower. I would certainly recommend this to others, in fact, a person who ordered a different sit-stand desk several months before I did, likes this one much better. Nice area for paperwork. Sturdy.
Awesome adjustable standing desk!
by Leslie F P, Georgia, Mar 04, 2016
Adjustable desk is super solid and very well made. This new model has a very spacious work surface and keyboard area which supports a lot of weight but yet it's design makes it effortless to move up or down. Very happy with purchase and would certainly recommend to others.
Great Product
by Jeff H, Virginia, Mar 04, 2016
Extremely easy to lift, plenty of workspace. Smaller overall footprint than the varidesk (although only by a few inches). Manufactured with quality materials. Monitor arm is very helpful and easy to put together. Very excited to come to work and stand whenever I want!
Great Product, Easy to Install, and Great for your back
by Robby M, Texas, Feb 29, 2016
The product was just as it is described. I was looking for something to help with lower back problems and read some research about a Sit-Stand workstation. I looked at several different models and chose this one because it looked to have everything I wanted and did not take away from my office décor. Once I installed it and used it for a week my back immediately starting feeling better. I stand now about 70% of the time and sit 30%. This has been great for my back.
Awesome!!!
by Amber K, Nevada, Feb 26, 2016
My legs get so restless when I have to sit all day, this desk was easy to install, easy to operate and is amazing. It has helped with my back and work!
Great solution for the Sit-Stand desk.
by Mike, Colorado, Feb 23, 2016
I purchased this product for 2 reasons: 1) ease of changing between sit and stand positions, and 2) total change in height was one the largest available (as I am 6'4" and need a tall stand up desk). I am totally satisfied with how this product meets those requirements. The piston-action for changing positions is smooth and easily controlled. Table does not drop when released, and allows you to set any height that you need. Would have given this 5 stars if it were easier to install a monitor arm on the desk directly. The piston placement does not allow for monitor arms that attached via a clamp; the pre-drilled holes are for a proprietary monitor arm that is expensive and not very tall. I had to drill my own holes in the desk and mount the monitor arm via a plate. Overall great product!
Expectations Exceeded
by JAY K, California, Feb 22, 2016
I knew I wanted a mechanism that would allow me to alternate between sitting and standing at the computer. I looked at every such product on the market. Some were pretty flimsy. I'm thrilled that I chose the WorkFit-TL! It is heavy, built like a tank, which I like, and it raises and lowers easily and without effort. It's a very professional piece of furniture. It's large enough to hold everything I need at my fingertips along with dual 22" monitors. The keyboard tray is large enough for my full size keyboard and my normal size mousepad. It looks good and fits well on the 24" wide, 48" long table next to my desk. Best of all, when my Apple Watch tells me it's time to stand, I can now stand without hindering my work at the computer.
Functional product but needs minor improvement
by Lisa C, Ohio, Feb 09, 2016
I ordered this product vs. the leading competitor and I wanted to say I am head over heels happy about it but I am not. It suits the purpose that we purchased it for in the office but I just wish the bottom tray had a more curvature for use with your mouse. The measurements fit our ergonomic keyboard but it leaves little room for your mouse (we use a wireless mouse). Now if Ergotron decides to create an optional accessory mouse tray, I would raise my rating but till then it is what it is.
It is Amazing!
by Debbie L H, California, Feb 08, 2016
We have an employee whose Physical Therapist recommended she sit and stand at certain intervals. Since she works on 2 computers this was going to be very tricky.
After some searching online I found this model that is perfect and ergonomically correct, of course. It is wide and heavy duty, exactly what she needed.
She is a happy camper and now we all want one!!
Absolutely great product
by Shawn M, Virginia, Jan 25, 2016
This is a fantastic product and very well made. I use this as my telecommute desk. I am thinking of getting another for the workplace. I just need to make sure they remember whose it is... lol.

It came packaged in one piece. I placed it on the desk and was ready to go once I realigned my computer screens. Do not use my chair at all anymore. Very happy with my purchase.
Love this product.
by Kathrese M, Texas, Jan 20, 2016
I love my Ergotron WorkFit-TL Desktop sit-stand workstation. I bought a great mat (Sky Mat Anti Fatigue Commercial Grade on Amazon) to go with it. These days, I stand about 50% of the time, and I'm amazed at how much more alert I feel all day long. Also, my back is not giving me as many problems as it did before I started using the desktop. The reduction in overall pain took place gradually, but after several weeks, there has been a measurable difference. Thanks for a great product.
Great sit-stand workstation
by James E, Arkansas, Jan 16, 2016
Very pleased with my purchase. Enjoy using the workstation.
Love this product!
by AP, Colorado, Jan 14, 2016
Very sturdy design and materials. Looks great and very smooth transition from one position to another. I have recommended it to several friends already. This product is making a positive difference in my work day!
needed to get off my butt
by Jeff B, New Jersey, Jan 11, 2016
I did a lot of research for sit n stand desktops, i found the WorkFit TL to be easy to use in my environment. It blends in with the decor, but more importantly gets me out of my seat. My back and shoulders are feeling much better...thank you. I was concerned about my height 6"2, but at full height adjustment i'm comfortable typing. what I do like is the desktop size, it holds my 24 inch monitor, 13" MB Air, note book, phone and coffee. So all adjust with me...nice. Lastly this is by far the easiest to work Sit-Stand desk around, another benefit.
Great product!
by Marci H, California, Jan 06, 2016
Well-made and easy to use, just take it out of the box and you're ready to go. A perfect solution for employees who want/need to stand.
Love my Ergotron!
by Darlene S, Florida, Dec 11, 2015
What a great product! Love the options I have to stand or sit. I seem to be standing more now.. which is better for me.
I tried another product which was too cumbersom. However, the Ergotron is perfect!
Warranty
All Ergotron and OmniMount durable products will remain free of defects in material and workmanship for a period of five years from the date of receipt of the product, subject to any exclusions and limitations as set forth below.


Exceptions
Ten-year warranty on all HX Products, as well as LX and MX Products purchased on or after August 1, 2014

Zip and YES Charging Systems: Lifetime material/workmanship; three years electrical components; one year cables (power/Ethernet)

Ten-year warranty on LearnFit Sit-Stand Desks

Three-year warranty on all Neo-Flex Ergotron Products

Two-year warranty on WorkFit-Z Mini

Elevate and accessories: Lifetime material/workmanship. Five (5) years on electrical components. Cords, cables and plugs not warranted

The Peanut, Zido and accessories: Lifetime material/workmanship; five (5) years for pneumatic cylinder

One-year warranty on electronic components. For example: Auto Lock Drawers, Auto Lock Systems, Keyboard Lights, User Interface, Coiled Cord, Battery Harness, Cables from User I/F to Power Module (excludes AA batteries)

Two-year warranty on Power Modules by Ergotron

Sealed Lead-Acid (SLA) Power Systems, SLA Batteries

Two-year warranty on all SLA power system components by Ergotron

Up to one-year capacity warranty on SLA batteries (refer to Further Exclusions and Limitations section)

Six-month warranty against Manufacturer's Defects on SLA batteries, or as mandated by local law

Lithium Iron (LiFe) Power Systems, LiFe Batteries

LiFe battery capacity is warranted for two years or 1200 discharge cycles, whichever comes first (refer to Further Exclusions and Limitations section)

Five-year warranty against Manufacturer's Defects on LiFe factory-installed batteries (excludes LiFe replacement batteries). Factory-installed LiFe batteries are covered at 100% for the first three years; coverage for years four and five are prorated at 1/60th per month (refer to Further Exclusions and Limitations section)

Service Programs - 30-day warranty

Refurbished StyleView Carts - one-year warranty for Mechanical Components and Power Module (excludes batteries and cosmetic defects). The appropriate battery-type warranty applies

Original Equipment Manufacturer (OEM) Products resold by Ergotron are warranted by the respective manufacturer

StyleView Electric Lift motor: Three (3) years on motor and switch
Further Exclusions and Limitations
SLA Batteries
In Dual SLA battery systems, replacement of both batteries must occur at the same time (in accordance with the Ergotron User Manual), or the Warranty is automatically void

Warranties on SLA batteries (fully-charged or fully-uncharged) left in an unused state for more than three consecutive months are automatically void

Factory-installed SLA batteries, and replacement SLA batteries carry a Six-month Warranty Against Manufacturer's Defects and a 90-day Performance Warranty, or as mandated by local law

The 90-day Performance Warranty on factory-installed SLA batteries (excludes SLA replacement batteries) is extended to one-year provided that:
StyleLink software is installed and remains continually operational to show compliance with exclusions and limitations

SLA Battery is not discharged below 25% capacity more than 25 times as recorded by the StyleLink software history

SLA Battery is fully recharged at least once every 36 hours as recorded by the StyleLink software history
LiFe Batteries
LiFe batteries that fail to deliver 70% of their rated capacity during the first 1200 discharge cycles of battery life are deemed not to have met performance standards (capacity retention)

The LiFe battery discharge cycle is defined as starting at the fully-charged state through the fully discharged state and back to the fully-charged state. Discharge cycle counts are calculated by the software within the battery.
These warranties do not cover product abuse, modification and failure to adhere to product instructions, improper operations and/or misuse. Ergotron is not responsible for damage arising from failure to follow instructions relating to the product's intended use. Ergotron is not responsible for injury or loss caused by or associated with the installation and/or use of equipment in any manner other than in strict conformance with the instructions set forth in its installation manuals, supplemental assembly and installation instruction sheets, technical bulletins and/or product literature. You will provide Ergotron immediate written notice of any personal injury resulting from the use of Ergotron products.
Ergotron does not warrant damages or defects to the Ergotron product under the following conditions: an Act of God, unauthorized service or repair of the Ergotron products, damage from electrical power problems, usage of parts or components not supplied by Ergotron, failure to follow product instructions and guidelines, unauthorized changes to the Ergotron product, shipping damage (other than original shipment from Ergotron), failure to perform preventative maintenance, or damage caused by peripherals or software or from other external sources.
Exclusive Remedy
Warranty Repair: In the event that any Ergotron equipment becomes defective in material or workmanship during the warranty period, Ergotron will determine with you if the product defect is covered under warranty. Ergotron, at its sole discretion, may replace or repair the unit determined to be under warranty at a designated Ergotron location or at your location. The labor costs associated with the repair of the product may be the responsibility of Ergotron if determined to be under warranty. You must receive pre-approval by Ergotron for the labor costs prior to repair or replacement of warranty products. You must contact Ergotron to obtain a Return Material Authorization (RMA) number. An RMA number may be obtained by contacting Ergotron Customer Care online or by telephone within your specific region. Contact information is available to you on the Ergotron web site at www.ergotron.com. Performance of any repair or replacement on product under warranty does not renew or extend the warranty period.
Non-Warranty Repair: You may return a product for repair that is not covered by warranty only if you have received a preapproved RMA number from Ergotron Customer Care. Labor costs and freight charges associated with non-warranty repair will be the sole responsibility of the customer, reseller or installer/integrator. A standard repair fee, specific to the product, is charged for any product that is repaired outside of the warranty period. Repairs on products out of warranty also carry a 90-day warranty, effective the day that you receive the item after repair.
For products that are not covered under warranty, Ergotron offers you the following options:
You may upgrade to a newer, functionally equivalent product at a normal MSR list price

Ergotron will return the product to you

You can request in writing that Ergotron appropriately dispose of the product for you. A fee may apply for this service as designated by local law
Non-Defective Products: You are notified if, after examining and testing a returned product, Ergotron concludes that the product is not defective. The product is returned to you and you would be responsible for the freight charges associated with the return.
Warranty Disclaimer
Except as expressly set forth in this Limited Warranty and to the greatest extent allowed by law, Ergotron makes no other representations, warranties or conditions, express or implied, including any implied representations, warranties or conditions of merchantability, fitness for a particular purpose, non-infringement, and non-interference. Ergotron does not warrant that your use of the Ergotron product will be uninterrupted or error free. Any implied warranties that may be imposed by law are limited in duration to the Limited Warranty period, to the greatest extent allowed by law. Some states or countries do not allow a limitation on how long an implied warranty lasts or the exclusion or limitation of incidental or consequential damages for consumer products. In such states or countries, some exclusions or limitations of this Limited Warranty may not apply to you. This Limited Warranty is subject to change without notification.
Ergotron devices are not intended to cure, treat, mitigate or prevent any disease.
Warranty Transferability
This Limited Warranty is available only to the original end consumer and is non-transferable. For this warranty to be valid, the Ergotron product must have been purchased directly from an authorized distributor, reseller and/or authorized representative of Ergotron.
Comparison Chart for WorkFit-TLE, TL and T
| | | This item: Ergotron 33-406-085 WorkFit-TL Desktop Sit-Stand Workstation in Black | |
| --- | --- | --- | --- |
| Weight | 49 lbs (22.3 kg) | 56 lbs (25.5 kg) | 59 lbs (26.8 kg) |
| Warranty | Five (5) years | Five (5) years | Five (5) years |
| Weight Capacity | 10–35 lbs (4.5–15.9 kg) | 10 - 40 lbs (4.5 - 18.1 kg) | 10-40 lbs (4.5-18.1 kg) |
| Lift | (38.1 cm) 15 in | (38.1 cm) 15 in | (38 cm) 15 in |
| Keyboard Tray Dimensions | 25" x 9" (64 x 23 cm) | 27.5" x 11" (69 x 28 cm) | 35" x 7 3/8" - 8" (88.9 cm x 18.75 cm - 20.32 cm) |
| Footprint | 35" x 23" (89 x 64 cm) | 37.5" x 23" (95 x 59 cm) | 37.4" x 35.8" (95 x 85 cm) |
| Suspended Keyboard | No | No | Yes, 3.5" below desktop surface |
| Desktop Dimensions | 35" x 23" (89 x 58 cm) | 37.5" x 23" (95 x 59 cm) | 37.4" x 23" (95 x 59 cm) |
| Price | $300 - $399 | $450 | $400 - $499 |
| Shipping | Free | Free | $120 |
| Number of Mice fitting on keyboard tray | 1 | 1 | 2 |
| Recommended for | Tall Users, Smaller Worksurface | Tall Users, Wide worksurface | Petite, Medium Built Users |
| | Details | | Details |