Our founder, Nick Moshiri, comes across ergonomic concerns frequently. The most recent was when he went to his bank. Here the teller helping him was petite and the counter behind which she was working was too high, her neck uncomfortably stretched up, shoulders up close to ears and elbows bent at less than 90 degrees. When Nick asked her, "Pardon my question, but do you have pain in your shoulders?" She replied with a look of pained astonishment, "How do you know?"
We're an ergonomic solutions provider and Ergonomics, after all, is the science of designing and customizing environment/workspace/equipment/furniture/tools according to the user's body type in such a way that comfort, health and productivity are maximized.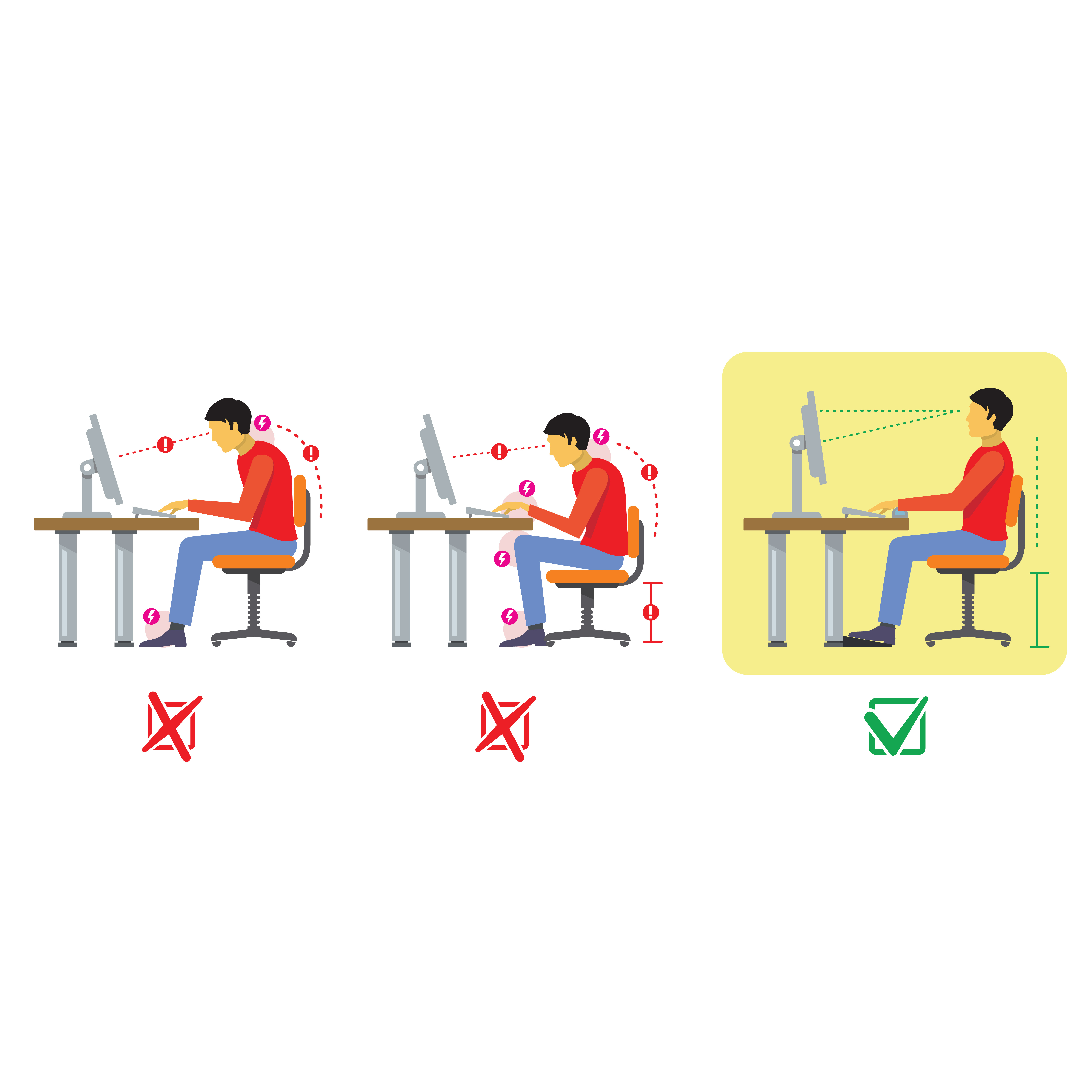 Let's say you are 5'3" in height and you have a desk job, where you spend more than 4-5 hours a day in front of the computer. Every night your back hurts and the ergonomist in your company has recommended a standing desk converter so that you can alternate between sitting and standing while at work.
Please take a look at the diagram below. Specified in inches, the diagram below gives you the ideal ergonomic height for your keyboard and monitor screen placement such that your posture is relaxed and does not lead to any aches and pains.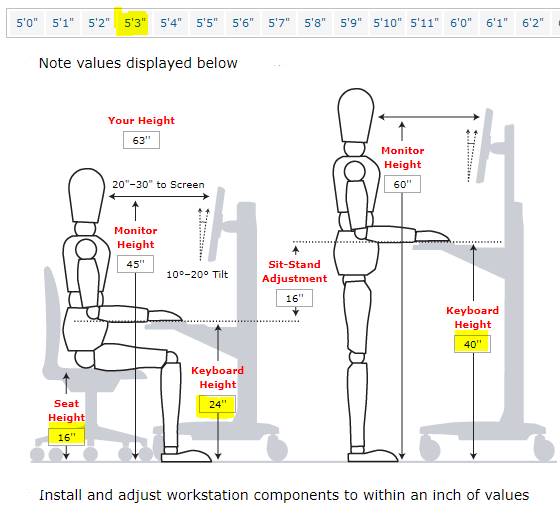 Sitting
Seat height
If you're 5'3" your chair seat height should be 15" from the floor. At this height, your feet will be placed flat and firm on the floor, knees will be bent at 90 degrees and in line with the hips. Make sure the back of your knee is not hitting the seat and there is a distance of at least a few inches between the lip of your seat and the back of your knee.
Keyboard height
At 23.5" keyboard height, your elbows will be at a comfortable 90 degrees, shoulders relaxed and wrists will be positioned straight on the keyboard. A common problem like carpal tunnel syndrome is avoided.
Monitor screen height
The height of the monitor should be such that your eye level should fall in the top 1/3rd space of the screen and there should be a distance of 20-30" or about length of your arm outstretched between the screen and your eye level.
Standing
When standing, ergonomic keyboard height for 5'3″ is 38″. At this height, elbows will be at a comfortable 90 degrees, shoulders relaxed and wrists will be positioned straight on the keyboard. At monitor screen height of 58," eye level will fall in top 1/3rd area of the screen.
Sit-stand solution for petites
Here are two sit-stand desk converter solutions and customization they will need to be ergonomically adjusted to a petite person.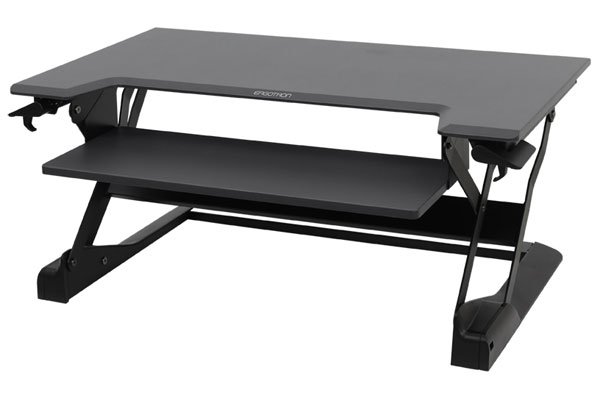 WorkFit-TL and WorkFit-S are no-assembly desk converters that do not require any installation or drilling holes in your desk. Just place them on your desk, position your monitors and other setup and you're ready to sit or stand while working.
If you are petite, 5'2" and your desk is the standard height of 29", bringing down the keyboard tray by 3.5" is not enough. It needs to come down by 5" for it to be ergonomically suitable for you as a petite person.
When the converters are in sitting position and at their lowest, the keyboard tray height (from the floor) – 29.5″ – is clearly above the ergonomic keyboard tray height of petite person – 23.5″. This distance can be covered by adding a footrest .
Monitor kit riser will cover the distance between ergonomic screen height of 44″ and lowest possible screen height of 42.5″with both the desk converters.
As far as standing is concerned, with the vertical lift of both WorkFit-TL as well as WorkFit-TLE, the ergonomic keyboard tray as well as screen height should be achievable.
Please call us at 888-456-3746 or email us [email protected] if you need customized solutions like above. We take pride in helping customers find the best ergonomic solution.