At ErgoDirect, we know that the OM5 is the best gaming chair on the market but we wanted to let other people chime in with their opinions. We have been overwhelmed with the recent positive responses about our OM5 gaming chair.
PC Gamer Show – Guide to Gaming Chairs (Feb 13, 2015)
PC Gamer, the most circulated PC gaming magazine, has done an extensive job testing and reviewing PC gaming chairs. In one episode of the PC Gamer show, Editor-In-Chief Tim Clark had expert ergonomist Melissa Afterman co-star to discuss ergonomics and how to pick out the best desk chair for gaming. Tim starts off by asking her what is the recommended budget for a quality desk chair to which Afterman recommends "$300/$400" for an ergonomic PC chair. With that budget established, Afterman lists the features that are most important in choosing an ergonomic chair- "seat height adjustability, arm adjustability, backrest height adjustability, ability to recline when you want to or receive support in an upright position". When asked about the things to avoid in a chair Melissa states that "the cool minimalist designs just don't have enough cushions. And there needs to be some way to adjust the chairs to accommodate different body types."
When reviewing the OM5 gaming chair Afterman describes the OM5 design as having what she called "Intuitive Adjustability". Instead of forcing the user to adjust the chair by manually cranking knobs, levers, dials, or screws – the OM5 simply reacts to your body's position. This is a unique proprietary design function called "BAM" or Body-Activated Motion. When this video was released in 2015, PC Gamer decided to name the OM5 as the best gaming chair where it has remained on top for the past three years.
Linus Tech Tips – Office Master OM5 Chair from ErgoDirect (Nov 12, 2015)
Linus Sebastian of the Linus Tech Tips Youtube Channel said the following about the OM5 gaming chair.
"If you've ever assembled a chair, there won't be anything here to surprise you other than how heavy the OM5 is for its size – but I guess there's where the lifetime warranty comes from because the construction of the chair was very good across the board. The casters roll smoothly, the construction of the frame is rugged, the backrest slats have ample give without feeling flimsy, even the plastic used feel similar to that stuff that they make kids playgrounds out of – super tough and not cheap feeling – at all!"
"I've had the OM5 in my computer room at home since ErgoDirect sent it to me, so for about 4 months! I used it for about 6 weeks before she claimed it as her own."
"I love the way the slats adjust to automatically distribute themselves to the shape of my back so they can be supportive without any pressure points whether I'm sitting completely straight or reclining in a bit which leads us I guess to big killer feature of the OM5. Only has a height adjust level on the bottom. That's it. There's no lever to recline because the user is just expected to just lean to adjust the position and have it stay there. This is some serious witchcraft here because it actually works! To be clear, it does not recline the way our gaming chairs can and it doesn't have the requisite headrest for that functionality to make sense anyway. You won't be sleeping in it. But if you're going to be working at a desk, it's going to go about as far back as you could need it and then it stays there."
After going through all of the features of the gaming chair, Linus asks and answers the most important question. "Is the OM5 the most comfortable chair we've reviewed? Yes. With its versatility as a one-size-fits-all solution being another major selling point – especially if you are outfitting an office for 10 or more people."
Linus recorded this video in 2015 but we've been in contact with him and can confirm that he is still using the OM5 gaming chair as his desk chair in both his office and his home setup.
PC Gamer – Best PC Gaming Chairs (November 15, 2017)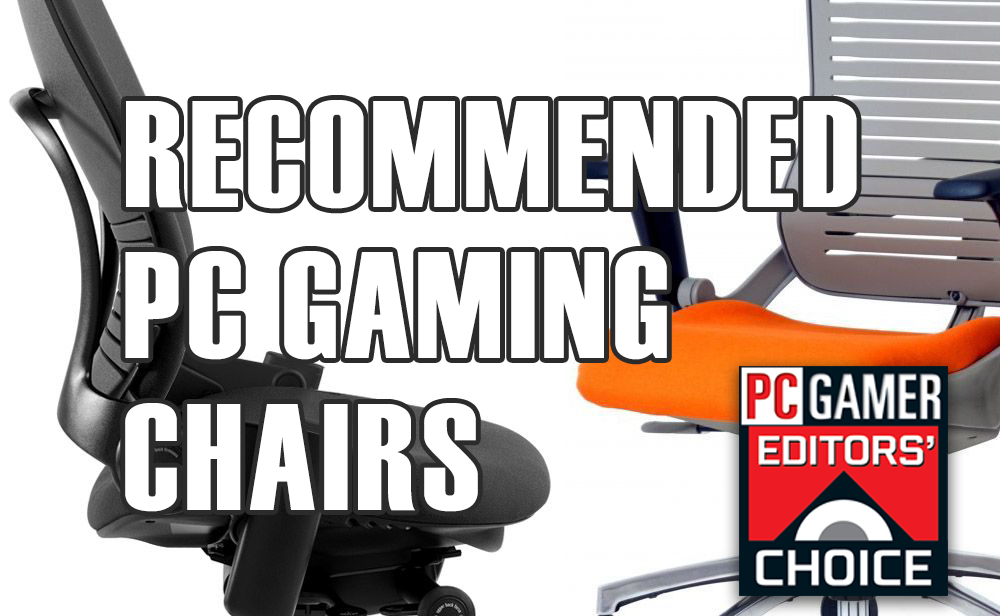 PC Gamer's Editor-In-Chief Tim Clark has named the OM5 their "recommended PC gaming chair" every year since 2015. In their 2017 end-of-the-year round-up gaming chair comparison article, PC Gamer starts it off by admitting that "while a couple of options have come close, the OM5 is still our top pick for its value, design and comfort. The chair has kept its form after countless hours of gaming and is still a favorite throughout the office."
Clark admits that while he was suspicious of our claim that since "the OM5 has no levers or manual adjustments; it naturally contours to your body, and maintains your posture as you change from sitting upright to a more relaxed laid back (reclined) position without having to use adjustments levers."
However, Clark quickly found that his "skepticism didn't last long, though, because when it comes to the OM5, sitting is believing."
He further explains that " it doesn't require regular fussing-with to feel right, what I like most about the OM5 is that the natural tension in the backrest is neither too tight nor too loose."
"In fact, the more time I spent in the chair, the more I found myself enjoying the opportunity to move around relatively freely, taking the opportunity to lean back regularly rather than getting stuck in the same position for extended periods." Melissa Afterman (ergonomist) continues that "it's vital to find a chair that encourages movement, and the OM5 does just that."
If you would like to read the full review, click this link – PC Gamer "Best PC Gaming Chairs"
What's Inside? – What's inside the BEST Gaming Chair (Dec 19, 2017)
What's Inside is a Youtube channel that follows the inquisitive kid Lincoln and his dad Dad as they find out what is inside of everyday objects. After unpacking and setting up the chair, Dan and Lincoln didn't want to get out of the chairs. Dan called the OM5 "the coolest office chairs that you have ever seen in your life". He continues "seriously though, this is super cozy. I can feel like when you're sitting the back support, it's economical with your arms. Do you know what ergonomical means?" He waits until the end of the video to provide a definition but we thought it to be one of the best we've heard – "It means hang loose." He nailed it! Ergonomics is about forming the work task around the person's interaction. You shouldn't conform to your chair. Your chair should conform to you.
Conclusion
After all of these in-depth reviews and features, we are proud that the OM5 has stood up to some intense scrutiny and was able to prevail as the best PC chair on the market. With over 500 million configuration possibilities – there's an OM5 for everyone. You can add additional padding, extended backs, a modular headrest, different bases, or whatever you need to make OM5 the best chair for you.
If you want to learn more about the OM5 you can visit the product page on ErgoDirect.com or you can reach out to one of our customer service representatives at 888-456-ERGO (3746) who will walk you through the customization process.